Sound Never Tasted So Good
"Teaching" Sensory Rhetorics
Sound Never Tasted So Good: "Teaching" Sensory Rhetorics explores how teaching with sound can lead to a deeper understanding of how the senses work together, ecologically. This multimedia book focuses on a "multisensory dining event" in which Steph Ceraso's students worked with a chef to create original sonic compositions that complimented and enhanced the visual design, smell, texture, and taste of a prepared meal. The event introduced students to new ideas about the rhetorical possibilities of sound and raised questions about when and why sensory rhetorics fail. Multisensory projects like this one, Ceraso argues, can attune us to the ambient rhetoric that influences moods and behaviors in a range of everyday settings. Drawing from a broad spectrum of interdisciplinary scholarship and media, Sound Never Tasted So Good offers a sensuous approach to digital writing and rhetoric pedagogy and advances discourse on the role of the senses in educational experiences.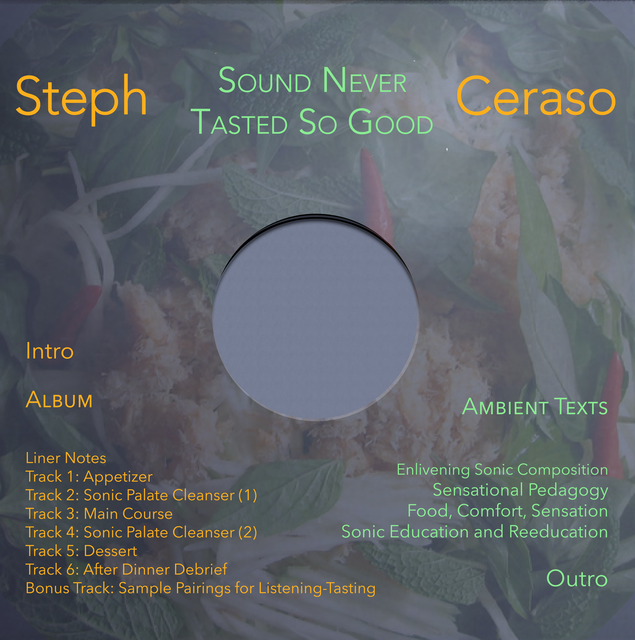 Uncategorized
This text has 0 annotations

This text has 25 highlights
Sound Never Tasted So Good

A Manifold project is born!
isbn

978-1-7339598-0-3

publisher

Intermezzo

publisher place

Lexington, KY

rights

Published under an Attribution-Noncommercial-Sharealike Creative Commons License

rights territory

US

series number

11