Track 4: Sonic Palate Cleanser (2)
Student Composers: Ben Lasher, Meghan Cusack, Katy McNeely, Keira Evans, Tyler Robinson
Description: This short track includes the layered sounds of acoustic guitar, a crackling fire, crickets, and rowdy fireside hoots and chatter. Periodically, listeners hear windchimes and a highly digitized wind/whooshing sound. There is a brief clattering of plates and silverware. The layered sounds fade out.
🍽 🍽 🍽
The transition from the main course to dessert indicates that the party is in full swing. The voices and shouts of an outdoor gathering peppered the soundtrack, which blended with the voices and chatter of the diners in the space of the room. Rather than deciding to ask the live guitar player to continue to perform during the sonic palate cleanser, this team used a prerecorded version of the guitar. Their decision had to do with wanting to extend the same feeling of the main course while indicating that a change was taking place. While the music provided continuity, the physical absence of the guitar player signaled that diners were entering a new phase of the meal.
At this point in the multisensory dining event, the lights were out and the space was aglow with the candlelight from the table, the light of the projected crackling fire, and the Christmas lights strung around the perimeter of the classroom. The visual cues alerted diners that the night was winding down and the meal was coming to an end.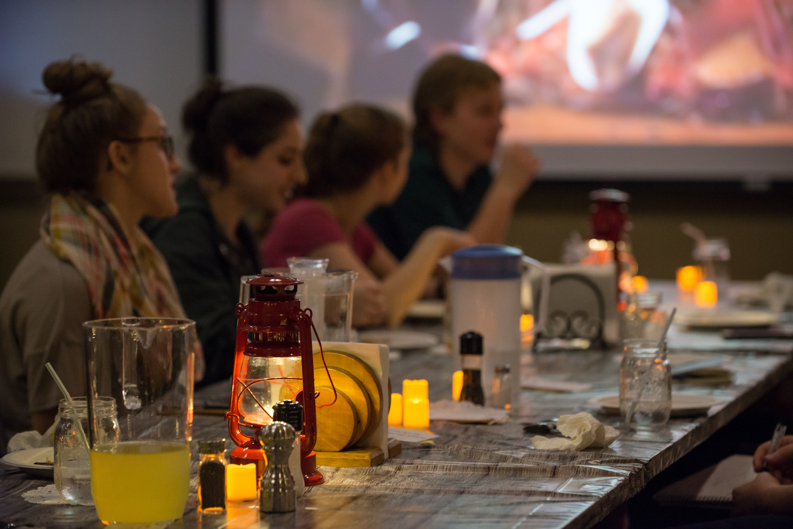 The room is aglow with soft light as participants anticipate dessert.
While the soundtrack featured some rowdy voices to heighten the hustle and bustle of the transition (e.g., students clearing the table and bringing out dessert), the windchimes and almost cartoonish wind/whooshing sound provided a sleepy, soothing undertone. And, like the function of the water sounds in Sonic Palate Cleanser #1, the wind/whooshing sound metaphorically cleansed the sonic palate—"blowing" the other parts of the meal further away—and prepared diners for the final part of the meal.