Sensational Pedagogy
Sound, Composition, and Culture was the first graduate-level seminar I ever taught. As I planned the seminar, I imagined the multisensory dining project, which would entail organizing students and faculty at two different institutions (UMBC and UMCP). It would involve food and materials and transportation, so I would need to spend over $2000 of my personal startup funds. Before putting all of this into motion, I thought hard about whether or not it would be worth it. If the project turned out to be a disaster, would it result in a black mark on my tenure file? What would my English department colleagues think when they caught wind of this weird multisensory event? Most importantly, would my students take this project seriously? Would it be a genuine learning opportunity for them? Ultimately, to make this decision, I needed to consider my own education. I thought about which experiences had the most impact on me—which ones sparked genuine curiosity and resulted in deep learning. Two immediately came to mind.
When I was a student at Washington and Jefferson College, I enrolled in a month-long course called Zuni Nation. During January intersession, I piled into a school van with the professor and eleven of my classmates and drove 1,763 miles from Washington, Pennsylvania, to Zuni, New Mexico. Though we spent some time talking about Zuni culture before we left, there was no syllabus. Instead, we simply lived on the reservation, sleeping on the floor of an under-construction rec center. We embedded ourselves in the community by taking part in daily activities—bread-baking in outdoor clay ovens, religious ceremonies, tribal council meetings, maintenance work around the reservation. We climbed steep mesas and learned about the sacred meanings of the land. We listened to stories and cooked food and talked with people of all ages about life in Zuni. We were immersed in culturally specific sensory experiences in ways that would have been impossible if we had merely assumed the role of outsider academic observers. This kind of immersion and the embodied knowledge that resulted from it required us to participate fully in the life of the reservation as opposed to studying it.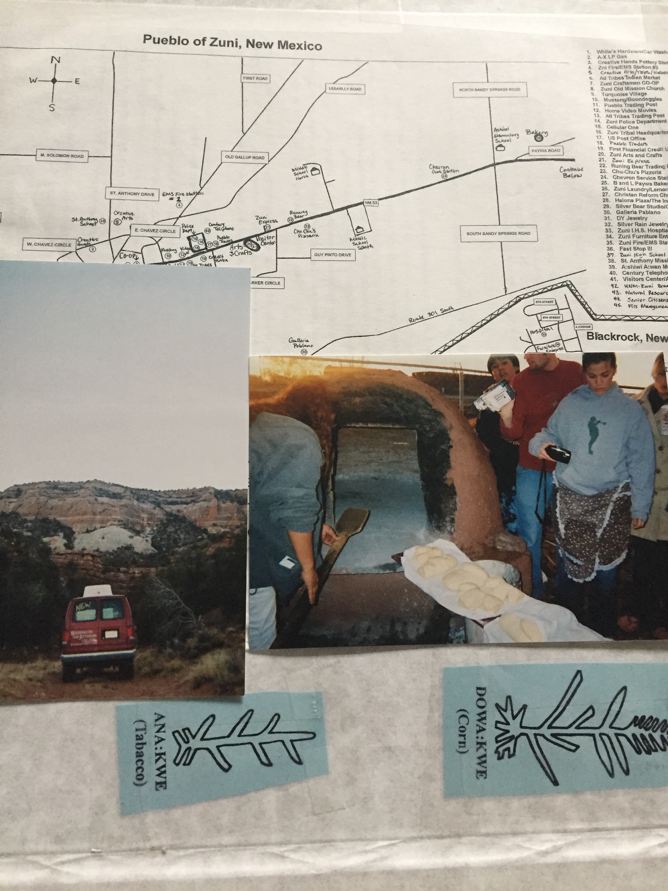 A page from the author's scrapbook.
A similarly impactful learning experience I had as an undergrad was in an Emily Dickinson capstone seminar, during which I took a road trip with a few of my classmates to visit Dickinson's family home in Amherst, Massachusetts. The trip was our idea, but the professor's curiosity and enthusiasm was contagious enough to inspire us to see where Dickinson did her writing. During this seminar, we sometimes spent entire classes discussing a single poem. I had never before paid such close attention to language, to the experience of single lines or words, or to the materiality of language on the page. This new-to-me kind of attention made me want to know more about the person who crafted the poems with such feeling and precision. When we got to Dickinson's house, the lines from her poems that had been rattling around my brain suddenly came to life. The striking New England landscape made Dickinson's often-used nature metaphors jump off the page; the house's proximity to a graveyard made her sober reflections on death seem both necessary and unavoidable; the tiny lamp on her writing desk provided a glimpse into her late-night working habits; her clothing and bed gave us a sense of her petite body, somehow making her seem more human and real than before. After the road trip to Amherst, my experience of reading Dickinson's work became vivid, heightened.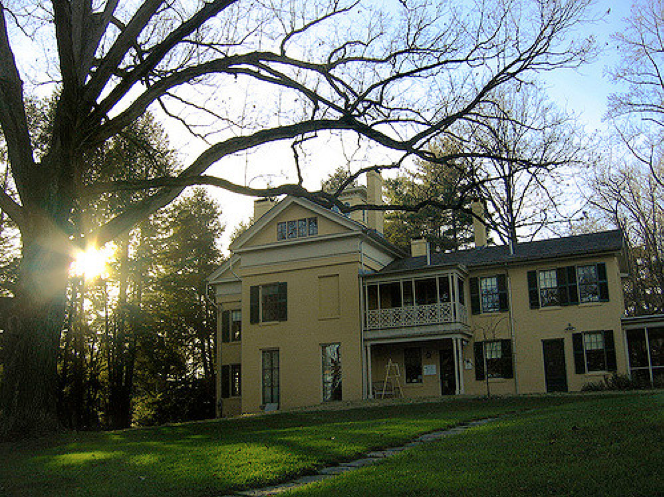 The Dickinson Homestead. Photo by zozolka.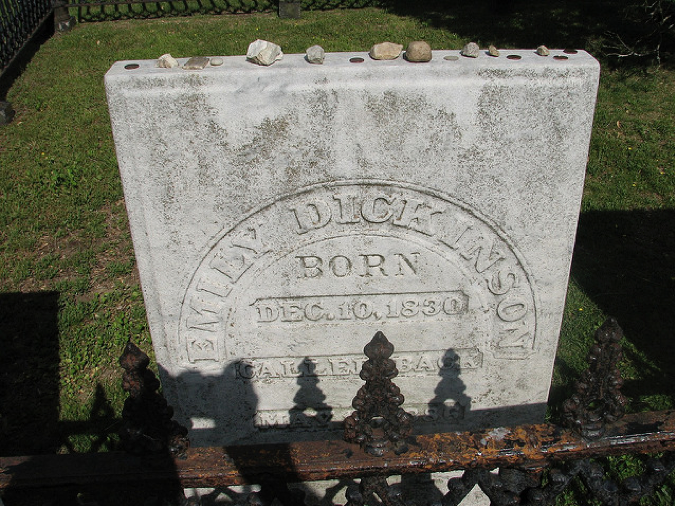 Emily Dickinson's tombstone. Photo by Andy Chase.
Both of these educational events involved sensory experiences that enlivened academic work for me in ways that lectures and writing essays alone could not. Physically interacting with the environs and materials associated with the Zuni and with Dickinson's life certainly emplaced my learning in memorable ways. Yet the impact of these experiences is a result of more than the fact that they took place beyond traditional classroom settings. As John Dewey writes, "Every experience is a moving force. Its value can be judged only on the ground of what it moves toward and into." (38). These experiences altered the way I thought about and approached the world going forward.
The time I spent on the Zuni reservation, for example, attuned me to human connections and commonalities across extremely different cultures and traditions. I grew up in a small, homogenous Pennsylvania town in which any form of diversity was considered to be outside of the norm. This was not often stated explicitly, but it was an attitude I noticed through observing how others interacted with people who were different than them (especially in terms of race, ethnicity, sexuality, and ability). Before the trip to Zuni, my only knowledge of indigenous peoples was from the little I'd read in school, and, sadly, from stereotypes portrayed in TV shows and movies. My limited knowledge made me assume that my way of life was completely removed from whatever I was about to experience. I was immediately struck, however, by how much my classmates and I had in common with the people we met. While respecting and attempting to understand important cultural differences, we bonded with the Zuni community through discussions of shared values, humor, and perspectives on life. The attitudinal shift that resulted from my Zuni experience made me question the assumptions about difference I learned from being raised in a sheltered, largely white environment. After living in Zuni, I gradually started seeking out similarity first when faced with difference.
Visiting Emily Dickinson's house caused a different kind of shift in me. That trip made me aware of how language and knowledge are shaped by the environments we inhabit; it changed how I viewed literary texts and knowledge production more broadly. The experience I had in Amherst helped me to see my encounters with knowledge in an ecological way as opposed to viewing scholarly work as an isolated critical task involving only my brain and the text. While these are certainly not mind-blowing revelations now, having these two distinct experiences as an undergraduate altered my thoughts and feelings in ways that I carried into and cultivated in future contexts. Each experience became a "moving force" (Dewey 38).
In sonic terms, we might think of Dewey's notion of the "moving force" of experience—its energy—as resonance. According to Stefan Helmreich, "Stretching beyond the acoustic, auditory, and audible to reach the zone of the vibratory, resonance transduces energies across various media" (163). He continues, "If the dominant visual idiom of reflection has posited that the mind is a mirror of the world—detached, apart, objective—then resonance suggests participating in the world, moving in sympathy, working in an empirically attuned embodiment" (163). The educational experiences I cite were participatory and immersive, and the learning that emerged from them resonated throughout other parts of my life. The embodied knowledge I acquired during these experiences transduced forms across new contexts over time.
The "empirically attuned embodiment" that results from resonance involves both an acute attention to sensory experience and actually becoming sensitized (163). In other words, experiences that resonate—that continue to transform us—defamiliarize, unsettle habits and assumptions, and challenge previous ways of knowing or being. The learning experiences that stick are able to sensitize us in ways that make us more attuned participants in future situations. I am not suggesting that every learning experience beyond listening to a lecture or reading a book (both of which can be powerful learning experiences under the right conditions) is somehow going to magically sensitize students. On the contrary, Dewey cautions, "Any experience may be such as to engender callousness; it may produce lack of sensitivity and of responsiveness. Then the possibilities of having richer experience in the future are restricted" (26). It is not as much the kind of learning experience one has, but the quality. The challenge for teachers, then, is to design experiences that have the potential to sharpen students' sensitivities. But how?
In Bruno Latour's essay "Sensitizing," he uses the word aesthetic, or aesthesis in its original Greek sense, to mean "perception, or making oneself sensitive to something" (315). He proposes that "ways of knowing that involve sensory modalities, neuroscience, and art … are also ways of rendering sensitivities" (315). Latour's point is that aesthetic experiences can make us think and feel differently about subjects that are overly intellectualized and abstract (he uses climate change as one example). In other words, aesthetic experiences are the opposite of detached approaches to learning that separate us from the objects that we study. An aesthetic approach to pedagogy, then, is sensational—bodily, enveloping, participatory. In order to create such sensational pedagogical conditions, Latour suggests that changing the medium or scale of the problem you are exploring can result in a new understanding or relationship with that problem: "An action, event, or reenactment can provide a chance to start again" (323). This is what I hoped would happen in the multisensory dining event. Like the chefs I discuss in "Enlivening Sonic Composition," I wanted to design an occasion in which my students could experience how something as mundane as eating a meal could be transformed by the sensory environment. I wanted to turn a large-scale complex topic—sound's relationship to other sensory modes—into a small-scale familiar activity.
So, I continued pursuing what I considered to be a highly aesthetic pedagogical project with Latour in mind. Pushing aside my pre-tenure anxieties, I shifted my focus to more important questions: How would the multisensory dining event impact my students' sensitivities to sound and sensory rhetorics after the class ended? What would this experience "move toward and into" for them (Dewey 38)?
After writing this reflection on the origins of the multisensory dining event, it strikes me that this project was profoundly shaped by ambient conditions. My own personal, scholarly, and institutional trajectories played a huge role in my decision to move forward with the project and in determining how it would be designed and executed. The multisensory dining event, in other words, was not an isolated idea I cooked up from scratch; it was inspired by and enmeshed with an entire network of (seemingly unrelated) experiences. It seems that even acts of invention and production—pedagogical or otherwise—are ecological processes that are always entangled in a complex web of lived experiences.