Liner Notes
The multisensory dining event took place on December 2, 2015, but the process leading up to the project was a semester-long, thoroughly collaborative effort. At the beginning of my Sound, Composition, and Culture seminar—an upper-level course that dealt with a range of scholarship from rhetoric and composition, sound studies, and sound art and design—students formed design teams for the various parts of the meal: team appetizer, team main course, team dessert, and team sonic palate cleanser. While each team was responsible for their own soundtracks, the entire class had to work together to come up with a cohesive multisensory design for the event as a whole.
As a class, we spent over half of the semester conceptualizing the event. To inform our ideas, we also discussed research about the relationship between sound and food, including a book called The Perfect Meal: The Multisensory Science of Food and Dining.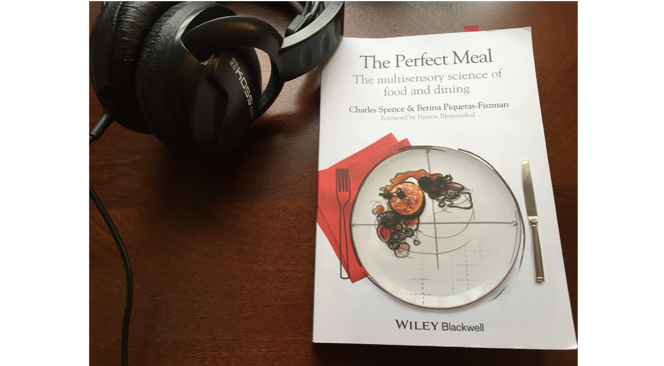 The Perfect Meal, our primary course text, pictured with headphones.
One of the requirements of the project was that each team had to integrate food science research into their sonic designs. Additionally, when conceptualizing this event, students had to take into consideration the theme of the meal, "Comfort Food". They corresponded with our chef, Stephanie Sapienza, to decide on the menu. Sapienza is an amateur chef and the project manager at the Maryland Institute for Technology in the Humanities (MITH); she generously volunteered to help with this project.
Teams' sonic compositions and visual designs went through multiple stages of peer review and revisions. We discussed every detail—from the phrasing of the language on the menus to the volume levels of our tracks. Once our overall event design was agreed upon, each team collaboratively wrote an artist statement that described the specific rhetorical choices and goals of their team's sound design and discussed the food science research and course readings that informed their choices. Students also wrote reflections about their individual contributions and their team's collaborative process.
The multisensory dining event was co-sponsored by MITH and the Design Cultures & Creativity program (DCC) at the University of Maryland, College Park (UMCP). My students and I had access to the room in which the event would take place a few weeks before the real thing, so we were able to scout out the affordances and constraints of the space. For example, students tested the sound system and lights, measured the table to account for visual design elements (e.g., tablecloths, props), and experimented with the seating configuration.
At the end of the semester, I bused my students to College Park to put on this event for a number of students in the DCC program. In addition to students, we were lucky to have several scholars join us for the main event: Neil Fraistat, director of MITH; Psyche Williams, chair of American studies at UMCP and a specialist in food studies; and Eric Schulze, host of a web series about science and creativity for Smithsonian magazine. I should mention that, though it was beneficial to include the perspectives of participants with backgrounds in food studies and science, my intention for this project was never to have students delve deeply into the scholarly areas of food studies or food science; to my mind, this was primarily a project about rhetoric, composition, sound, and multisensory design. That said, because the project dabbled in some aspects of food studies and food science, teachers and students from these fields might take up or adapt this experiment in various ways.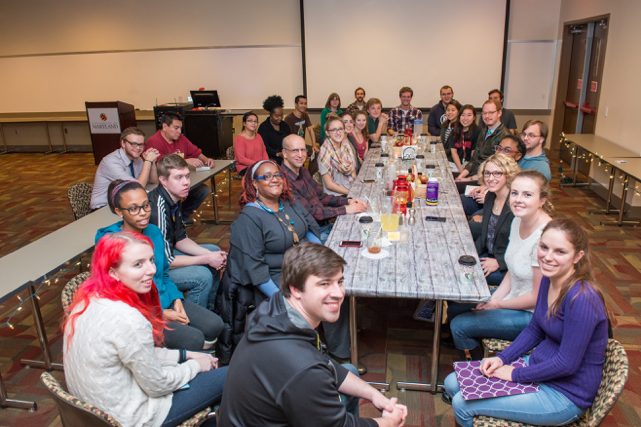 Students, faculty, and participants gather around the dining table.
Those who participated in the event were given some very basic instructions. We wanted them to behave as they would when dining with any group of friends. We encouraged them to interact and converse throughout the meal rather than treating this event as a school-sponsored experience. However, we did ask them, every so often, to take a moment to notice how they were feeling, what they were tasting, smelling, hearing, etc. They were aware that they would be talking about their experiences after the meal, so a certain level of attention to their experience was necessary. The participants were also invited to live tweet the event using the hashtag #soundnevertastedsogood, which served to heighten their attention as well. A tweet archive of their experiences as the meal unfolded is still available.
I documented the multisensory dining project throughout the semester to provide a fuller sense of what this kind of experimental pedagogical process entailed. With the permission of my students, I share their work and documented participation throughout this album and in the "ambient texts" associated with Sound Never Tasted So Good.
In many ways, this pedagogical project was inspired by Geoffrey Sirc's passionate call to treat composition as a "happening"; its aim was to put students in an invigorating, defamiliarizing situation that allowed for "more open-ended, poetic theories of form and content, congruent with developments in other compositional fields" (25). Indeed, the sound-design practices I asked students to experiment with might be considered a kind of avant-garde art. The multisensory dining event also resonates with Jody Shipka's Toward a Composition Made Whole, Kristin L. Arola and Anne Frances Wysocki's Composing (Media)=Composing (Embodiment), and Jonathan Alexander and Jacqueline Rhodes' On Multimodality. I hope to show that the bold pedagogical experimentation these texts encourage provide useful ways to bring sensory rhetorics more prominently into multimodal composition.
While the multisensory dining event was technically a sound-based pedagogical experiment, it involved much more than sound alone. Similarly, in addition to audio tracks, this album includes textual descriptions and explanations, images, and video. The album is designed to engage listeners (readers/viewers) via multiple sensory modes and provide multiple pathways to interact with this work. It is meant to both recreate the experience of the event (or at least a version of it) and be an experience itself. However, my choice to offer more than audio in this album is not only because sonic experiences always involve more than one sense. I also made this choice with accessibility in mind.
Multisensoriality, particularly in relation to digital writing and rhetoric, is a complicated subject with regard to accessibility. While providing multiple ways to engage with a text or experience is a tenet of universal design, the notion that more senses are always better is also ableist. As Jay Dolmage writes, there is an "implicit argument that, in each individual learner, the more modes engaged, the better. I would argue that we do not all have the same proclivity, desire, or ability to develop all of our modal or literate engagements" (187). I want to stress that Sound Never Tasted So Good is not an uncritical celebration of the multisensory nature of sonic experience. Instead, this project demonstrates that multisensory rhetorical work offers a sensory flexibility that makes it possible to design and participate in composed experiences in myriad ways. In other words, having access to all of the senses is not a requirement of sensational pedagogy.
Not every person will be able to have the same experience when designing or participating in multisensory assignments—far from it. This is why collaboration is extremely important in multisensory pedagogical projects; presenting opportunities for multiple people with different sensory capacities or strengths to work together can distribute the sensory labor in necessary ways, as well as encourage communication about accessibility and how to translate particular sensory experiences to different audiences. I also want to acknowledge that there are limitations to the design of Sound Never Tasted So Good. For example, the listening-tasting pairings I provide as a bonus track and the sound-chocolate experiment in "Enlivening Sonic Composition"are obviously not as accessible to deaf or hard-of-hearing persons (these experiential "extras" or "options" are also not essential for understanding or experiencing the fullness of the project). What I hope to demonstrate in the album and in Sound Never Tasted So Good as a whole, however, is that designing with multiple senses in mind can provide more ways for students and audiences to participate than multimodal projects that focus on a singular mode, such as sound only or visual media only (Kerschbaum). More senses or modes are not always better, but multisensory design can result in more inclusive assignments and scholarship and provoke us all to think with and through our bodies about the complexity of sensory relations.