Indigenous Language Interpreters and Translators / Intérpretes y Traductores de Lenguas Indígenas
Toward the Full Enactment of all Language Rights / Hacia un Ejercicio Pleno de los Derechos Lingüísticos
By / Escrito Por: Abigail Castellanos García, Laura Gonzales , Cristina V. Kleinert, Tomás López Sarabia, Edith Matías Juan , Mónica Morales-Good, Nora K. Rivera


Abstract
English
This book was written by the organizing committee for the International Unconference of Indigenous Language Interpreters and Translators, which took place in the city of Oaxaca on August 8-9, 2019. This event brought together 370 Indigenous language speakers, translators, interpreters, researchers, students, and activists to collaboratively develop frameworks for professional development in the area of Indigenous language translation and interpretation.
This book documents training processes for Indigenous language interpreters, and discusses the quality of Indigenous language translation and interpretation services in the public sector from the perspective of interpreters, public servants, government organizations, and academics, with the goal of generating strategies for strengthening public policy in these areas.
This book includes content in five languages: Zapoteco, Mixteco, Mixe, Spanish, and English. In some areas, translations are provided, while in others, translations are not provided. This multilingual publication thus illustrates the importance of language access and the value of Indigenous languages in language activism.
Español
Está publicación fue realizada por el comité organizador en el marco de la Desconferencia Internacional de Intérpretes y Traductores de Lenguas Indígenas, realizada en la ciudad de Oaxaca los días 8 y 9 de agosto del 2019. Esta reunión congregó un total de 370 personas, incluyendo hablantes de lenguas indígenas, traductores, intérpretes, investigadores, estudiantes, y activistas, con el propósito de desarrollar métodos para la formación profesional de los intérpretes en el área de traducción e interpretación de lenguas indígenas.
Este libro documenta los procesos de formación de los intérpretes de lenguas indígenas y la calidad de los servicios en el ámbito público desde las perspectivas de los intérpretes, servidores públicos, organizaciones gubernamentales y académicos, a fin de generar estrategias de trabajo articuladas que fortalezcan las políticas en la materia.
Este libro contiene información en cinco idiomas: zapoteco, mixteco, mixe, español, e inglés. En algunas partes se incluyen traducciones, mintras que en otras partes no las hay. De esta manera, esta publicación multilingüe demuestra la importancia del acceso a la información y el valor de las lenguas indígenas en torno al activismo lingüístico.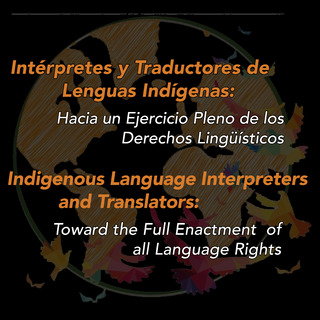 Indigenous Language Interpreters and Translators / Intérpretes y Traductores de Lenguas Indígenas: Toward the Full Enactment of all Language Rights / Hacia un Ejercicio Pleno de los Derechos Lingüísticos
isbn

978-1-7339598-5-8

publisher

Intermezzo

publisher place

Lexington, KY

rights

Published under an Attribution-Noncommercial-Sharealike Creative Commons License

rights holder

Intermezzo

rights territory

U.S.