Chapter 2: Teaching Rhetoric as a Reflective Art
by Jordan Loveridge
Throughout its disciplinary history, rhetoric has been called many things: Productive. Deceptive. Agonistic. Managerial. Architectonic. Epistemic. Each of these labels carries with it a set of assumptions—about what rhetoric is good for, about what it can do (and who can do things with it), about how it can and should be taught. This essay is an attempt to add another adjective to the long list at the start of this paragraph: reflective. By examining my own attempts to teach Patricia Roberts-Miller's Demagoguery and Democracy across two different sections of a course on argumentation, I want to make a case for centering reflection as a key rhetorical practice, a practice that encourages students to engage in the messy and probabilistic work of rhetorical deliberation. At the same time, I hope that this essay can model what this process might look like for both educators and students, demonstrating how rhetorical reflection can complicate typically adversarial notions of rhetoric and, in turn, enrich rhetorical education.
Reframing rhetoric as reflective challenges dominant notions of human relations in many Western rhetorical traditions—those traditions that have, for better or worse, informed the pedagogical enterprises of most American universities since the early twentieth century. As Carolyn Miller notes in her essay "Should We Name the Tools?", two competing and "opposing impulses" predominate throughout rhetoric's history: impulses toward both "self-aggrandizement and ... self-denial" (19). Tying these impulses to two "foundational assumptions" of rhetoric's classical tradition (21)—"an adversarial model of human relations and a mimetic model of language" (22)—Miller argues that in most rhetorical situations, "The audience must ... remain the adversary of rhetor, and vice-versa" (30). Questions of honesty, sincerity, and artifice demand intense scrutiny of the arguments of others, with rhetoric serving as the lens through which this scrutiny is applied. From this conclusion, Miller rightly asks, "What can rhetoric's public role be under these conditions? What can its educational project be?" (30).
Drawing from Patricia Roberts-Miller's Demagoguery and Democracy, I want to take up these questions and offer some suggestions that might inform the practice of rhetorical education. Specifically, I argue that the central claims of Roberts-Miller's text—that demagoguery is a reduction of argumentation to questions of group identity and that demagoguery can never be addressed by solutions that do not acknowledge our own potential complicity in demagogic discourse and thought patterns—can potentially animate a form of pedagogy that foregrounds the need to teach rhetoric as a reflective art rather than solely as a productive, interpretive, or critical one. By this, I mean that as teachers of rhetoric and argumentation, one of the most useful things we can do to orient our students toward an understanding of rhetoric in an age of demagoguery is trouble our discipline's insistence on the scrutiny of the arguments of others through our assignment design and individual pedagogical practices. Specifically, I suggest that assignments that encourage reflection on the rhetorical thought processes of our own students—rather than on the successes or failures of the discourse of others—might help to model rhetorical thinking in productive ways. To this end, I forward a series of reflections and a few sample assignments that represent my own localized attempt to encourage student reflection and self-critique.
In the spirit of the type of reflection I am encouraging here, it is also worth noting the limitations of and potential issues with my approach. First, the data from which I draw my conclusions are limited and anecdotal. I did not teach either iteration of the course mentioned below with the goal of writing about rhetoric and demagoguery; as such, my data here is limited to my own post hoc reflections and summaries from student work and evaluations. Second, this essay's main aim is to trouble rhetoric's disciplinary, theoretical, and pedagogical focus on agonism and critique through a reflective process centered on a course in the field of rhetoric and argumentation, not to make empirical claims about student learning. One way I hope to accomplish this goal is by foregrounding how reflection can be seen less as a radically individual activity and more as one that takes seriously the communal responsibility inherent in rhetorical thinking. For myself, this communal responsibility took the form of refining my teaching practices via collaborative engagement across multiple semesters, sections, and students. For students, this responsibility took the form of completing assignments that attempted to foreground how their opinions and argumentative practices might materially affect others, then sharing their experiences with their classmates.
Scrutiny and competition, though, are deeply engrained within the rhetorical tradition. Miller alludes to the history of conceiving rhetoric as a solely agonistic pedagogical project through reference to Wayne Booth, specifically mentioning the goals of "reducing rhetorical warfare" and preparing students to combat "rhetrickery" (Miller 31). However, concerns with "capacitating" the student of rhetoric to the needs and demands of citizenship—demands which have often been figured as an agon (Hawhee 186)—have historically been a goal of rhetorical education, both in the ancient world and in more contemporary democratically inflected rhetorical pedagogies (Hauser; Keith and Mountford; Walker). These visions of rhetorical education are often highly adversarial, as the above metaphors of trickery and warfare suggest. While calls for programs for training citizen-rhetors can offer robust visions of rhetorical education, a central question remains underexamined: what are such pedagogies "capacitating" students to do, and what can their "educational project" be while operating under these metaphors? How one answers this question will naturally influence one's answer to another key question: what kind of citizens do we want students to be?1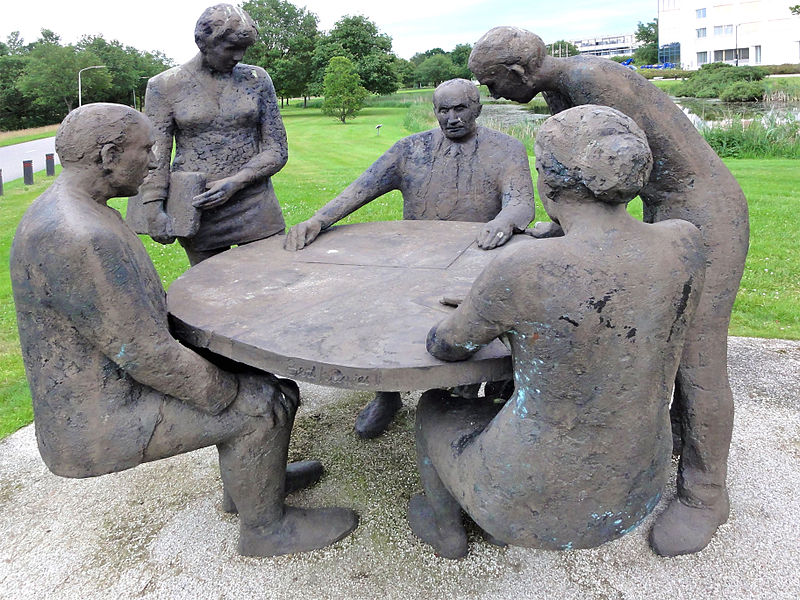 Caption: Sculpture of deliberating bodies in Assen, the Netherlands. Public domain, via Wikimedia Commons.
My goal in this essay is to reflect on how such pedagogical calls continue to position the rhetorical "threat object" outside the self, perpetuating an adversarial relationship between rhetor and audience. Such a positioning can inhibit democratic deliberation by insisting that the most valuable rhetorical skill is recognizing others' use of deceptive and exploitative argumentative patterns. It thus minimizes the value of critically engaging the rhetor's own unexamined assumptions or cognitive biases. However, the teaching of rhetoric and argumentation, when appropriately framed, can offer one (of potentially many) methods for encouraging self-awareness alongside the more traditional critical, evaluative capacities inherent in most formulations of rhetorical education. To clarify, my assertion here is not that reflective practices should expand to constitute the entirety of a course in rhetoric or argument, but rather that such reflective practices should be taught alongside more traditional theoretical, critical, and productive ones. I will expand on this idea with reference to my own teaching of Roberts-Miller's Demagoguery and Democracy, which I suggest is an ideal text for teaching this type of self-awareness in a rhetoric or argument course. My goal here is not to assert that I have answered the question of how to frame rhetorical education as a reflective practice in some sort of definitive way. Instead, I mean to address the issue at the stasis of need: how can my experiences stimulate further pursuit of such a reflective pedagogy?
Teaching Demagoguery and Democracy: Attempt 1
First, some context. In the spring semester of the 2017-18 academic year, as a first-year faculty member, I taught my first course on argumentation. When I proposed to teach the course to help round out our department's elective offerings for that semester, I faced some disciplinary trepidation as I entered new (for me) pedagogical territory. I wondered how I—as a scholar whose research focuses on the history of rhetoric in the medieval period—would capture the richness of argumentation studies as well as how I would handle introducing undergraduates to some of the core concepts and debates that have animated that field. I initially struggled with these questions, but eventually settled on an approach I felt would suffice. The particularities of teaching at a small liberal arts college demand a level of generality in one's teaching, and I felt that trying my hand at an Argument course that was already on the books would be the best way to branch out beyond my typical teaching in composition and our introductory communication course.
Demagoguery and Democracy was the first text that I knew I had to include on my syllabus. Roberts-Miller does an excellent job of addressing what the individual can actually do in response to the many ongoing problems with public discourse and argument that the book identifies. While these are strengths of the book, the thing that stood out to me as a scholar of rhetoric and as an educator was how it never lets the reader "off the hook," so to speak: the issue and suggestions are never about, indeed can never be about, someone else. Demagoguery and Democracy reminds us that we are all variously susceptible to and occasionally complicit in demagogic discourse. As Roberts-Miller notes at the book's beginning,
The underlying narrative is that our political culture has been damaged because a demagogue has arisen and is leading people astray. If we accept this narrative (one that doesn't actually hold up to scrutiny), then we try to solve the problem of demagoguery in ways that worsen it: We call for purifying our public sphere of their demagogues, often in very demagogic ways. This narrative misleads us because it reverses cause and effect. We don't have demagoguery in our culture because a demagogue came to power; when demagoguery becomes the normal way of participating in public discourse, then it is just a question of time until a demagogue arises. (1-2)
From its very first pages, then, the book does something special: it challenges the focus and nature of most approaches to rhetorical education by making the object of inquiry and examination not only discourse and argumentation patterns circulating out in the world, but also our own choices about which arguments to forward, consume, amplify, and attack. While rhetorical education, especially when focused on argument, often encourages a relentlessly critical perspective, Roberts-Miller reminds us that adopting such a stance does nothing aside from providing "criteria that enables us to see only their demagoguery" and not our own (7). I wanted my course to allow students some insight into their own argumentative patterns, to encourage them to critically interrogate themselves as both producers and consumers of rhetoric rather than solely focusing on the latest rant by their least-favorite pundit or some distant historical figure.
To me, this is the essence of rhetorical education: an examination of the self not as autonomous entity but as part and parcel of a broader democratic community. This was the focus I wanted to bring to my course on argument. I chose this focus because I believe deeply, perhaps naively, in "rhetoric's origins in democratic praxis," a praxis that has long acknowledged that one's opinions are never truly individualized but always communal (Eberly 290). Building from this vision, my course planning was filled with visions of students internalizing the theories and practices that constitute (Western) rhetorical traditions2: stasis, the topoi, doxa, and so forth. We would learn about these concepts, as well as more traditional concepts in the field of argumentation (models of argument, spheres and fields of argumentation, etc.), and then analyze situations where these concepts were either clearly illustrated or perhaps failed to fully account for the outcome of the rhetorical situation. At the time, my goal was to "capacitate" my students into rhetors who were comfortable enough to "enter [a] conversation willing to be wrong, willing to admit the limits of [their] own knowledge, and willing to reconsider [their] evidence, sources, and premises" (Hauser; Roberts-Miller 17). Put more simply, students would be encouraged throughout the course to "think about how [they] are thinking" (Roberts-Miller 17). Call it argumentative metacognition.
While the above description represented my initial vision, I recognize now that the course did not live up to these lofty expectations. As with any newly designed course, Argument was a mixed bag of success and failure. However, as I reflect on my experience, the moment that stands out most to me came toward the end of the semester. After studying Demagoguery and Democracy, as well as a selection of other texts focused on what might broadly be termed "how not to argue," a student registered frustration at the focus of the course. While I am surely failing to recall the exact wording, the student offered the following criticism: "all we have talked about in this class is how people are bad at arguing. You never even taught us how to win arguments." This criticism was difficult to hear both because it contained a lot of truth (looking back, there was a lack of balance in terms of producing arguments versus learning theory versus analyzing the arguments of others), but more importantly because it meant I had failed at delivering what I saw as the point of the course: that "winning" the argument should not even ever be the point of argumentation studies.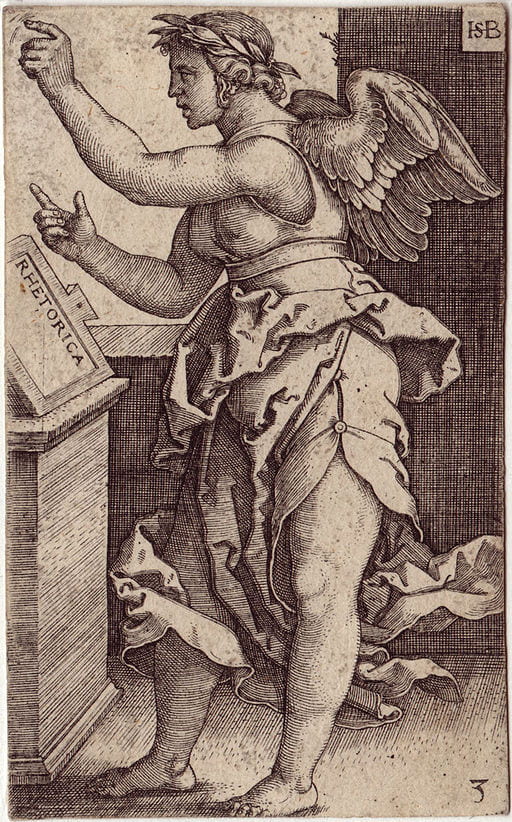 Caption: Rhetoric has long been conceptualized as an agonistic exchange centered on the efficacy of advocates. Public domain, via Wikimedia Commons.
I wanted to construct a course that emphasized the shared responsibility inherent in arguing as participants in a democracy. While I understood "bad argument" as rhetorical norms that undermined democratic deliberation, the student had instead understood it as simply "ineffective" or "unpersuasive" argumentation. While they had read Demagoguery and Democracy, clearly my course, my lectures, and my assignments had not prompted the student to engage with and internalize the text's main ideas as their comments reflected an attitude toward argument that sees argument "as a zero-sum game [where] the more they succeed, the more we lose" (Roberts-Miller 13). This student's comments stayed with me as I planned my next iteration of this same course.
Getting Judgmental
Historically, how to respond to students who view rhetoric solely as a way to win arguments has been something that has vexed me as an instructor. The reason for this vexation, I think, is that this attitude also speaks to rhetoric's most ancient disciplinary anxieties: how should one respond to students who perceive rhetoric as simply the exercise of verbal power? If "teaching rhetoric involves teacher and student in a continuous journey to uncover personal beliefs and the reasons for holding them" (Hauser 42), how are educators to respond when the beliefs and reasons uncovered are damaging to the democratic ideals most commonly associated with rhetorical education? While I don't think there are clear answers to these questions, I do think that examining some of our discipline's calls for pedagogical reform provides some insight here, specifically in terms of how rhetoricians figure rhetorical education's telos.
In this section, then, I want to show that despite the uncertainty surrounding those questions, the skills of perceiving and apprehending the rhetoric of others are almost always tied to the demands of citizenship, especially within the occasional calls to reassess rhetorical education issued by scholars and professional organizations. At the same time, I hope to productively question the extent to which perception and apprehension—the skills most foregrounded by Hauser, and, as we will see momentarily, the authors of "The Mt. Oread Manifesto" (Keith and Mountford)—guarantee or even facilitate the ability to act ethically within a communicative situation. To trouble the pedagogical focus on perception/apprehension is also to trouble rhetoric's focus on agonistic scrutiny, potentially allowing new guiding metaphors to take hold.
Throughout this essay, particularly as I described the first iteration of my Argument course, I have leaned heavily on ideas from Gerard Hauser's essay "Teaching Rhetoric: Or Why Rhetoric Isn't Just Another Kind of Philosophy or Literary Criticism." This essay has been an important touchstone for me as I have developed as an educator, but it also exemplifies many of the issues within rhetorical studies that I have described thus far. In it, Hauser offers a vision of rhetoric tempered by an attunement to the ethical component of all rhetorical situations. In theory, encouraging such an ethical awareness represents one potential avenue for addressing the problem I mention above. While awareness of the ethical dimensions of rhetorical situations is obviously important, it is worth noting how Hauser frames the relationship between the trained citizen-rhetor and the circulation of discourse out in the world. This framing reflects the "opposing impulses" and "foundational assumptions" of rhetoric that Carolyn Miller identifies, showing how both potentially limit the nature of rhetorical education. While Hauser recognizes that learning rhetoric does not ensure moral action, he nonetheless maintains a focus on the potentially damaging discourse of others:
[Rhetoric] does not guarantee an informed moral awareness. Rhetoric at its best teaches students to practice trustworthy argumentation, but we know that it also produces, in Booth's memorable coinage, "rhetrickery." We need, therefore, to empower students to analyze the ethical dimensions of rhetorical situations. (44)
Hauser is not alone: at various points in the last decade or so, rhetoricians have issued rallying cries for (more or less) such a pedagogy—one attuned to the demands of citizenship, one that places rhetoric at the center of the "basic course" or the first-year writing sequence, and one typically dominated by the concern with teaching the perception and assessment of threats originating outside the self. Hauser produced his call for a manifesto for rhetoric pedagogy shortly after the ARS (Alliance of Rhetoric Societies) conference held in Evanston, Illinois, in 2003, contending that the field must "recover the value of rhetoric education as central to civic education [and] we must reassert the role of rhetoric in our lives as citizens and social actors" (41-42). Ten years later, the authors of "The Mt. Oread Manifesto," which arose from a seminar at the 2013 Rhetoric Society of America Summer Institute, would revive many of these concepts, concluding, "Rhetoricians should cross departmental and disciplinary lines and collaborate to design and implement an integrated curriculum in rhetorical education ... in order to develop citizen participants" (Keith and Mountford 3). The ideals expressed in the Mt. Oread Manifesto closely align with many of the positions adopted by Hauser, including the perception and discernment of potentially misleading or faulty arguments made by others.
The manifesto's authors begin their list of ideals by noting that they seek a world in which "average citizens can perform rhetorical analyses of the discourse around them and ask productive questions of politicians, employers, business and community leaders, and each other, as fellow citizens" (3). While the manifesto was written roughly seven years ago, pleas for centering rhetoric within the curriculum continue today; hours before I wrote this sentence, Andrea Lunsford shared a blog post in which she argued that "folks in our field have argued for decades that rhetoric should be at the heart of the entire undergraduate curriculum, precisely because it offers systematic ways to analyze and understand any situation as well as ways to act ethically and effectively within that situation." Such concerns, then, clearly remain with the field.
Calls to more thoroughly theorize our pedagogical commitments have also been met with equally valuable and important calls to study the practice of rhetorical education as it is enacted within our classrooms. Craig Rood, for instance, has called for greater attention on the part of communication scholars to how "rhetoric [is taught] as an inventional, interpretative, performative, and productive art" (137). In the cases of the Mt. Oread Manifesto and the work of Rood, the traditional tasks of invention and analysis are emphasized. To clarify, my point here is not that these skills are without value—they form part of the core of what rhetoricians teach. My point is only that, while some attention is paid to ethical speech and action, the majority of time and attention in these visions of rhetorical education is focused on production of speech and the analysis of the arguments of others rather than on the examination and interrogation of one's own positions through a process of rhetorical thinking and reflection. The potential problem inherent in this orientation, then, is that rhetoric and its connections to citizenship are still framed as adversarial, even if the actual language is softened to something like: students need to be able to "perform rhetorical analyses of the discourse around them and ask productive questions" (Keith and Mountford 3). While it may not be intentional, this phrasing still assumes a model wherein the binaries of good/bad discourse, insider/outside speakers, and ignorant/informed people predominate (Steudeman 303).
While the above discussions of rhetorical education have more often than not focused on more traditional inventional and critical capacities, some scholars have emphasized the capacity of judgment as a key element of such an education. In my view, these scholars forward an alternative vision of rhetoric pedagogy, one that takes seriously rhetoric's potential as a reflective practice. If Hauser, "The Mt. Oread Manifesto," and others mentioned above represent a pedagogy concerned with perception and invention, this second orientation might be described as foregrounding judgment and reflection.
This second orientation is typically enacted by foregrounding or dramatizing rhetoric's role in communal deliberative practices. Rosa Eberly, for instance, has suggested that rhetoricians ought to conceive of their "classrooms as sites for building and enacting rhetorical theory" (291), specifically as spaces "where students can engage in the praxis of rhetoric, an art whose telos is krisis, or judgment" (293). Jennifer Clifton echoes some of Eberly's arguments, noting, "If our writing classrooms are to again prioritize the work of rhetoric as a practical and productive art that matters in our lives, then context and judgment—both central to understanding and taking human action—must also be central to our writing pedagogy. More specifically, embracing uncertainty, difference, and conflict as inevitable and valuable components of context and judgment must be part of our pedagogical work" (63). Danielle Allen, in her book Talking to Strangers, develops a similar line of thinking when discussing democratic habits of civic friendship:
In the Nicomachean Ethics, Aristotle had defined the art of politics as involving two distinct sciences: legislation, which deals in general, prescriptive rules, and judgment, which concerns the actions to be taken in particular cases (6.7)…. Judgment is not merely the second political science but also, according to the Rhetoric, "that for the sake of which rhetoric is used." (Allen 141)
For Allen, rhetoric allows one to make "conclusions about human probabilities" that are sensitive not only to factual argument, but to a demonstrated commitment to civic friendship and good will on the part of speaker and audience (144). Her framework of civic friendship shares much in common with the suggestions of Eberly and Clifton, as well as some of the more concrete suggestions offered in Roberts-Miller's Demagoguery and Democracy.
These works distinguish themselves from some of the earlier models of rhetorical education discussed in this essay by virtue of their focus on encountering differences and accepting and reflecting upon the limits of probabilistic knowledge. Clifton, for instance, has called for a form of "rhetorical education [that] trains citizens 1) to make public claims, 2) to dialogue together with others who are also making (possibly conflicting) public claims, and 3) to make wise decisions under difficult circumstances with knowledge that is always limited," a set of goals that clearly aligns with Allen's discussion of rhetorical judgment (64).3
The difficulty, then, is not that other visions of rhetorical education (such as those offered by Hauser, "The Mt. Oread Manifesto," and Rood) cannot contribute to the development of rhetorical judgment. Rather, I think it is more likely that these visions of rhetorical education reflect different understandings of the term. Judgment, of course, can mean a discerning analysis of a given set of circumstances informed by wisdom; however, it can also mean the pronouncement of a verdict about the quality or nature of something. Both of these skills are important; students need to be able to analyze the quality of speech circulating out in the world. But to reduce our pedagogy to this alone both misses the point of studying demagoguery—as Roberts-Miller reminds us—and reduces rhetoric to nothing more than an inoculatory procedure (Paine 4).4 This type of judgment is not the krisis Eberly would have us seek within our classrooms; that requires a greater level of self-analysis.
In uniting rhetoric, judgment, and civic dialogue, Eberly, Clifton, Allen, and, of course, Roberts-Miller come closest to theorizing the type of reflective work I advocate for here. Below, I offer a short description of some changes I made to my course on argument during my second year of teaching to move my pedagogy closer to the teaching of rhetorical "judgment" and reflection. However, I want to emphasize that this scholarship alone is not what led to the changes I describe below. Rather, it was a process of communal reflection, shared with two sets of students in two classes, that created an impetus for reading and acting upon this scholarship in new ways. In addition to some short reflections below, I have offered the assignment sheets (See Appendix 2: Journal of Argument and Metacognition Assignment) for one unit of my revised course. My hope was to combat the "adversarial model of human relations" and replace it with a self-aware and self-skeptical one (Miller 22).
Teaching Demagoguery and Democracy: Attempt 2
To foreground rhetoric and argument as a reflective and "judgmental" practice, I made changes primarily to one unit of course: the one I previously described as "how not to argue." While the first iteration of my course placed this unit near the end of the semester, for the revised course I put it first. In doing so, I hoped to frame the rest of the course. Beyond this, I changed the name of the main assignment, which was itself composed of several smaller assignments, to "Journal of Argument and Metacognition" (see Assignment: Journal of Argument and Metacognition). These assignments were:
Metacognitive Flashback: "Both rhetoric and argument rest on the assumption that reasonable people, acting in good faith, are willing and able to change their minds when confronted with evidence that warrants such a change. As such, argument also rests on an assumption of vulnerability—to be able to admit that one is wrong, and to recognize when such an admission might be appropriate. This portion of your journal asks you to recount a time you changed your mind about a social or political issue while using … new tools and course vocabulary to help you to make sense of why your standpoint changed. Ideally, this portion of your journal should examine a time when you revised your view of a closely held political or social belief."

Reaction to Social Media Argument5: "This portion of your journal asks you to observe and react to the argumentative practices of an online community related to one of your own passions or interests. The purpose of this portion of your journal is to emphasize and illustrate that arguments pervade all aspects of our lives. The same patterns and problems that we can identify in political discourse are often just as visible when people argue about their interests and hobbies. To complete this portion of your journal, you will join an online community dedicated to one of your personal interests and reflect on the argumentative practices of that community."

Response to Opinion Piece: "This portion of your journal asks you to read and engage an opinion piece that forwards an argument that you disagree with (I can provide suggestions about what websites to visit to read high-quality opinion pieces). Your goal will not be to attack or discredit the author's argument. Rather, your purpose is to understand and track your own personal response to the piece's claims. In other words, you are not 'responding' to the author, but rather to yourself, your own instincts and reactions. You should do so with reference to the course readings and vocabulary, especially readings related to claims/enthymemes, stasis, doxa, and cognitive biases (as appropriate)."

Introductory Cover Letter: "Despite being 'introductory,' I ask you to write this portion of your journal last. The purpose of this section of your journal is to introduce the other documents and connect them productively. You should comment on what you learned through this process of reflection, if/how the assignment has changed how you view argument in the world, and what value, if any, you found in completing the various elements of the project."
Together, these assignments and associated readings, lectures, and in-class presentations comprised the first third of the course. In foregrounding the reflective and metacognitive elements of the course, I hoped to establish from the beginning that the course was focused not only on the production of logically sound and rhetorically effective argumentation, but on developing the personal capacity to reflect on one's positions, values, and argumentative commitments. These goals were reinforced by in-class activities, including one class session where students were asked to create their own personal "value hierarchy" and compare that to the hierarchy of another person (which entailed students extrapolating potential values from an opinion piece).
As a whole, the changes I made to the course seem to have had my intended effect: no student expressed a concern about their ability to win arguments, and their journals reflected a sophisticated understanding of how argument operated within their own lives. For instance, during class discussions of their Metacognitive Flashbacks, students quickly noticed that almost everyone in the course had written about a time they changed their minds based on something that happened directly to a close friend or family member. This then led to excellent discussions of how narrative, stories, and personal connections influence argument, as well as some doubts about the power of speech to change people's minds: If everyone in the class was convinced by a personal experience or an experience of a family member or friend, can speech ever serve as an effective stand-in? Or are we fundamentally limited by our personal experiences? Many students likewise connected these personal experiences to their own value hierarchies, recognizing how both influenced their assessment of other arguments. One student wrote that he now better understands his father's positions on gun control and gun violence, previously a source of conflict between the two, because he better understands how the polarized "sides" of this debate are informed by competing assumptions and values.
Likewise, students proved adept at locating demagogic argumentation in online spaces dedicated to their hobbies, and many noted that practicing this skill on something low stakes helped them better understand the course concepts. One student, for instance, was shocked by how helpful stasis theory was in improving the quality of her arguments within a Harry Potter fandom subreddit. Another student wrote in their Introductory Cover Letter that it is now easier for them to understand why others might disagree with their own deeply held positions, which has caused them to approach arguments in a more understanding way.
As an educator, I was pleased with the changes made to this class. While I don't think that the revisions I made solved every issue I noted from the first iteration of the course, I do think it represented an instance of improvement and refinement. I noted this specifically while reviewing the comments in my course evaluations. Whereas the first iteration of this course resulted in such comments as, "this was an argument class but we did no actual arguing or debating. I wish we could have done more of that throughout the year," the second iteration's evaluations focused mostly on expressing approval for the journals and requests to alter textbooks or the amount of daily reading. I noted that the changes in both assignments and evaluations seemed positive, and I intend to iterate on the assignments above in the next version of the course and refine them further.
Conclusion
Early in Demagoguery and Democracy, Roberts-Miller identifies the virtue of self-skepticism as one of the most important tools to reduce demagoguery and facilitate democratic deliberation. If rhetoricians wish to teach rhetoric as a civic art that prepares our students for the work of public discourse, rhetoric's "educational project," as Miller puts it, must to some extent be a self-reflective one, not merely a critical one (30). To reiterate, I don't intend to suggest that any one assignment or course will allow this lofty goal to be actualized. But I have hope that collections of essays such as this one, which focus on how a single text or theory might animate the collective pedagogical efforts of a discipline, are a step in the right direction. For instance, all three essays in the next section of this collection explicitly emphasize ways of addressing demagoguery that I would describe as highly reflective, though each does so through different means (e.g., the examination of demagogic style, the rewriting of demagogic discourse, the more robust theorization of endoxa as a means of confronting the epistemology of demagoguery). This type of work—both robustly theorized and pedagogically grounded—offers an opportunity for reflection not only for students, but also for ourselves as scholars.
Works Cited
Allen, Danielle. Talking to Strangers: Anxieties of Citizenship since Brown V. Board of Education. U of Chicago P, 2004.
Chávez, Karma R. "Beyond Inclusion: Rethinking Rhetoric's Historical Narrative." Quarterly Journal of Speech, vol. 101, no. 1, 2015, pp. 162-172.
Clifton, Jennifer. Argument as Dialogue Across Difference. Routledge, 2017.
---. "Embracing a Productive Rhetorical Pragmatism: Teaching Writing as Democratic Deliberation." Teaching/Writing: The Journal of Writing Teacher Education, vol. 2, no. 2, 2013, pp. 62-76.
Eberly, Rosa. "Rhetoric and the Anti-Logos Doughball: Teaching Deliberating Bodies the Practices of Participatory Democracy." Rhetoric and Public Affairs, vol. 5, no. 2, 2002, pp. 287-300.
Hauser, Gerard. "Teaching Rhetoric: Or, Why Rhetoric Isn't Just Another Kind of Philosophy or Literary Criticism." Rhetoric Society Quarterly, vol. 34, no. 3, 2004, pp. 39-53.
Hawhee, Debra. "Agonism and Arete." Philosophy and Rhetoric, vol. 35, no. 3, 2002, pp. 185-207.
Keith, William, and Roxanne Mountford. "The Mt. Oread Manifesto on Rhetorical Education 2013." Rhetoric Society Quarterly, vol. 44, no. 1, 2014, pp. 1-5.
Long, Elenore. A Responsive Rhetorical Art: Artistic Methods for Contemporary Public Life. U of Pittsburgh P, 2018.
Lunsford, Andrea. "The Growing Importance of 'Soft Skills.'" Bedford Bits, 2 May 2019, https://community.macmillanlearning.com/t5/bits-blog/the-growing-importance-of-quot-soft-skills-quot/ba-p/7019. Accessed 4 May 2019.
Miller, Carolyn. "Should We Name the Tools? Concealing and Revealing the Art of Rhetoric." The Public Work of Rhetoric: Citizen Scholars and Civic Engagement, edited by John M. Ackerman and David J. Coogan, U of South Carolina P, 2010, pp. 19-38.
Paine, Charles. The Resistant Writer: Rhetoric as Immunity, 1850 to the Present. SUNY P, 1999.
Roberts-Miller, Patricia. Demagoguery and Democracy. The Experiment, 2017.
Rood, Craig. "The Gap Between Rhetorical Education and Civic Discourse." Review of Communication, vol. 16, no. 2-3, 2016, pp. 135-150.
Steudeman, Michael J. "Rethinking Rhetorical Education in Times of Demagoguery." Rhetoric Society Quarterly, vol. 49, no. 3, 2019, pp. 297-314.
Walker, Jeffrey. "What Difference a Definition Makes, or, William Dean Howells and the Sophist's Shoes." Rhetoric Society Quarterly, vol. 36, no. 3, 2006, pp. 143-153.
Notes