Chapter 4: Rewriting Demagogic Discourses
by Ryan Skinnell
We should give students a brief that requires them to take a text that performs its function well and to sabotage it creatively so that it fails in ways that can be discussed as plausible examples of how writing can go astray.
– Robert Scholes,
The Rise and Fall of English
97
Some years ago, I moved away from using a textbook to teach writing because none of the textbooks I used quite seemed to get at the messy and sometimes fraught ways that argument actually works in the world. Meanwhile, I have been reading Patricia Roberts-Miller's scholarship for more than a decade, and a number of her arguments about argument inform how I conceptualize and teach writing: as a way of participating in the world. For instance, her book Deliberate Conflict: Argument, Political Theory, and Composition Classes helped me reimagine my writing classroom as a site for teaching public discourse (as opposed to strictly academic discourse). In keeping with her argument in that book, reimagining my writing classes entailed designing activities and assignments that support discourse in the world—that is, discourse that circulates for audiences beyond the classroom. I've also taught Roberts-Miller's work in rhetoric classes. Her "Dissent as 'Aid and Comfort to the Enemy': The Rhetorical Power of Naïve Realism and Ingroup Identity," for instance, has been invaluable for helping students (and myself, frankly) work through the common, if often unfortunate, experience of encountering arguments as a form of choosing teams rather than weighing ideas, evidence, and claims. As a writing and rhetoric teacher, I advocate for the latter, but that hardly precludes the former. Most distressing, perhaps, is that it doesn't preclude the former even among those of us who are studying it in class and in the world.
The tendency to engage in argument-as-choosing-teams is one of the hardest challenges I face as a writing teacher because, as Roberts-Miller argues persuasively in Demagoguery and Democracy, we live in a culture that values this kind of argument (which she identifies as demagoguery). More specifically, she argues that demagoguery—the tendency to make decisions based on identity and loyalty—is the dominant approach to public discourse in America (3). Though I have felt the tension between teaching writing as public discourse on the one hand and dominant modes of public discourse as demagoguery on the other hand for a long time, I will admit it did not occur to me to teach Roberts-Miller's works in a writing class until I read the manuscript of Demagoguery and Democracy in 2016. The book is not, of course, a writing textbook, nor even a book about teaching writing. But it is an argument, written for a broad-but-educated audience, that attempts to influence how people think and act in the world. It is an excellent example of the kind of public discourse I attempt to teach in my writing classes. Just as Roberts-Miller examines public discourse to influence public discourse, so too can writing teachers use Demagoguery and Democracy as a text for writing classes that ask students to confront, analyze, and write against and around demagoguery.
A Serious Problem with Teaching Writing in the Twenty-First Century
My main objective in this essay is to describe options for teaching Roberts-Miller's Demagoguery and Democracy, but it is worth charting what I see as a central problem that she helps writing teachers notice and address. I began teaching writing in 2005 as a teaching associate assigned to a first-year writing course. In that course, I adopted John D. Ramage and John C. Bean's Writing Arguments,1 which is a textbook designed around several precepts about argument that I continue to believe. Among them: argument isn't a bad thing that's to be avoided, arguments are not simple pro-con debates, and arguments can be pleasurable (2-3). Argument, of course, is not the only kind of writing one can teach in a first-year writing class, but I believed (and to some degree still do) that argument was an important basis for teaching writing to people who would go on to write arguments in their future college and professional careers. And Writing Arguments struck me then, as it does now, as a fairly useful text for getting at much of what I wanted students to learn about argument. Useful as it is, however, Writing Arguments also presents rhetoric and writing teachers with a pedagogical quandary that can be quite hard to notice for reasons I explain below. That problem has to do with the connection between argument, persuasion, and truth-seeking, and with the hovering specter of demagoguery.
Ramage and Bean treat argument, persuasion, and truth-seeking with care, and very early in their book, they introduce readers to one of the most enduring questions for writing and rhetoric teachers: "Is the arguer's first obligation to truth or to winning the argument?" (15). They acknowledge that competing visions of truth exist in different cultures, and as a consequence, they note the following:
For us, truth seeking does not mean finding the 'Right Answer' to a disputed question, but neither does it mean a valueless relativism in which all answers are equally good. For us, truth seeking means taking responsibility for determining the 'best answer' or 'best solution' to the question for the good of the whole community when taking into consideration the interests of all stakeholders. (16)
This definition, probably not accidentally, resonates with definitions of democratic deliberation in rhetorical studies, which commonly involve at their base "(1) gathering together with peers; (2) discussing important matters of the day; (3) in a nonautocratic atmosphere; (4) so that public policy can be changed in behalf of the commonweal" (Sloane 209). Given the long tradition of deliberative democracy to which they gesture, it's easy to see why truth-seeking and persuasion are defining features of argument for Ramage and Bean, as they are for many authors of the most popular writing textbooks. As a writing and rhetoric teacher, I desperately want to believe that their vision of truth-seeking is fundamental to argument in the world.
One problem, of course, is that public discourse often does not cleave to Ramage and Bean's "defining features," even in the best deliberative democracies. "The commonweal" is notoriously hard to define, for instance, and autocracy is strangely alluring, even in democracies (see Fromm; Roberts-Miller, "Demagoguery"). But even setting these complications aside, Ramage and Bean's notion of argument assumes a spectrum with two extreme orientations among people involved in consequential arguments. At one end are the truth-seekers, who may disagree on the best course of action but nevertheless want a solution to a problem. At the other end of the spectrum are propagandists, who obliterate truth-seeking (13). Truth-seekers are ethical, rational, and responsible. Propagandists are quite obviously the opposite.
This is where Roberts-Miller's Demagoguery and Democracy makes such a critical intervention: it demands we not take for granted that bad arguments are strictly the province of bad or ill-intentioned people. Of course, there are bad-faith arguers in the world. In "Gamergate: Understanding the Tactics of Online Knowledge Disruptors," for example, Michael Trice describes how online movements can weaponize dissentivism to "disrupt consensus as a means of strategic activism" (106). Dissentivists break argument because broken argument works to their advantage. The existence of bad-faith argument cannot simply be dismissed or ignored, and in fact, its persistence reaffirms the need to teach argument as a way of participating in the world because that is how students engage argument once they leave our classrooms. But more important for my point here, as Roberts-Miller makes clear, demagogic arguments are not necessarily bad-faith arguments. In fact, they are often not. Central to her book are the contentions that demagoguery is a mode of argument that people adopt across ideological, political, and ethical lines and that people believe themselves to be engaged in truth-seeking even when they're not. As she points out, "we have a tendency to attribute good motives to members of the in-group, and bad motives to members of the out-group, for exactly the same behavior" (37, emphasis in original). Moreover, it's perfectly likely that when demagogic arguments are the dominant form of public discourse, "we try to solve the problem of demagoguery in ways that worsen it" (2).
Put another way, if it were possible to clearly differentiate propagandists—that is, demagogues—from truth-seekers, then my task as a writing and rhetoric teacher would be relatively straightforward, and Ramage and Bean's version of argument would be more than sufficient. I could acknowledge that ugly versions of argument, like dissentivism, exist in dark places, but also exclude those forms of propaganda from my classroom. But that doesn't solve the demagoguery problem and may even make it harder to recognize.
As Roberts-Miller makes maddeningly clear, such straightforward differentiation is not a workable solution for the majority of public discourse, and ensuring the connection of truth-seeking and persuasion doesn't prevent demagoguery. In fact, when "we"—that is, people who believe themselves to be acting in good faith—align ourselves with truth-seeking, we also run the risk of equating "them"—anyone who doesn't agree with us—with bad faith, unethical argument, propaganda, or demagoguery. In so doing, "we" help speed along a shift from argument-as-deliberation to argument-as-identity. And "we" have a tendency to call for removing "them" from the conversation (or, in extreme cases, from existence).
The point here is not to advocate false equivalencies about good-faith and bad-faith arguments being equally righteous or worthwhile. It is, rather, to note that arguments are complex and that sometimes good people make bad arguments and vice versa. Arguments cannot be reduced to whether we think the person making them has good motives or bad motives, and teaching about demagoguery requires us to engage the arguments of people we know we won't agree with. In order to learn about arguments, we have to study arguments and set aside the compulsion to teach only the arguments we think are written by ethical, good-faith arguers. Limiting our teaching to good-faith arguments makes students less well-prepared to recognize when "we" are making bad arguments and when "they" are making good ones. Furthermore, sometimes bad-faith arguments work, and figuring out how and why—and how to react to them in ethical, good-faith ways—is a valuable activity in a college writing class because it enhances students' ability to use argument as a way of participating in the world.
By way of illustration, I want to suggest a hyperbolic example: Adolf Hitler. Hitler is, of course, the archetypical monster of the twentieth century, having "swung a great people in his wake" and presiding over the systematic annihilation of millions of people (Burke 191). As any rhetoric teacher surely knows, Hitler was also a very gifted public speaker. In the 1920s and '30s, Hitler rose to fame largely (though not exclusively) on the basis of his public speaking (see Bytwerk; Kershaw; Ullrich). From his earliest public performances, he violently condemned democracy, Jews, and Bolsheviks; he played to his audience's basest fears; and he employed religious imagery to cast Jews in particular as vermin that needed to be eradicated from Germany and Europe and, eventually, the world. He was also, by many accounts, utterly sincere.
Uncomfortable though it may be to acknowledge, Hitler seems genuinely to have believed that Jews needed to be eradicated in order for non-Jewish Germans to thrive. And lots of "good people" agreed or at least acceded. Roberts-Miller contends, "We don't want to admit smart and good people liked Hitler, or thought he was raw and crude but would be matured by responsibility, or that he didn't really mean what he said, or that liberal democracy was dead and therefore fascism was the best choice, or that he could be controlled" (Demagoguery 27-28). But "smart and good people" did.
We might be inclined to dismiss Hitler as someone who separated truth-seeking from persuasion in pursuit of personal gain and cordon him off from our definitions of good argument, but that would be misleading. Reading Hitler's arguments demonstrates that he generally provided justification for his claims (sometimes intentionally misleading, but not always), he treated argument as both a process and a product, and, at least in his own mind, he combined truth-seeking and persuasion (to absolutely horrific ends). Put more provocatively, the archetypical twentieth-century monster fulfilled Ramage and Bean's defining features of argument—including the one that seems most likely to ensure ethical argumentation. It is not a leap to assert that, by textbook standards, Hitler practiced good argumentation.
Of course, my point is not that composition textbooks will breed new Hitlers, but that the forms of argumentation that many textbooks advocate are amenable to the kinds of "us versus them" argumentation that Roberts-Miller identifies as demagoguery. When a culture is argumentatively sound and the dominant mode of public discourse is deliberative, the connection of persuasion to truth-seeking is eminently sensible. But when a culture is argumentatively unstable and demagoguery is the dominant mode of public discourse, otherwise sensible definitions of argument can feed into public discourse as identity and loyalty, which says "complicated policy issues can be reduced to a binary of us (good) versus them (bad)" (Demagoguery 8). Consequently, it is incumbent upon writing and rhetoric teachers not just to distinguish "good arguers" from "bad arguers," or even "good argument" from "bad argument," but to distinguish deliberation from demagoguery. And, moreover, it is incumbent upon us to give students practice with both so they can see the difference and see when they're engaging in both beyond the classroom.
Confronting Demagoguery
One of the important lessons students learn from reading Demagoguery and Democracy is that both deliberation and demagoguery are about how citizens argue, reason, and vote (8). Whereas democratic deliberation focuses on policy arguments (what the implications are of different policy options), demagoguery reduces policy debates to questions about identity (which people are good or bad). If Roberts-Miller is correct, the tendency to find demagoguery in texts we disagree with is one most people share. That said, this tendency does not mean student writers should not encounter and engage with demagogic texts. In fact, students and writers cannot avoid engaging with demagoguery because people—including people we agree with—use demagogic arguments in the world. As a result, students/writers/citizens need practice encountering demagogic arguments, and writing and rhetoric classes are ideal spaces for such encounters. Of course, teachers also need to be careful how they scaffold those encounters and engagements.
Learning to distinguish deliberation from demagoguery is a valuable lesson for citizens. It is also a valuable undertaking in the context of a writing class, where developing advanced literacy practices, learning to take language/text apart and put it back together in new ways, and cultivating rhetorical flexibility are crucial aspects of socially conscious citizenship and productive professionalization ("CCCC Statement"). Reading Roberts-Miller gives us some options for how to do so. In what follows, I suggest a series of scaffolded activities I have been developing for use in an upper-division writing class in which we read Demagoguery and Democracy and practice arguments based on what we learn. In particular, as I describe in more detail below, I'm advocating for asking students to (1) read a demagogic text that they are strongly inclined to disagree with, (2) summarize the argument of the text fairly, (3) explain why they think the argument might be attractive to an audience, and (4) try to rewrite some or all of the text to be more deliberative. In so doing, students engage in the customary work of a writing class: working with complex texts, remediating them in various ways, and thinking carefully about audience, purpose, and context. Students also engage in the work of deliberative democratic argument as it exists in the world. By the end of the task, what they hopefully discover is that rewriting demagogic arguments isn't a simple translation exercise—swapping this word for that one, changing this emotionally charged phrase to a less emotional one—but a fundamental reworking of the argument. To be absolutely clear, I am not advocating for making a demagogic text more persuasive—a writing class version of "pretend you're an antebellum slaveholder and argue for why slavery should be maintained" kind of assignment. As should become clearer below, I am advocating for helping students recognize how demagoguery and democratic deliberation work on fundamentally different principles. I have used some of these activities in class before, and some I anticipate using in the next upper-division writing course I teach. I expect them to take three or four weeks depending on feedback, revision, and research plans. These activities could be adapted for other writing classes as well.
In defining what demagoguery is, Roberts-Miller notes, "If we're going to admit that demagoguery isn't obvious, that it isn't a black-or-white issue but rather exists on a range, then we're going to have to develop a more rigorous test for demagoguery" than we've previously used (32). She posits the following criteria for identifying demagoguery, which I paraphrase here:
it polarizes a complicated political situation into us and them;

it insists we shouldn't argue policies as policies but should instead argue about identity;

it presents the situation as so dire that we are justified in any actions;

it insists that Truth is easy to perceive and convey, so complexity, nuance, uncertainty, and deliberation are unnecessary and/or destructive;

it relies heavily on fallacies, particularly straw man, projection, appeal to inconsistent premises, and argument from personal conviction; and

it emphasizes the "need" portion of policy argumentation (economic problems, terrorism, crime), often with implicit or explicit threats that "we" are faced with dire consequences. (34-35)
These criteria give readers useful ways to identify demagogic discourse, but it is not my intent to send students out on a scavenger hunt, looking for texts they can prove are demagogic. For one thing, I fear that doing so would simply reinforce the us-versus-them logics Roberts-Miller is trying to interrupt. I imagine that if I turned committed pro-life students loose to find demagogic rhetoric in pro-choice texts, they would find it, and vice versa. For another, as Roberts-Miller's criteria indicate, demagoguery expressly targets groups of people to create an out-group. The people who are targeted by demagoguery are almost always people who are already marginalized because of race, ethnicity, gender, sexuality, or some other criteria. Sending students to find current examples of demagoguery, then, threatens to amplify tensions that already mark our classrooms.2
However, working from Robert-Miller's argument that "[w]e should try to listen to the views we find abhorrent and try to be able to summarize them in ways that are accurate" (97), I plan to ask students to read a text they are likely to find abhorrent, try to summarize the main arguments of the text in ways that are accurate, and make an argument about why audiences might have found the argument attractive. Roberts-Miller does exactly this kind of analysis in the fifth chapter of Demagoguery and Democracy, where she analyzes Earl Warren's arguments for Japanese internment, so we have both a guiding intellectual task and a good example.
In order to sidestep questions of favoritism, I plan to introduce an example we can all agree is abhorrent: Hitler's 1933 "Policy Statement on the Enabling Act to the Reichstag." I want to pause briefly to acknowledge that choosing a Hitler speech is not without real concerns. For instance, I'm not insensitive to the fact that Hitler's legacy is still very much tied to the kinds of tensions about race, ethnicity, gender, and sexuality that I noted above. But the fact that he is so widely reviled removes the concern about evaluating whether or not he's part of our in-group—he's plainly not, and we don't have to feel conflicted about that—which allows us to focus more consciously on reading the argument rather than imagining potential ways to redeem the arguer.
The "Policy Statement" is also notably not what most people might expect from a Hitler speech. It was one of Hitler's most consequential speeches, given in front of the Reichstag (Weimar Germany's parliament) on the eve of his elevation to power. The "Policy Statement" is not a text most people have read, and in fact, the circumstances in which Hitler delivered it are often opaque even in history books that treat the era more broadly. But some basic context is crucial for people who want to understand the speech. Beginning in the 1920s, Hitler rose to power as the chief speaker and eventual leader of the National Socialist German Workers' Party (the Nazi Party). He gave hundreds of speeches throughout Germany condemning Jews, Bolsheviks, and democracy. And he was especially prominent as a speaker in the late 1920s and early 1930s, during which time the Nazi Party rapidly increased their representation in local, regional, and national sectors of the government. In 1932, the Nazis won a significant proportion of the seats in the Reichstag, but not enough to earn Hitler the chancellorship outright. Through a series of maneuvers—some legal, some extralegal—Hitler ultimately convinced German President Paul von Hindenburg to appoint him Chancellor in January 1933. Less than a month later, on February 27, 1933, a communist activist set fire to the Reichstag building. Less than a month after that, on March 23, Hitler gave his "Policy Statement" and demanded that he be granted unrestricted power to solve the country's problem. Following the speech and a subsequent vote, for all intents and purposes, Hitler became Germany's dictator for the next twelve (disastrous) years.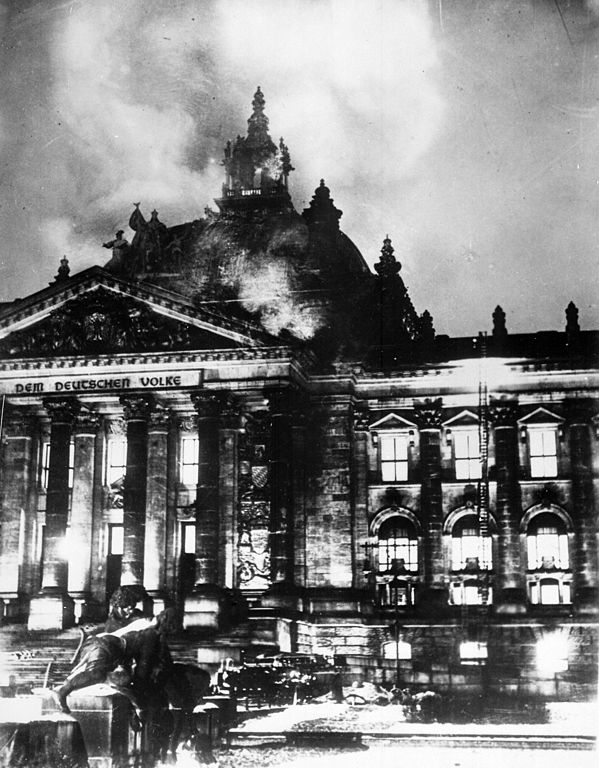 Caption: Photograph of the Reichstag fire in 1933. Public domain, via Wikimedia Commons.
I never have a problem convincing students Hitler was a bad guy who made horrific, anti-Semitic, vicious speeches, but the "Policy Statement" isn't that. It's not a hate speech. Hitler never mentions Jews or extermination in the "Policy Statement." In the speech, colloquially called the "Law for Removing the Distress of Volk [the People] and Reich," Hitler begins with a history of German democracy, dating to the end of World War I, which he declares a failure.3 "In the course of the past fourteen years," he claimed, "our Volk has suffered deterioration in all sectors of life, which could inconceivably have been greater" (276). He does not advocate for war, or invading Poland, or the Final Solution. Rather, he claims that the Germans faced a series of humiliating and economically disastrous fates as a result of the Versailles Treaty. After detailing a series of these economic, political, and cultural crises, he then proposes a number of remedies: "1. an absolutely authoritarian leadership at home to create confidence in the stability of conditions; 2. safeguarding peace on the part of the major nations for a long time to come and thus restoring the confidence of the people in one another; and 3. the final triumph of the principles of common sense in the organization and leadership of the economy as well as a general release from reparations and impossible liabilities for debts and interest" (283). In the speech, which is essentially a policy argument, Hitler argues that he should be made chancellor and dictator of Germany, the Reichstag should be disbanded, and Germany's Constitution should be suspended indefinitely. His proposals, he assures his audience, are simply in the service of restoring Germany's strength, at which point the Reichstag and democracy could be reinstated.
There are real challenges to reading Hitler's "Policy Statement," including the reasonable reluctance students are likely to have about reading Hitler at all. But mostly the challenges are not what students might expect. Aside from terms that do not translate easily to English (e.g., Weltanschauung and Volksgemeinschaft), for instance, the text is relatively easy to read. It is not very long (a little over 5000 words), and because it was written to be spoken, it is not especially complex. Hitler's speech certainly incorporates a number of the demagogic criteria that Roberts-Miller identifies above, including us-versus-them statements, assertions about the direness of circumstances, and fallacies. Given what we know about subsequent history, the speech has chilling insinuations. But the "Policy Statement" does not radiate evil. To the contrary, Hitler's "Policy Statement" is not dissimilar from the kinds of policy speeches that any politician might give to a parliamentary body: he describes a series of problems, lays out fairly straightforward solutions, and calls the assembled members to action.
In asking students to read the "Policy Statement," summarize its main arguments fairly, and make their own argument about why audiences might have found Hitler's argument attractive, the assignment asks students to resist the impulse to reduce Hitler's policy argument to identity. We take for granted that he's a bad guy, but, following Roberts-Miller, our goal is to encounter a view we find abhorrent and nevertheless treat it accurately. The series of tasks I describe below is essentially a rhetorical analysis: using concepts students should probably be familiar with in an upper-division writing class (including audience, purpose, context, evidence, and potentially commonplaces, enthymemes, deliberative rhetoric, and more), students will be asked to analyze the "Policy Statement," argue why it is a demagogic text and/or why certain aspects are demagogic, and make a case for why Hitler's audience may have found it appealing as a deliberative text.
As I noted above, I have assigned some of these activities in class before, and I anticipate expanding those activities into a major writing assignment the next time I teach an upper-division writing course. More specifically, in a recent writing class, I had students read Roberts-Miller's book and three passages from Hitler's "Policy Statement": one about the burning of the Reichstag, one about the "moral purging of the German Volkskorper" (the people's body, or mass culture), and one about suspending parliament and the Constitution. In class, we used Roberts-Miller's criteria for demagoguery to assess the "Policy Statement" and consider the degree to which those criteria helped us understand the arguments Hitler was making. We then rewrote one of the passages together as a class. I did not, at the time, ask students for formal feedback on the activity. However, in anonymous midterm evaluations, two students reflected specifically on that activity as being helpful for (1) engaging material that they aren't often asked to engage (i.e., Hitler's rhetoric) and (2) thinking specifically about the major research assignment they were working on in class. The student who commented on the latter thought it was useful to see how we can look at arguments we think are bad and harmful and still hold ourselves responsible in our own writing for representing them accurately. Based on this admittedly limited student feedback, plus other informal feedback I got from other students in office hours, I plan to expand this activity into a major writing assignment the next time I teach the class.
For that future writing assignment, the paper will likely be between 1,000 and 1,500 words, though it could vary in length depending on the students' argumentative needs. The goal is obviously not to find something good to say about Hitler, but to move from demagoguery about Hitler (i.e., we can dismiss his policy arguments because he's fucking Hitler!) to deliberation about Hitler's policies, which he argues for quite directly and which I enumerated above. As Roberts-Miller puts it, "We can't determine whether rhetoric is demagoguery by deciding whether the rhetor is a 'good' or 'bad' person. To judge their rhetoric, we have to look at their rhetoric" (28). We don't need to give up our sense that Hitler is a terrible person to assess his policy arguments, but we also can't assume his policy arguments are bad because he is a bad person.
The expanded series of activities is intended to take three to four weeks and result in several informal writing assignments—reflections, warmups, and minor drafts—and a short draft of their summary of Hitler's arguments and their argument about why audiences might have found Hitler's argument attractive. These activities will require looking at Hitler's rhetoric, making some educated guesses about how it works rhetorically, conducting contextualizing research, and writing. I plan also to incorporate peer-review sessions, instructor feedback, and revision. This assignment will then scaffold the major research assignment I usually assign, which asks students to study public discourse in various communities.
There is one additional step to the Hitler assignment, which builds on the first. In The Rise and Fall of English, Robert Scholes advocates for using models—both good and bad—to teach writing. According to Scholes, "the proper use of models means that students of writing should see and discuss some examples of good and bad writing of the sort required by their own assignments" (93). Hitler's "Policy Statement" contains models of both deliberative arguments and demagogic ones. Since students will have developed some familiarity with Hitler's "Policy Statement," I want them to use it to identify, modify, and produce various kinds of discourse so they can see how the arguments work rhetorically.
The final step to this scaffolded activity, then, is for students to identify passages in the speech that seem to them to be models of deliberation and distinguish them from demagoguery. At one point in the speech, for instance, Hitler asserts,
The proposed reform of our tax system must result in a simplification in assessment and thus to a decrease in costs and charges. In principle, the tax mill should be built downstream and not at the source. As a consequence of these measures, the simplification of the administration will certainly result in a decrease in the tax burden. This reform of the tax system which is to be implemented in the Reich and the Länder [German states] is not, however, an overnight matter, but one to be contemplated when the time is judged to be right. (280)
In this instance, Hitler could well be seen as making a deliberative claim—he's making a suggestion for tax reform, suggesting policy options, and opening space for debate and contemplation.
In contrast, a few lines earlier he states, "The advantages in personnel policy which might result from compromises with atheist organizations do not come close to offsetting the results which would become apparent in the general destruction of basic moral values" (279). This claim is a good example of projecting a dire situation using fallacies about identity that authorize virtually any response. It's demagoguery par excellence. For this part of the activity, it would be useful for students to work in groups in which they identify, argue for, and defend their choices using guidelines that we develop while reading Roberts-Miller's book.
Once students have identified some of the deliberative and demagogic elements of the "Policy Statement," students will individually rewrite several of the demagogic passages to try to make them more deliberative. I want to reiterate that this is not about making a demagogic argument more palatable—it will entail a fundamental reworking of a demagogic argument to make it ethically deliberative, which will require a pretty radical rethinking. For instance, students could conceivably rewrite the above passage as the following:
The advantages in personnel policy that might result from compromises with atheist organizations might seem to result in the general destruction of basic moral values. But in fact, compromise is one of our most basic moral values, and therefore we need to advance our values with regard to how we advance the overall goals of Germany.
The goal here is not just to identify demagogic arguments, but to work with them, to see how quickly and easily identity and policy can be substituted for one another—and that what may seem like a small move from one to the other can be hugely consequential. It should be pretty clear that the "translation" of Hitler's argument is fundamentally different from the original version—in fact, it has to be to move from demagoguery to deliberation because the goals of each are fundamentally different. Hitler's version is an identity argument that scapegoats atheists and balks at the prospect of compromise. Deliberation, on the other hand, requires compromise and policy discussion. It's not simply a matter of making arguments more civil, more "logical," or less emotional. Recognizing this by working with the demagogic text is useful—I'd even say vital—for students to really appreciate how easily, if they're not attentive, they could find themselves engaged in the same sort of demagogic argumentation without even realizing it.
Rewriting Hitler's text may strike some people as an odd—or even dangerous—activity to ask students to engage in, particularly in writing deliberative passages to be more demagogic. Indeed, it is odd, but it has real potential benefits for developing writers. For one, as many writing specialists have argued, writing teachers need to employ pedagogies that engage students in writing activities that build rhetorical dexterity, metacognition, and rhetorical awareness (see Anson 78). But it also engages students in working with arguments as they have existed in the world, often with momentous consequences for humanity (see Carter). It encourages students to not just analyze but also practice working with texts that can seem so right to one group of people while being utterly devastating to another.
Rhetoric's Responsibilities
In his 2019 book Provocations of Virtue: Rhetoric, Ethics, and the Teaching of Writing, John Duffy makes the dispiriting claim, "In conversation concerning the character of public discourse … [writing studies specialists] are mostly irrelevant" (11). Given that Demagoguery and Democracy was published two years before Duffy's book, Roberts-Miller could not take up his contention. But she does offer ways of being in the world that strengthen our argumentative environments. That is, teaching students to participate in arguments beyond our classrooms is an obvious and important way that we can contribute meaningfully to the character of public discourse. As she points out, reducing demagoguery in our argumentative environments is best accomplished by strengthening deliberative rhetoric. We do this by collectively reducing the profitability of demagoguery by not consuming it, arguing with friends and family who use demagogic talking points, and "support[ing] and argu[ing] for democratic deliberation" (94).
Roberts-Miller acknowledges that reducing the profitability of demagoguery, arguing with friends and family, and supporting and arguing for democratic deliberation are not magical solutions that will cure all our argumentative ailments. But they can help. And this is where writing teachers are potentially so valuable if we can focus clearly on teaching argument as it works in the world. We are in the unique position to help students make their (and our) argumentative environments healthier. I opened this essay with an epigraph from Robert Scholes in which he advocates requiring students to "take a text that performs its function well and to sabotage it creatively so that it fails in ways that can be discussed as plausible examples of how writing can go astray" (97). Demagogic texts often function very well, and in so doing, they undermine the goals of deliberation, good-faith argumentation, and democratic participation.
To stretch Scholes productively, writing and rhetoric teachers and their students don't just need to see how writing can go astray, but how taking demagoguery astray can serve to strengthen the worlds we live in. We can break and remake texts in healthy ways. But that requires learning how demagogic texts work, and that requires good teachers. Such teaching may not directly influence the arguments of the day, but it's conceivable that it could influence the character of public discourse as we and our students become better at deliberation. Thoughtful engagements with demagoguery ultimately need to be taught because students will encounter demagoguery one way or the other. There is no better place to learn to engage thoughtfully with demagogic texts than in writing and rhetoric classrooms, where students are already learning and practicing reading, writing, and rhetoric. But even if we concede, as we must, that working with demagogic texts is no guarantee against the proliferation of demagoguery, it is nevertheless grounded sufficiently in writing pedagogy to make it a worthwhile task for writing teachers who hope to make students stronger producers and consumers of argument as it exists in the world.
Acknowledgements
I want to express my thanks to Carolyn Commer and the anonymous reviewers for their exceptionally helpful feedback on drafts of this essay. I also want to thank Michael Steudeman for (1) having the great idea to put this text together, (2) being such a thoughtful and responsive editor and reader, and (3) for sticking with this project through a very long, bleak period. That this project is seeing the light of day is a testament to his leadership and persistence. Finally, my debts to Trish are many and my thanks a meager down payment on what's owed. Still, I'm especially thankful to her as a guide in acknowledging and trying to make sense of the world we have as opposed to the world we'd prefer.
Works Cited
Anson, Chris M. "Habituated Practice Can Lead to Entrenchment." Naming What We Know: Threshold Concepts of Writing Studies, edited by Linda Adler-Kassner and Elizabeth Wardle, Utah State UP, 2015, pp. 77-78.
Burke, Kenneth. "Rhetoric of Hitler's 'Battle.'" Philosophy of Literary Form: Studies in Symbolic Action, 3rd ed., U of California P, 1978, pp. 191-220.
Bytwerk, Randall L., editor. Landmark Speeches of National Socialism. Texas A&M UP, 2008.
Carter, Shannon. The Way Literacy Lives: Rhetorical Dexterity and Basic Writing Instruction. SUNY P, 2009.
"CCCC Statement on Preparing Teachers of College Writing." Conference on College Composition and Communication, National Council of Teachers of English, 2015, https://cccc.ncte.org/cccc/resources/positions/statementonprep. Accessed 10 Dec. 2020.
Duffy, John. Provocations of Virtue: Rhetoric, Ethics, and the Teaching of Writing. Utah State UP, 2019. Fromm, Erich. Escape from Freedom. Avon Books, 1941.
Fromm, Erich. Escape from Freedom. New York: Holt, 1994.
Hitler, Adolf. "Policy Statement on the Enabling Act to the Reichstag." The Complete Hitler: A Digital Desktop Reference To His Speeches And Proclamations, edited by Max Domarus, Bolchazy-Carducci, 1990, pp. 275-85.
Kershaw, Ian. Hitler, 1889-1936: Hubris. Norton, 1998.
Ramage, John, et al. Writing Arguments: A Rhetoric with Readings. 8th ed, Longman, 2010.
Roberts-Miller, Patricia. Deliberate Conflict: Argument, Political Theory, and Composition Classes. Southern Illinois UP, 2007.
---. Demagoguery and Democracy. The Experiment, 2017.
---. "Demagoguery, Charismatic Leadership, and the Force of Habit." Rhetoric Society Quarterly, vol. 49, no. 3, 2019, pp. 233-247.
---. "Dissent As 'Aid and Comfort to the Enemy': The Rhetorical Power of Naive Realism and Ingroup Identity." Rhetoric Society Quarterly, vol. 39, no. 2, 2009, pp. 170-88.
Scholes, Robert. The Rise and Fall of English: Reconstructing English as a Discipline. Yale UP, 1998.
Sloane, Thomas O. Encyclopedia of Rhetoric. Oxford: Oxford University Press, 2001.
Trice, Michael. "Gamergate: Understanding the Tactics of Online Knowledge Disruptors." Rhet Ops: Rhetoric and Information Warfare, edited by Jim Ridolfo and William Hart-Davidson, U of Pittsburgh P, 2019, pp. 105-24.
Ullrich, Volker. Hitler: Ascent, 1889-1939. Knopf, 2016.
Notes
---
When I started teaching, I was using the eighth edition of Ramage and Bean's book. Although the book is now in its eleventh edition, my claims here are in reference to the eighth because it's the one I have taught. The issues I point out, however, have persisted in later editions. ↩

Even if I am wrong about this, and I certainly may be, I am still not convinced that the potential risks outweigh the possible rewards of having students locate their own demagogic arguments. ↩

Most historians and translators do not translate "Volk" and "Reich" into English because of the specific Nazi connotations. Reich translates literally as "realm," but the Third Reich is specifically correlated to Nazi rule and is generally recognizable as such. "Volk" translates as "folk" or "people," but as historians are quick to note, the German version carries with it a sense of racialized nationalism that doesn't come through in the translation. Hitler and the Nazis often designated things as "völkisch," or "of the people," to indicate that something was properly German (e.g., Volkswagen) as opposed to alien or foreign. ↩