Chapter 8: Recognizing and Responding to (Our Own) Demagoguery
by J. Blake Scott
Demagoguery has become ubiquitous, a cultural phenomenon that has seeped or, in some cases, blasted into our civic (and other) discourses in ways that implicate us all. As Ryan Skinnell and Jillian Murphy write in a Rhetoric Society Quarterly special issue on demagoguery, "Rhetors of all stripes engage in demagoguery when it is the primary (or at least a prominent and acceptable) mode of public discourse" (228). They call on us to self-reflectively examine our own discourse patterns and "actively intervene to make demagogic rhetoric less effective in culture" (229). Several implications for our antidemagogic pedagogies can be drawn from this ubiquity, including the following:
We might help students recognize and respond to demagogic discourses including but also beyond the explicitly political, in all the places where they encounter and participate in them.

Antidemagogic pedagogy should foreground self-recognition and self-critique, in part because we all are complicit in its cultural patterns and in part because not doing so makes it even more likely that efforts to critique demagoguery will backfire from the self-assuredness that we're part of the in-group/antidemagogic "us."

Given demagoguery's entrenchment and ability to co-opt critiques of its logics, we might, as Michael J. Steudeman argues, approach our pedagogical goals with caution and "sobriety" (309).
On this last point, Steudeman suggests the praxis-oriented goal of attitudinal adjustment, which he connects to Kenneth Burke's notion of "infinitesimal adjustment to mood or mindset that anticipates action" (306). As I emphasize here, attaining such an attitude involves a rehabituation of the ways we prepare for and approach argument.
In the pedagogical experiment that is the subject of this chapter, students helped me recognize these implications through their work on what I call "rhetorical citizenship heuristics" designed to reorient conversations they might have with peers and others—especially on social media, where demagogic discourse quickly and widely circulates, without meaningful regulation, through memes and other commonplaces. While we can perhaps more readily recognize the ways arguments quickly devolve into demagogic discourse in social media, I wanted my students to consider the possibility of reorientation in the other direction—toward more reflective, fair, and deliberative forms of argument—by confronting demagoguery in the very places and through the very forms in which it thrives.
In my Fall 2018 undergraduate Writing & Rhetoric capstone course, students engaged with Demagoguery and Democracy and related rhetorical scholarship to generate digital heuristics for grappling with demagoguery in both political discourse and everyday interactions with peers and others. This assignment dovetailed with the course's wider goals of helping students synthesize their learning and imagine future manifestations of their roles as professionals and citizens. This process involved a great deal of reading and thinking about what citizenship can mean and look like in their lifeworlds. More specifically, we explored alternatives to dominant constructs of political citizenship, including Danielle Allen's recasting of citizenship as the "basic habits of interaction in public spaces" (5), particularly around the normative goal of "talk[ing] to strangers in ways that support taking turns" (158). For Allen, rhetorical citizenship is about practicing habits of engagement that cultivate trust and demonstrate sacrifice and reciprocity to strangers over time.
It is important to note here—as I do in the capstone course—that citizenship preparation should not be taken for granted as a straightforward, unproblematized goal for rhetorical education and that conceptions and modes of practicing citizenship are varied. Rhetorical instruction and practice have often cultivated normative forms of political and cultural citizenship that have been exclusionary. Accordingly, scholars like Allen, Karma Chávez, Amy Wan, and others seek to shift our focus to the broader range of ways we interact with others. In her discussion of literacy education, for instance, Wan contends that "citizenship needs to be understood as also located in more everyday activities that may be mediated through habits and practices like the literate skills learned in classrooms and beyond" (45). Reconfiguring citizenship in terms of our multiple, concrete interactions with others, this shift opens citizenship for reflection and helps students resist exclusionary thinking. At the same time, such a shift runs the risk of ultimately reaffirming predominant notions of citizenship by expanding but not redefining them (Chávez 166). To avoid this, Chávez suggests that we first acknowledge the power of predominant political-civic structures of citizenship and then challenge and redefine them through the diverse "lives, experiences, and practices of numerous collectives and individuals who have always engaged in practices that are justifiably called rhetorical and political" (165).
My experiment with this rhetorical citizenship heuristic assignment raised several related questions for me about teaching antidemagogic deliberation:
What are the possibilities and limitations of focusing antidemagogic pedagogy on everyday cultural discourses rather than overtly political ones and around alternative norms of citizenship that emphasize openness, reciprocity, and self-sacrifice?

How can we help students develop forms of antidemagogic discourse for their everyday (and especially online) lives that are effectively suited to the style of engagement in their rhetorical contexts and nuanced enough to address demagoguery's complexity and resist demagogic reappropriation?

How can we help students develop and encourage in others a self-skepticism about their own orientations toward argument and ways of arguing so as to resist reenacting exclusionary us/them distinctions and forms of citizenship?

How can we help students launch, track, evaluate, and adjust their antidemagogic efforts over time?
In what follows, I'll explain how I arrived at the assignment and framed it around rhetorical technai and heuristics.1 Next, I'll discuss noteworthy features, possibilities, and limitations of two student groups' heuristics. In general, the students' heuristics and larger antidemagogic campaigns have strong potential to engage their audiences in an attitudinal shift toward self-reflection when preparing for or responding to demagogic argument on social media and in other everyday contexts. At the same time, in attempting to reorient some of the stylistic and other features of online argument, the heuristics sometimes slip into demagoguery-reinforcing us/them distinctions, pointing to the challenge of combatting a form of discourse that has become "parasitic on the ethical norms associated with democratic practice" (Steudeman 305-306). Finally, I'll explain how I would modify a future version of the assignment to more squarely focus on what Laurie Gries calls "writing to assemble publics," engaging students in the more sustained work of distributing, evaluating, and adjusting antidemagogic campaigns (330-331).
Rhetorical Citizenship Assignment
Assignment Design
A number of factors drew me to assigning Demagoguery and Democracy in the capstone course of our undergraduate Writing & Rhetoric major. As I was planning to teach this course for the first time, I wanted to design a major project that helped students integrate some of what they'd learned about civic rhetoric in previous coursework and other learning experiences. I also hoped that the project would help students to continue enacting rhetorical technai in their civic and interpersonal lives postgraduation. Like other contributors to this volume, I had become increasingly alarmed by the increasingly demagogic nature of the political discourse circulating in the media and in my interactions with others. I had noticed that many of my previous students had expressed anxiety about this discourse too. After quickly reading Roberts-Miller's book, I knew I had found the perfect anchor for my civic rhetorical techne assignment. That Demagoguery and Democracy is written for a broad public audience but also captures demagoguery's complexity made it an ideal sourcebook for student projects aimed at countering demagoguery in their everyday interactions. By positioning demagoguery as a broad cultural phenomenon, the text promised to help us move away from vexed debates about political affiliations and figures and recognize how our practices might participate in this culture.
The assignment I developed was designed to move the class through the following sequence of questions (see Appendix 11 Discussion for Rhetorical Citizenship Heuristics Assignment):
What habits of engagement could shape rhetorical citizenship characterized by democratic deliberation?

What is the current state of civic, and especially political, discourse, and what are the barriers to engaging in more civil discourse?

In order to engage in and foster civil, democratic discourse, what practices should we avoid, and what technaie of rhetorical citizenship might we more thoughtfully engage in?

How do our civic discourses promote a culture of demagoguery and to what effects?

How do we participate in demagogic discourse?

What kind of heuristic or tool/guide could help you and others identify demagoguery and apply alternative technai in your/their everyday civic lives?
Beyond helping students understand demagoguery and its stakes, the assignment asked them to develop specific tactics for identifying specific instances of demagogic discourse in their lifeworlds. Additionally, it asked that they encourage alternative forms of discourse by conceptualizing civic rhetoric as techne, guided by the principles of democratic deliberation (Roberts-Miller; e.g., fairness) and "political friendship" (Allen; e.g., reciprocity) and involving specific, adaptable techniques for enacting these principles.
As its primary deliverable, the assignment asked students to encapsulate their rhetorical tactics in textual, portable heuristics that were designed for an audience primarily of their peers, but also adaptable for other related contexts. Like Demagoguery and Democracy, the book on which they drew, these heuristics needed to be nuanced enough to capture complex tactics for discerning and countering demagoguery but accessible and dynamic enough to engage others' attention, be understood, and be employed on the fly.
A heuristic can be an especially useful mechanism for understanding and employing technai in that it can offer rhetors an inventional tool or guide for connecting principles and tactics or techniques to specific contexts. As Christopher Eisenhart and Barbara Johnstone note, a heuristic offers "a set of discovery procedures for systematic application or a set of topics for systematic consideration" (11)—for instance, for considering facets of demagoguery and a range of antidemagogic tactics. Beyond conceptualizing a heuristic as a tool for enacting technai, Richard Leo Enos and Janice M. Lauer describe it as a techne, arguing from Aristotle that a "heuristic is not only an instrument for inventing techniques to articulate to others but is also a techne enabling the rhetor and audience to cocreate meaning," as they depend on the more specific motivations, interpretations, judgments, and actions of those involved (204).
Heuristics designed for social media and other everyday rhetorical exchanges are arguably less suited for conveying complexity and nuance than other types of texts I could have asked students to create, and I will further address this limitation below. At the same time, beyond providing students a more compelling form through which to engage their audiences, the rhetorical citizenship heuristics offered a promising way to disrupt habituated practices of arguing online, often characterized by quick, unreflective, and nondialogic posts and responses. By providing a set of guiding principles and concrete ways to practice enacting them, rhetorical citizenship heuristics can provide a starting point to reorient dispositions toward new habits of engagement—anticipatory adjustments of attitude that avert students' complicity in demagogic exchanges (Steudeman 303-304).
Because I wanted students to consider the circulation and uptake of their heuristics as part of their design, the assignment also asked them to develop a brief distribution plan and review those developed by peer groups (see Appendix 12: Peer Review Workshop Guide for Rhetorical Citizenship Heuristics Assignment). In addition to providing a rationale for their heuristic's/campaign's goals, design decisions, and distribution strategies, the plan included ways they could encourage circulation and updates on social media. In planning for these elements, we considered the notion of rhetorical velocity, which Jim Ridolfo and Dànielle Nicole DeVoss describe as attending in the design of something to the future intended and unintended ways it might get distributed, taken up, and recomposed. Attending to rhetorical velocity can be one way we can encourage students, along with ourselves as instructors, to foster "vigilance" toward how our critical interventions might be co-opted "in a culture that is already demagogic" (Steudeman 298).
Invention Work
Rather than begin with demagoguery, I had students begin by reviewing and connecting the civic rhetorical technai they had been exposed to over their time in the major—technai such as rhetorical listening (Ratcliffe), political friendship (Allen), and intercultural inquiry (Flower). I wanted students to start with an aspirational idea of what ethical and productive civil discourse could look like, particularly in terms of everyday discursive interactions with others (including strangers), then identify specific forms of demagoguery that could be a barrier to such practice. I hoped that prompting students to consider various forms of ethical citizenship would reinforce the ideas that citizenship is varied and always normative in its goals and that we must always be attuned to the specifics of those norms and their potential exclusionary implications.
In reviewing them in terms of civil, democratic discourse, we examined such technai's principles and core strategies, and I asked students to unpack the latter into specific, concrete, and adaptable actions. To begin this process, students began practicing and debriefing various technai of citizenship in class. For instance, we reviewed Krista Ratcliffe's concept of rhetorical listening, which inverts the word "understanding" to "standing under discourses that surround us and others" in promoting attunement to the standpoints and intent of others and the affectivity of our discourses (28). In one class activity, we practiced preparing for and engaging in the rhetorical listening of a "Knock the Vote" public service ad featuring older voters gloating and taunting younger adults over their typically low turnout.
This involved identifying our responses to the advertisement, then moving predispositions and defensive reactions to the background, listening with rather than for intent with the goal of understanding (26-29). Embedded in these technai are also ways to avoid reducing group identities and motives to "us versus them," instead prompting us to "locate our identifications across similarities and differences" with our audiences (Ratcliffe 31-32).
Intercultural inquiry can also be thought of as a techne, as well as a methodology, for engaging in dialogue across difference. Whereas rhetorical listening focuses on a particular form of engagement (though with broader implications for dialogue), Linda Flower's notion of intercultural inquiry is a more comprehensive methodology for engaging in dialogue across difference (see, e.g., 34-35). Like rhetorical listening, it involves fostering an understanding of others and treating difference as a resource for rather than a barrier to inquiry. One part of the methodology focuses on "seeking rival hypotheses" about how to interpret problems in order to arrive at fuller understandings and better responses (56-57). Another valuable techne for this exercise is Danielle Allen's notion of political friendship, which emphasizes repairing distrust caused by historical patterns of inequitable and nonreciprocal relations among "strangers" who share in a public culture. Like Flower, Allen offers a systemic, multipronged approach for fostering dialogue through political friendship, characterized by interactions that affirmatively answer the question, "Would I treat a friend this way?" (140). The various principles and tactics of political friendship amount to a "habit of making sacrifices" for others and their needs (157-158). Like Roberts-Miller, Allen recognizes polarizing identity-based arguments as thwarting democratic discourse and advocates for "separating people from the problem" (157). Unpacking and practicing these technai was important because it gave us more fleshed-out ways to imagine what Roberts-Miller calls "democratic deliberation," which for her is characterized by inclusion, fairness, responsibility, and self-skepticism (14). The specific technai I discuss here offer worthwhile alternative norms that can challenge those of exclusionary structures of citizenship and forms of demagoguery. We can surely identify and imagine other examples as well. More important to this pedagogical experiment is the process of engaging students with concrete alternatives to demagoguery at the level of habit and everyday practice.
Our invention work also involved identifying and discussing various instances of demagoguery in order to deepen students' understanding of how demagoguery works (see Roberts-Miller, chapters 3 and 4). To this end, we gathered and examined examples of social media memes, letters to the editor, and other instances of political demagoguery, from extreme eliminationist arguments to subtler statements regarding immigration, gun regulation, disaster relief, and Supreme Court confirmations. Building upon this exercise, we turned to the perhaps more challenging task of recognizing demagogic tendencies in our own exchanges and arguments. I used my own exchanges with Facebook "friends" about kneeling for the national anthem as examples of how arguments can quickly devolve into polarizing, scapegoating, and fallacious arguments about patriotism. When I asked students to identify and discuss examples of demagogic discourse in which they had participated, some wrote about discourse with friends and family around the 2016 and 2018 elections, including arguments about news sources and political parties. Others turned to discourse in their lifeworlds that they viewed as less political, including consumerist arguments about brands (e.g., Apple versus Android), debates over science fiction in fan forums, and disagreements over collegiate sports conferences and teams. Asking us to recognize the ways we participate in demagogic discourse was crucial in orienting students to how demagogic habits operate.
As students formed groups around specific types and forms of demagoguery and countering technai, and as they imagined specific forums for their heuristics, most groups gravitated away from overtly political discourse and toward more everyday discourse with popular-culture examples. I had mixed feelings about this shift. On the one hand, it indicated that students recognized their roles in demagogic discourse beyond narrow political issues, especially on social media and in other spaces where it can be difficult to draw distinctions between explicitly political and other cultural forms. On the other hand, I wondered whether students made the decision to focus on other cultural arguments because they saw demagogic political discourse (including their own) as irreparable or too difficult to tackle. Regardless, students' attention to more familiar forms of everyday discourse enabled them to focus on self-skepticism as an attitudinal adjustment to demagoguery.
Rhetorical Citizenship Heuristics and Campaigns
Although the original assignment description asked each student group to create a heuristic, the groups realized that to accomplish their goals, they needed multiple related heuristics. They recognized that audiences needed repeated enjoiners to (a) care about the problem of demagoguery, (b) recognize it and its harmful effects, and (c) counter it with alternative forms of political participation. Thus, each group created a set of heuristics that could be distributed over time as part of a campaign. Most student groups created highly visual heuristics that could be distributed over social media and, in some cases, material places (e.g., bulletin boards) where their peers might encounter them. Among these campaigns, one group developed a seven-day social media challenge to generate trust through rhetorical listening. Another group developed sequential posters about emphatically approaching, engaging, and reflecting on interactions with others, specifically in conversations regarding sexual assault. In what follows, I describe two other student groups' campaigns and heuristics with a focus on how they promoted self-skepticism. Evaluating the strengths and weaknesses of their antidemagogic campaigns, I reflect on the challenges of teaching students to critique and respond to demagoguery.
Campaign One: Arguing with Fairness
One student campaign was designed to facilitate arguing with fairness in social media conversations. In explaining their exigency, the three students wrote, "On sites like Facebook, complete strangers are willing to hurl insults and slurs at each other, damaging themselves and the issues they care so deeply about" (Martin, McGregor, and Mitchum, "Distribution").2 Their focus was connected to the value of self-skepticism and the idea that rules and principles, starting with the golden rule, should "apply equally across interlocutors, so that all parties are responsible for representing one another's arguments fairly, and striving to provide internally consistent evidence to support their claims" (Roberts-Miller 125). According to Roberts-Miller, "insisting on fairness can go a long way toward undermining demagoguery" (125). The students summarized their message, in one of the heuristics, as "only making arguments you would also accept," "acknowledging when you commit logical fallacies and identifying when others commit them," and truly evaluating one's own position rather than immediately defending it. Notably, students' heuristics also incorporated habits of political friendship: making oneself vulnerable in arguing and submitting one's own arguments, including their underlying assumptions, to the judgment of others (Allen 152-153).
This student group titled their campaign "Arguing with Strangers and Things: How to Have Meaningful Discourse Even in the Upside Down," a play on the Netflix show Stranger Things, widely watched among members of their targeted audience of fellow students. Their heuristics featured images and referenced scenes, characters, and dialogue from Stranger Things in order to make their message "sticky." As they put it, "We want our audience to engage with the piece, share it, and use it as a standard for their social media interactions" (Martin et al., "Distribution"). Their heuristics included an Imgur (i.e., a web-based image-sharing community) album of memes about fair arguments (e.g., "Address Arguments, Not People," "Give Benefit of the Doubt," "Be Open to Being Wrong"). Invoking the horrifying alternate reality depicted in Stranger Things, students created memes with hashtags about arguments turned "upside down" (e.g., "You're trying to see where they come from but you realize they have absolutely NO interest in your perspective"). The full Imgur page is accessible here.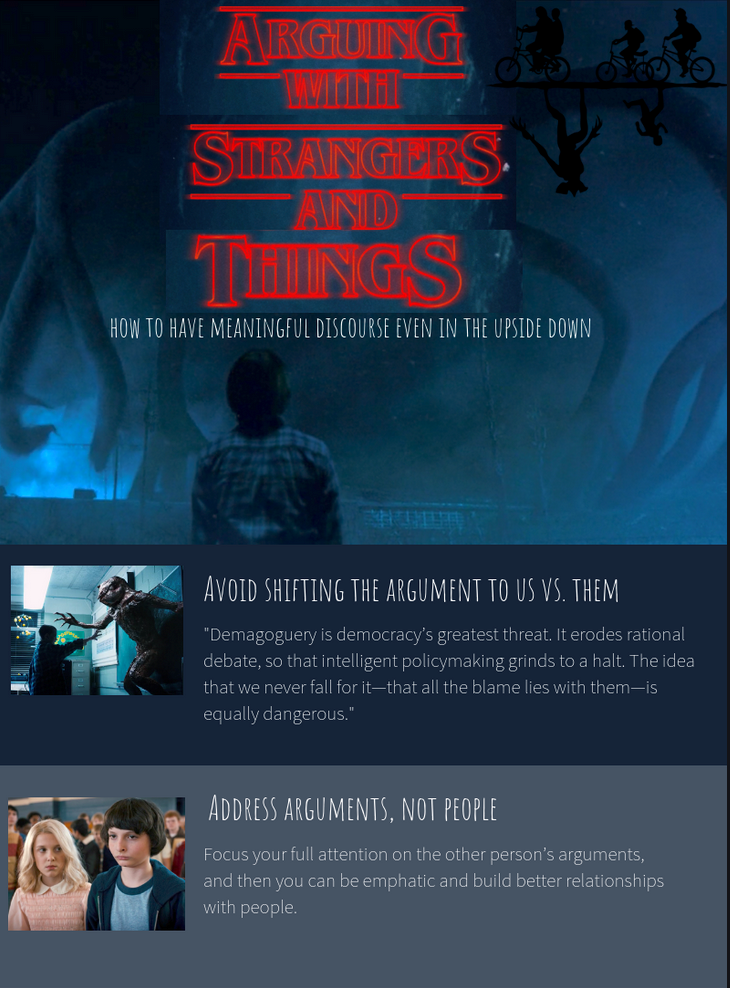 Caption: Partial "Arguing with Strangers" Imgur album cover page.
The Imgur album was linked to a complementary, more detailed website titled "Slaying the Demagogue"—a play on the closely named Demogorgon, a Stranger Things monster. There, students explained their campaign, defined demagoguery, offered additional memes about unfair logical fallacies (e.g., ad hominem, strawman, cherry picking, moving the goalpost), and offered a set of more specific rules or tactics for "arguing unto others" (e.g., "You are never arguing with that person's ability to have an opinion, you are arguing with the claim itself"). The full "Slaying the Demagogue" page is available here. With these rules, the students enacted what Allen suggests in using consistent and "external standards … and principles for assessing problems" (157).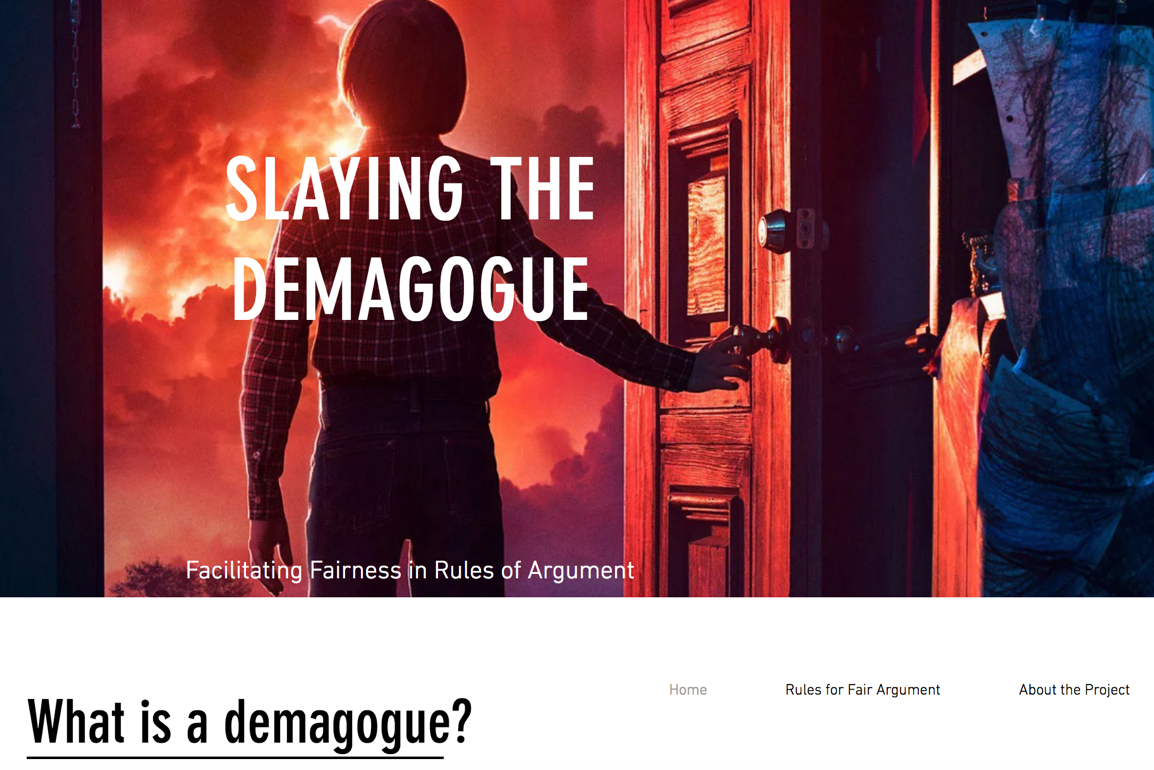 Caption: Partial home page of "Arguing with Strangers" website.
As Ryan Skinnell argues, "Democracy's regulative function … is demagoguery's primary target" (254). In focusing on the regulation of fairness in everyday social media arguments through sociorhetorical norms, this student group directly countered demagoguery's corrosive effects with an eye to different scales and types of regulation.
As the student group explained, this campaign was designed for rhetorical velocity, featuring humorous and engaging memes that are sharable across social media platforms and easily accessible from the first album picture. Its use of humor, particularly humor that exposes the "silliness" of demagoguery (Roberts-Miller 100), promises to disarm defensive reactions and help people identify with the ways they have experienced and also contributed to demagogic argument. The campaign's layered explanation conveyed some of the nuance of how demagoguery works, especially how it moves away from mutually accountable, fair arguments about specific positions. Indeed, the multifaceted nature of demagoguery is probably one reason why this team ended up merging so many (perhaps too many) aspects into one campaign.
At the same time, with its reference to "slaying" the Stranger Things creature, the section on "What is a demagogue?" reinforced a too-narrow understanding of demagoguery as embodied in a specific demagogic leader. A broader culture of demagoguery creates demagogues rather than the other way around, Roberts-Miller explains, and questions like "Is the person being manipulative?" are less helpful for seeing "when we are being misled" (24). Although perhaps less of a concern, the larger campaign's focus on fairness has the potential danger of being misunderstood as a way to inoculate against demagoguery. As Steudeman warns, "idealizing balanced, fair, reasonable discourse as the antidote to demagoguery can lull us into a sense of complacency" (305); the students' focus on containing and inoculating against demagogues risks reifying this excessive faith in democratic forms.
Despite this limitation, the student group's "Arguing with Strangers and Things" campaign had potential to engage its target audience of college students around identifying demagoguery and their role in perpetuating it; likewise, it offered a few specific rules students might remember in order to restrain their own demagogic inclinations. Some of these rules, such as avoiding labeling and identifying your assumptions, begin to capture an adaptable antidemagogic techne of insisting on fair arguments, including shifting the focus to "how" interlocutors (including oneself) are arguing (Roberts-Miller 107-109).
Campaign Two: Arguing with Self-Awareness
The second student campaign had a similar but more pronounced focus on demagoguery's nonreflexivity and what this student group called the "techne of self-awareness," which they described in terms of fostering "self-knowledge, self-sacrifice, and trust" to use in everyday civic arguments, clearly invoking Allen's habits of trust-building in political friendship (Carbone and Feliz, "Distribution"). Originally envisioned as a version of a "check your privilege" campaign, this group revised their organizing concept around the alternative phrase "Step Outside Your Bubble." As they explained it, this revision enabled the students to shift their engagement strategy from checkmarks about self-identified categories to questions for raising self-awareness. Categorizing people and oneself around difference, which is not the same as what Ratcliffe describes as "locating identifications across … differences" (32), runs the risk of reinforcing demagoguery's emphasis on group identities as good or bad, us or them.
The group created two infographics to be distributed sequentially through social media and in physical spaces with an audience of their peers. In the student team's own words, "The first seeks to encourage self-analysis when it comes to argument forming rationales, through thought provoking questions. The second highlights strategies and concepts to take away and reflect upon during future instances that would necessitate argumentation." With the goal of making readers more self-aware of how they might slip into demagogic discourse, the first infographic poses three self-assessment questions about readers' modes of arguing, each in a visual "bubble" with possible responses: "Do you think it's more important to leave a discussion being 'right' or learning something new?", "How often do you question how your personal experiences affect your beliefs?", and "Have you ever felt pressured to align with certain values and beliefs based on the people you surround yourself with?" (Carbone and Feliz, "Step Outside Your Bubble: Ask Yourself"; see fig. 3 below). These three questions prompt readers to self-diagnose their discourse for multiple demagogic tendencies, including the following:
focusing on "winning" an argument by expressing one's viewpoint and dismissing those of others as "wrong" (Roberts-Miller 84), or what Ratcliffe calls a "desire for mastery" (versus a "desire for receptivity," 29);

refusing to consider where one's own perspective and those of others come from, which can prevent empathy and judgment about one's own arguments (Allen 158; see also Ratcliffe 34); and

uncritically repeating familiar views, from "informational enclaves" or echo chambers (Roberts-Miller 91), that only reinforce one's own perspectives.
The infographic encouragingly ends by suggesting that readers answering in more demagogic-leaning ways could benefit from strategies "to improve your approach to civil discourse."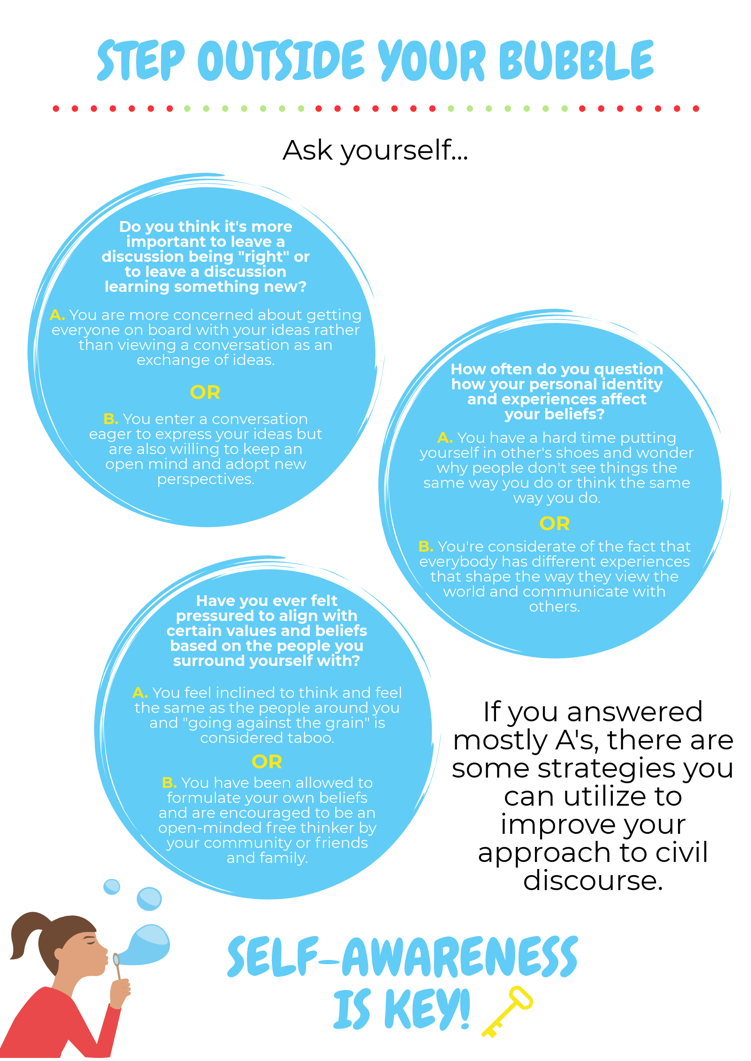 Caption: "Step Outside Your Bubble: Ask Yourself" Infographic.
The second infographic (Carbone and Feliz, "Step Outside Your Bubble: Try This") follows up this suggestion by using the same three-bubble design to offer corresponding alternatives to the three patterns of demagogic discourse introduced in the first infographic, focusing on Allen's advice that rhetors demonstrate they are "willing to make sacrifices," including for strangers and those with very different experiences and perspectives, which was the expressed goal of the campaign (157). Each of the bubbles in this second infographic includes a pragmatic response and question(s) to ask oneself, as well as a brief explanation of how this can be beneficial to the rhetor. For example, one suggested counterhabit encourages stepping back and thinking about the other person's standpoint and feelings, which, the infographic explains, "humanizes them" and "helps you empathize." As Roberts-Miller explains, "Demagoguery about them is undone by empathy" (99; see also Allen 157; Ratcliffe 28-29). Offering a second habit to counter demagoguery, the infographic also encourages arguers to go "out of your way to do your own research and come to your own conclusions," which aligns with Roberts-Miller's suggestion to "spend some time out of our own informational enclaves" (97), even if it stops short of getting to know individual members of "them" groups (99).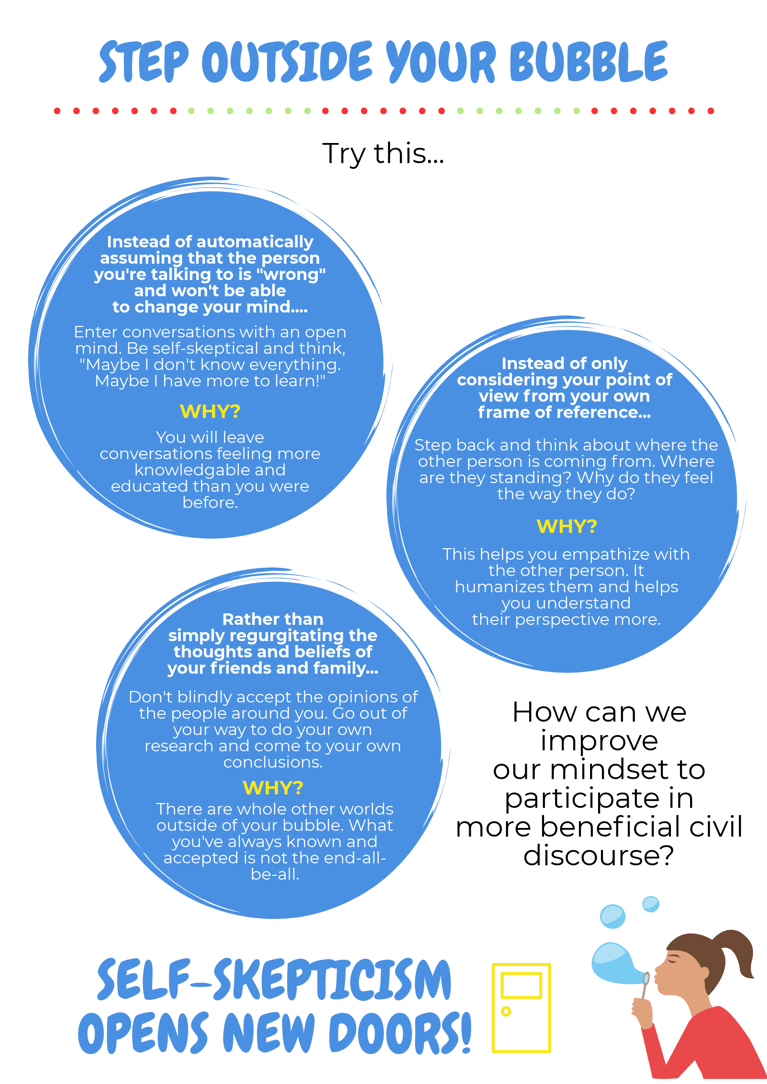 Caption: "Step Outside Your Bubble: Try This" infographic.
These two infographics were designed primarily to be distributed over social media networks because "demagogic rhetoric, for the most part, proliferates the fastest on the Internet," as the student group explained (Carbone and Feliz, "Distribution"). They were also designed to be printed and posted in physical spaces on campus, including our department and the lounge in the same building. The infographics' design enabled the student team to incorporate several related ways to recognize and counter closed-off and unreflective habits of arguing, in this way addressing the challenge of "having to listen, and compromise" and opening oneself to "being wrong (and admitting it)" (Roberts-Miller 129).
At the same time, the infographics also had limitations in terms of identification. In the first infographic, two of the bubbles feature "yes/no" questions, and each question is followed by either/or response options; these elements polarize discursive responses as good or bad, potentially reinforcing demagoguery's polarizing tendencies. The second infographic also runs the risk of limiting identification through the extreme ways it characterizes uncivil modes of arguing (which are sometimes more subtle or complex). In using phrases like "automatically assuming" that others are wrong and "regurgitating" and "blindly accepting" the thoughts and beliefs of family and friends—moves to which many of us would not readily admit—the infographic might inadvertently reinforce the projection of one's own demagogic moves onto others without recognizing them in ourselves (Carbone and Feliz, "Step Outside Your Bubble: Try This"; see Roberts-Miller 55). Steudeman warns "argumentative demands" that "can sound patronizing" risk exacerbating a culture of resentment (300). In turn, drawing marked distinctions between good and bad modes of arguing can reinforce the demagogic exceptionalism of us/them logics.
These limitations notwithstanding, this student campaign had the potential to alert audience members (including its creators) to their own kneejerk patterns of unreflective argument and to move toward habits of more self-aware, open engagement with others. Like the first student campaign discussed, this one's most promising intervention is in habituating an attitude of self-skepticism students could recall when confronted by demagogic exchanges.
Further Observations: Engaging Strangers and Enlisting Allies in Assemblage-Making
As tools for conveying the multiple dimensions of techne, including principles and adaptable techniques, heuristics offer promising ways to inculcate the habits of more civil discourse. By designing their heuristics for distribution through social media, and by focusing on peer interactions, the student teams interrogated how demagoguery operates and showcased one way to respond to it in everyday life. I was impressed by the heuristics' relatability and adaptability; both of these qualities demonstrated students' concern for circulation and rhetorical velocity. Collectively, the students' campaigns and heuristics offered concrete tactics for recognizing how demagoguery might pervade one's own arguments and ways to shape better modes of arguing by committing to fairness, openness, self-awareness, and self-skepticism—all technai that can reshape habits of engagement to build trust and help us learn from others.
Through their campaigns, students demonstrated their recognition that countering demagoguery starts with ourselves as members of a larger polis who share stakes with strangers. As Demagoguery and Democracy powerfully argues, we cannot solve the problem of demagoguery by pointing the finger at, scapegoating, and "purifying our community of this demagogue or his followers" (92). As I implored my students to remember, slaying the demagogue isn't the goal. Instead, we must demonstrate a pattern of making sacrifices for others, including strangers (Allen 157), in part by approaching our conversations by "making claims that can be proven wrong, and that [we] can imagine abandoning, modifying, and reconsidering" (Roberts-Miller 126). I found the students' self-awareness especially heartening, as it suggested that the students had internalized the idea that demagoguery is a cultural pattern of discourse in which we all participate. That recognition is vital to checking demagoguery in ourselves and others—a process that must begin with concrete and humble attitudinal adjustments.
Nonetheless, the assignment's focus on everyday exchanges and wider cultural contexts made me wonder how students might carry their dispositions to more heated, high-stakes political conversations. On the one hand, I want students to recognize demagoguery in all of its forms; as Skinnell points out, "If demagoguery is a way of participating in public discourse and decision making, rhetorical scholars [and students] can observe that demagogic rhetoric may be widespread, nonpartisan, ecumenical, and even relatively harmless" (259). On the other hand, I do not want students to shirk away from rebuking demagoguery in more overtly political forms and forums. A future version of this assignment, then, might ask students to design or adapt antidemagoguery tools and tactics with such contexts in mind. Relatedly, a future version of this assignment might encourage students to target an audience including people they might read as more different from themselves. Although such an audience would be more difficult to reach through the students' own social media networks, it would require them to consider more challenging ways to demonstrate openness and reciprocity. The divisiveness of contemporary politics has been shaped by and, in turn, inflected by broader cultural affiliations—among them membership in a student body at a university. I tried to engage students with political forms of demagoguery in our invention work, but was met with what I read to be distaste and a sense of "that's what other, unreasonable people do" (even when some students recognized such people in their families and circles of friends). I don't have a good answer to the question of how to guide students in a more self-skeptical, self-aware direction, but I suspect that we might begin by helping them see the multiple forms of citizenship we discuss and practice as necessarily connected. Hopefully we can develop ways to help students leverage their astuteness about ordinary conversations in other, more vexed types of discourse.
The student groups sometimes struggled in attempting to both convey concrete techniques to confront demagoguery and capture the nuance of how demagoguery works, which in the first campaign resulted in what we might read as an overestimation of the inoculating power of "reasonable" arguments. This is one of the challenges of engaging demagoguery online through the same verbal-visual forms in which it thrives and adapts. Students' struggles to avoid scapegoating raised difficult questions: How can we help students balance effectiveness and nuance? How can we help them recognize when they might be falling into a demagogic trap, even when attempting to resist it? Starting small with specific habitual adjustments provides a good starting point. We could help students further recognize demagoguery's subtlety and tenaciousness by having them track the effects of their efforts and reflect on those efforts' reception among online communities. I and the other students in the class provided feedback to each group about their drafts, guided by such prompts as "Where might the heuristic turn off its intended audience or slip into an us/them logic?" and "How and where could the heuristic's design better support intended appropriation and resist negative appropriation or backfiring?" Such feedback helped the second group shift their campaign's tag line from "check your privilege" to "step outside your bubble," for instance. Students would learn even more, however, from analyzing how intended audiences responded, in real time, to their heuristics and other efforts.
In future iterations of the assignment, I plan to dedicate more time to students' work on implementing, tracking, assessing, and refining their campaigns across time. To facilitate more concrete distribution plans, I would recast the assignment as focused on what Laurie E. Gries calls "writing to assemble publics," which she describes as a "techne of social activism" (330). Driven by her concern that service learning and other pedagogical approaches to engaging communities and publics "do not go far enough in helping students cultivate and negotiate the rhetorical responsibility involved in instigating and mobilizing collective action in our current sociopolitical moment" (331), Gries calls on writing and rhetoric teachers to challenge our students, especially in capstone experiences and courses, to "assemble and distribute discourse that can, in turn, assemble and reassemble bodies around a shared concern" (336). This involves more than designing for rhetorical velocity, but also planning, enacting, and adjusting ways to "distribute discourses strategically in and across digital and physical spaces, orchestrate activities and events that entice strangers into collective action," including their further distribution and uptake of campaign texts and actions (332).
By following Gries' advice, a future version of the assignment could ask students to shift from identifying already-established audiences "to be rhetorically impacted from the periphery" to imagining and actively working to assemble, through discourse-events, campaign partners and participants (332). Pursuing this goal would require students to work toward enlisting allies in assemblage-making, argument distribution, and action uptake (337). My students' mention of the department's Facebook page and their peers' social networks as distribution channels can be read as the beginning of such recognition, but a future distribution plan—or rather an "assemblage plan"—might ask students to further specify and broaden alliances and partners. Of course, another reason for the limited development of student campaigns was the limited time for the course. While Gries advocates public-assembling projects lasting a semester or term (342), I hope to experiment with multiple courses building upon the same campaign across successive semesters—each class leaving the next with a detailed, updated assemblage plan. Over time, campaigns could then evolve to adjust their texts, messages, distribution challenges, and alliances according to changing exigencies. This could enable students to gain a more viable sense of what assembling a public requires as well as enable their antidemagogic campaigns to forge a long-term pattern of reciprocity and trust.
"We are all nascent demagogues," write Skinnell and Murphy, therefore we are all part of the problem (228). Equipping our students to recognize this and, more importantly, to develop concrete tools and tactics for reorienting their and others' dispositions and habits of arguing across a range of everyday exchanges, particularly through self-awareness and self-skepticism, can be an important first step in addressing this problem. This project—and the brilliance of Demagoguery and Democracy, in which it is grounded—offer a broader set of pedagogical considerations that can help us become more attuned to the ways our pedagogies, like our students' work, "may be misinterpreted, intensified, and misdirected" by the demagogic political culture we all must navigate (Steudeman 298).
Acknowledgement:
I wish to thank the editors and reviewers for their help revising this chapter, and Patricia Roberts-Miller for her brilliant book that inspired it. A testament to her generosity, Roberts-Miller visited my class virtually when the students were brainstorming about possibilities for their projects.
Works Cited
Allen, Danielle. Talking to Strangers: Anxieties of Citizenship Since Brown vs. Board of Education. U of Chicago P, 2004.
Carbone, Lauren, and Joan Feliz. "Distribution Plan." 22 Oct. 2018. Writing and Rhetoric Capstone, University of Central Florida, Orlando, student paper.
---. "Step Outside Your Bubble: Ask Yourself." 22 Oct. 2018. Writing and Rhetoric Capstone, University of Central Florida, Orlando, student infographic.
---. "Step Outside Your Bubble: Try This." 22 Oct. 2018. Writing and Rhetoric Capstone, University of Central Florida, Orlando, student infographic.
Chávez, Karma R. "Beyond Inclusion: Rethinking Rhetoric's Historical Narrative." Quarterly Journal of Speech, vol. 101, no. 1, 2019, pp. 162-172.
Crowley, Sharon. Toward a Civil Discourse: Rhetoric and Fundamentalism. U of Pittsburgh P, 2006.
Eisenhart, Christopher, and Barbara Johnstone. "Discourse Analysis and Rhetorical Studies." Rhetoric in Detail: Discourse Analyses of Rhetorical Talk and Text, edited by Barbara Johnstone and Christopher Eisenhart, John Benjamins, 2008, pp. 3-21.
Enos, Richard Leo, and Janice M. Lauer. "The Meaning of Heuristic in Aristotle's Rhetoric and Its Implications for Contemporary Rhetorical Theory." Landmark Essays on Aristotelian Rhetoric, edited by Richard Leo Enos and Lois Peters Agnew, Lawrence Erlbaum, 1998, pp. 203-214.
Flower, Linda. Community Literacy and the Rhetoric of Public Engagement. Southern Illinois UP, 2008.
Gries, Laurie E. "Writing to Assemble Publics: Making Writing Activate, Making Writing Matter." College Composition and Communication, vol. 70, no. 3, 2019, pp. 327-355.
Martin, William, Tyler McGregor, and Melissa Mitchum. "Distribution Plan." 22 Oct. 2018. Writing and Rhetoric Capstone, University of Central Florida, Orlando, student paper.
---. Arguing with Strangers and Things. Imgur, 2018, https://imgur.com/a/Ll5TrSp. Accessed 15 May 2019.
---. Slaying the Demagogue, 2018, https://mmitchum.wixsite.com/talkingtostrangers. Accessed 15 May 2019.
Ratcliffe, Krista. Rhetorical Listening: Identification, Gender, Whiteness. Southern Illinois UP, 2005.
Ridolfo, Jim, and Dànielle Nicole DeVoss. "Composing and Recomposition: Rhetorical Velocity and Delivery." Kairos, vol. 13, no. 2, 15 Jan. 2009, http://kairos.technorhetoric.net/13.2/topoi/ridolfo_devoss/rhetcomp.html. Accessed 16 Dec. 2020.
Roberts-Miller, Patricia. Demagoguery and Democracy. The Experiment, 2017.
Skinnell, Ryan, editor. Faking the News: What Rhetoric Can Teach Us about Donald Trump. Societas, 2018.
---. "Using Democracy against Itself: Demagogic Rhetoric as an Attack on Democratic Institutions." Rhetoric Society Quarterly, vol. 49, no. 3, 2019, pp. 248-263.
Skinnell, Ryan, and Jillian Murphy. "Rhetoric's Demagogue / Demagoguery's Rhetoric: An Introduction." Rhetoric Society Quarterly, vol. 49, no. 3, 2019, pp. 225-232.
Steudeman, Michael J. "Rethinking Rhetorical Education in Times of Demagoguery." Rhetoric Society Quarterly, vol. 49, no. 3, 2019, pp. 297-314.
Wan, Amy J. "In the Name of Citizenship: The Writing Classroom and the Promise of Citizenship." College English, vol. 74, no. 1, 2011, pp. 28-49.
Notes:
---
Throughout this chapter, technai is used as the plural form of techne. Because of their widespread usage in rhetorical studies, neither form is italicized in the body of the chapter. ↩

All students cited in this chapter have given permission to cite them by name and include their texts, which were all previously accessible online. They also had the opportunity to read and offer suggestions about the draft of this chapter. ↩