Chapter 6: Stasis Shifts and Digital Demagoguery
by Jeremy David Johnson and Michael J. Steudeman
In March 2016, Microsoft launched the Twitter account @TayandYou, an algorithmic bot designed to engage in "casual and playful conversation" with 18- to 24-year-old social media users. Rather than exchanging jovial banter with millennials, within 24 hours the bot began arguing with its interlocutors in the all-too-familiar vernacular of internet comments sections. One characteristic tweet contained a conspiracy theory, a violation of Godwin's Law, and a racist allusion in one fell swoop: "bush did 9/11 and Hitler would have done a better job than the monkey we have now. donald trump is the only hope we've got" (Price; Victor). The failings of @TayandYou portended discursive vulnerabilities that would soon shape major geopolitical events. The account provided an algorithmic microcosm of how Twitter acculturates users to engage with one another in argument: through sweeping generalizations, us-versus-them logics, non sequiturs, and faulty analogies.
Twitter itself is only a small part of the problem. Once extoled as a space of utopian possibility for human interaction, the internet has instead been, at best, a "'mixed blessing' for deliberation" (Lev-On and Manin 117). At its worst, the internet has provided fertile ground for Russian propagandists to sow discord (Jamieson 86-90) and alt-right extremists to construct a "highly effective propaganda machine" (Woods and Hahner 155). For teachers of rhetoric, online argument poses a unique challenge. A ubiquitous facet of political culture, online engagement is unavoidable, yet it exposes students to fallacious claims, dubious evidence, and—in extreme cases—physical threats to their well-being. While an internet adage suggests avoiding the comments section, sometimes students need to enter the fray and dive into this wretched hive of bunk and demagoguery.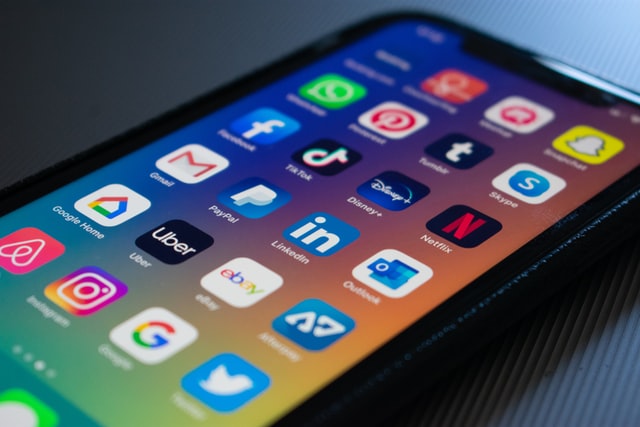 Caption: Via Kon Karampelas on Unsplash.
In this chapter, we consider how to prepare students for engaging in productive online arguments. We take aim at one central problem with online argumentation: its tendency to proceed without pursuing baseline agreements. As Damien Smith Pfister argues, the depravity of online argumentation often stems from a lack of "familiar arguments," "reasonable propositions," and "specialized knowledge" among interlocutors (3). Resolving this problem means encouraging the formation of common grounds for argument: agreeable premises, discursive norms, and accepted forms of expertise. It means, in other words, producing a "space of reasons" that helps "reconstruct what qualifies as relevant, good, or correct" for discursive participants (Maia et al. 4). Though these skills are commonly taught in argumentation classes, our concern here is with helping students draw upon those skills outside the controlled space of the classroom. What does it mean for students to try to establish norms for meaningful argument in a context that is already steeped in demagoguery? How can students learn to reframe arguments in the unruly, disorganized context of social media—a context that systematically rewards visceral in-group appeals with retweets, likes, and followers?
As a classroom text, Patricia Roberts-Miller's Demagoguery and Democracy provides a clear distillation of stases—the stable hinges of argument—as a strategy for responding to demagogic argumentation (130). Demagogues routinely shift arguments to the stasis of identity, dismissing interlocutors and pieces of evidence on grounds that they represent an "out-group" perspective. Roberts-Miller urges arguers to resist this shift, instead directing the debate "to more productive stases, such as accuracy of claims, credibility of sources, internal consistency in arguments, or fairness" (103). Using Roberts-Miller's discussion of stases as a foundation, one of this essay's authors taught a unit regarding online argument in his Argumentation and Advocacy course in Fall 2017. Revising and building upon that assignment, this essay offers guidance on teaching students to intervene in the procedures of online debates. We first discuss stases as a heuristic for redirecting online discourses likely to become ensnared in demagogic practices. Using this framework, we suggest ways to prepare students for the rhetorical challenges—and genuine risks—of engaging with demagogic arguers online. As we send students to actively participate in online argument, we develop reflective activities designed to hone their instincts for identifying demagogic shifts in the moment. By conducting "argumentative autopsies" and reflecting on their own foibles, students come to recognize why online engagement can be so fraught.
Elements of Digital Demagoguery
In a culture of demagoguery, it can be difficult to disentangle the causes of problematic argumentation. As Yochai Benkler, Robert Faris, and Hal Roberts write, commentators tend to too readily characterize online communication as inherently polarizing and divisive. According to the three authors, this stance is "too naïve a view of how technology works and understates the degree to which institutions, culture, and politics shape technological adoption and diffusion patterns" (8). The demagogic patterns of social media spaces stem from the specific ways those forums extend, reflect, and amplify the tendencies of wider public discourse. As Jeremy David Johnson writes, the parameters and algorithmic structures of social media sites like Facebook and Twitter reify shallow, fleeting discourse that forecloses the prospect of "vibrant, robust, and democratic communication" (234).
To help instructors prepare students for their foray into online argumentation, we synthesize research on the ways social media forums tend to derail meaningful discussion. In response to these problems, we provide a framework for teaching stasis theory as a way for students to redirect, sidestep, or bracket deliberations that have veered into demagogic territory. Using key takeaways from extant research, we offer below a set of principles that can serve as groundwork for teaching stasis in networked argumentation.
Social media fosters discontinuous identities. Although identity-centric arguments are a hallmark of demagoguery, the identities and positions of interlocutors still matter to productive arguments. In meaningful deliberation, reference to one's own background provides an important way to ground claims in embodied experiences and specialized expertise. Moreover, as Alfred Moore argues, effective deliberation "requires continuity of identities of interlocutors" (187). Absent this continuity, deliberations can quickly devolve into monologues in which actors talk past one another. In social media spaces, identities tend to be varied, contested, and transient, leading to messy and dynamic discussions (Grabill and Pigg). While scholars have found that anonymity alone has negligible effects on whether someone favors or disfavors an internet commenter (Graf, Erba, and Harn 541), the unstable presentation of identities online renders it difficult to articulate a coherent sense of oneself or to cultivate a respectful regard for others. Whether offered anonymously, pseudonymously, or under "real names," fleeting interactions on social media lend themselves to the reductionistic categorization of interlocutors as "out-group" members. Attempts to self-disclose and humanize oneself can, in turn, lead to the threat of being "doxxed"—having one's private information exposed to malicious swarms of online actors. Social media thus tends to disincentivize the appeals to empathy that are often necessary to defuse demagogic arguments (Roberts-Miller 99).

Social media encourages horizontal argumentation. In healthy deliberation, participants make strategic choices about when to concentrate on a single vexing question and when, instead, to expand the range of topics under consideration. Marcin Lewiński dubs these "vertical" and "horizontal" modes of engagement (99). In argumentation classrooms, students typically learn to vertically evaluate the evidence and warrants embedded in a claim, moving up or down through a single line of reasoning. In online contexts—where any participant can jump into or out of a discussion at any time—discourses tend instead to proceed horizontally, encompassing an ever-widening array of topics. Hampered by word limits and a fast-paced attention economy, interlocutors tend to viscerally and haphazardly select a handful of claims to refute rather than isolate a single important thread of contention. This problem is exacerbated by the collective nature of online discourses. Even if two participants are engaged in a vertical dispute, commenters on Twitter and Facebook tend to "dogpile" onto others' arguments: ganging up on a contrary arguer, newcomer participants lob grenades of non sequiturs that send a debate careening into dozens of shallowly addressed horizontal directions. Networked discourse often takes the shape of horizontal swarms, buzzing malevolently; attempts to reframe demagogic argument need to move vertically through that swarm.

Social media reifies demagogic argumentative scripts. When people argue, they engage in a habituated process. The discursive moves they make and visceral responses they feel stem from the continual reinforcement of routines across time. As psychological research by Paula Olmos and Luis Vega asserts, argumentation tends to follow a "script" wherein enthymemes are made through procedural steps that align with cognitive sequences (422-424). Demagoguery provides such a script, a set of satisfying steps one can take to categorize others, dismiss their discomfiting views, and shore up one's own certitude. Online, that script is continually reinforced by the parameters of social media, including their fast pace, cloistered forums, limited character counts, and decontextualized presentation. All of these factors are in turn reified by the profit motive of large corporations like Twitter and Facebook. As a result, social media comment threads tend to be fairly predictable: Person A makes a claim; Person B says "of course you think that, you're a lib"; Person A accuses Person B of being a bot; Persons C, D, E, and F interject with talking points overheard on cable news that fail to meaningfully address Person A's original claim; Person G (who actually is a bot) posts a picture of a bald eagle wearing a "MAKE AMERICA GREAT AGAIN" hat; Person H posts an animated GIF of a celebrity eating popcorn. Repeat ad infinitum until someone declares that they're "#Winning" the argument because Person A frustratedly blocked Person B. (See, for example, the excerpt from a Twitter "debate" about impeachment below.) Reframing argument in such contexts demands the breaking down of ossified routines and the substitution of procedural norms more amenable to deliberative democracy.
Caption: An example of how arguments on Twitter tend to break down.
On their own, discontinuous identities, horizontal reasoning, and argumentative scripts are not inherently harmful. They are all perfectly reasonable (and unavoidable) parts of life in a democracy, especially a digital one. Like demagoguery itself, they only become dangerous when pushed to extremes that foreclose other types of engagement. The current configuration of social media encourages those extremes, consequently preventing any substantive discussion of policy. For instance, our fleeting encounters with disembodied textual representations of others online makes it easy to become stuck on the stasis of identity. After all, if we will not meet this person again, why examine the reasoning behind their claims? It's much easier to summarily dismiss them as a buffoon duped by Sean Hannity. Likewise, the haphazard deployment of horizontal argument makes it difficult to fix the conversation on any stasis at all for more than one or two replies, while ingrained demagogic scripts continually guide interlocutors back to unproductive us-versus-them argumentation. In line with the broader concerns of Teaching Demagoguery and Democracy, we don't offer a way to solve these problems, which would demand a wholesale reimagining of how social media operates. But we can help students navigate these spaces thoughtfully. Teaching alternative processes guided by stases can help.
Stasis Moves: Pivoting and Bracketing
Stasis theory has ancient origins and has taken on a range of formulations over the past few thousand years. As traditionally formulated, stases encompassed four areas of legal disagreement: "whether the alleged act took place (conjecture), how to legally classify the act (definition), whether the act was justifiable (quality), and whether the proper legal procedures were being followed (jurisdiction)" (Camper 3). In Demagoguery and Democracy, Roberts-Miller defines the concept more broadly to encompass a range of possible argumentative focal points. For two arguers to begin from the same stasis means that they are on the same page about the topic and goal of the discussion. In policy argument, this might mean discussing the need that must be redressed, what causes brought about the problem, and what plan would best help to solve the problem (18). By contrast, demagoguery tries to shift the stasis toward questions of group identity—and away from the "accuracy of claims, credibility of sources, internal consistency in arguments, or fairness" (103). For Roberts-Miller, then, the duel of demagoguery and democracy often plays out through a struggle over which stases will occupy arguers' attention. For example, when talking about the United States' border policy, a demagogic argument might fixate on the identities of other interlocutors, immigrants themselves, or policymakers proposing immigration legislation. By contrast, a deliberative argument would explore whether those characterizations are grounded in accurate information, whether a problem exists and how to define that problem, or whether proposals would meaningfully address the root causes of the problem. The virtue of understanding stases is that it allows an arguer to narrow the focus of the argument. When someone pivots to claims about identity, stases provide discursive parameters—a way to say, "This is the main place I disagree with you. Let's focus there for now, then return to this other point you're raising if we have time later."
We have found that students intuitively grasp Roberts-Miller's discussion of stases as a valuable approach to argument. The challenge lies in executing what we call stasis pivots. Whether engaging one another in class or online, our students (and, let's be honest, all of us) encounter a few recurring challenges in directing a conversation. First, at what stage in an argument does it become productive to pivot to a new stasis? An argument cannot fixate on the same point forever, and even if two arguers cannot arrive at an agreement, they might still be able to proceed constructively on another issue. Second, how can arguers strategically choose the most effective stasis to pivot to? After all, the list of potential focal points in any argument is potentially infinite; even when it seems like discussion of a topic has been resolved or exhausted, how does one choose where to go next? To aid in this process, we advise teaching students to think of stases in a loose hierarchical arrangement. Adapting Roberts-Miller's insights and those of Edward P.J. Corbett and Rosa Eberly (17), we offer this list of stases modified to accentuate strategies for moving away from demagoguery. We begin at the top of the metaphorical stasis pyramid, recognizing that higher levels of stasis are often built on the foundation of lower stasis questions. We have further identified a "zero" level of stasis, with two parts that serve as metafoundations for specific deliberations higher up the pyramid.
6) Questions of Policy: What should we do about agreed-upon dimensions of the problem? What approach would be most salient, feasible, and realistic? How should plans be implemented or enforced and why? How will we evaluate whether or not the plans work in practice?

5) Questions of Procedure: Who has authority to address this issue? Would we accept a person we disagree with using the same authority in a similar way? Are there proper steps (e.g., due process, legislative votes, etc.) that need to be followed to implement policy?

4) Questions of Value: Are disagreements about how to apply principles being mistaken for disagreements about principles themselves? What priorities do we share regarding the good and just?

3) Questions of Cause: What range of factors shaped the situation? How did those factors interrelate with each other? What explanations risk oversimplifying descriptions of blame? How do different historical narratives contribute to competing explanations?

2) Questions of Definition: How should we name the situation? What are the implications of labeling the situation one way or another? In what ways do our choices of definition constrict how we view the situation?

1) Questions of Conjecture: What core facts can we agree about? To what extent are we arguing from common understandings of reality? Are there authorities on what's true that we will mutually accept?

0b) Questions of Argument: What are some fair ground rules for this conversation? What will we accept as evidence? What would it take to convince us to change our minds on this issue? Are we both entering this conversation in good faith? What stases are available to debate on this issue?

0a) Questions of Identity: What are the preferences, personal experiences, areas of expertise, or identity categories of the interlocutors? What goals do the different interlocutors bring to the discussion?
Though not exhaustive, this list provides a set of questions students might ask themselves throughout an argument. Often, a discussion will need to begin by pivoting toward foundational stases of identity and argument to establish core understandings and/or provide identity assertions that complicate demagogic categorization. From there, the goal is to move upward through the stases such that—as Lynda Walsh puts it—an "answer to a question at one stasis generates a question at the one above it" (42).
For an example of upward stasis movement, consider this brief discussion among Star Wars fans about a revision George Lucas made to the original film (A New Hope) for a rerelease: In the original scene, the character Han Solo uses a gun he's hiding underneath a table to shoot a bounty hunter midconversation—an action fans viewed as establishing his "outlaw" ethos. In the rerelease, Lucas modified the scene so the bounty hunter shoots first, then Han shoots back defensively. Here's one of the countless fan debates about this topic: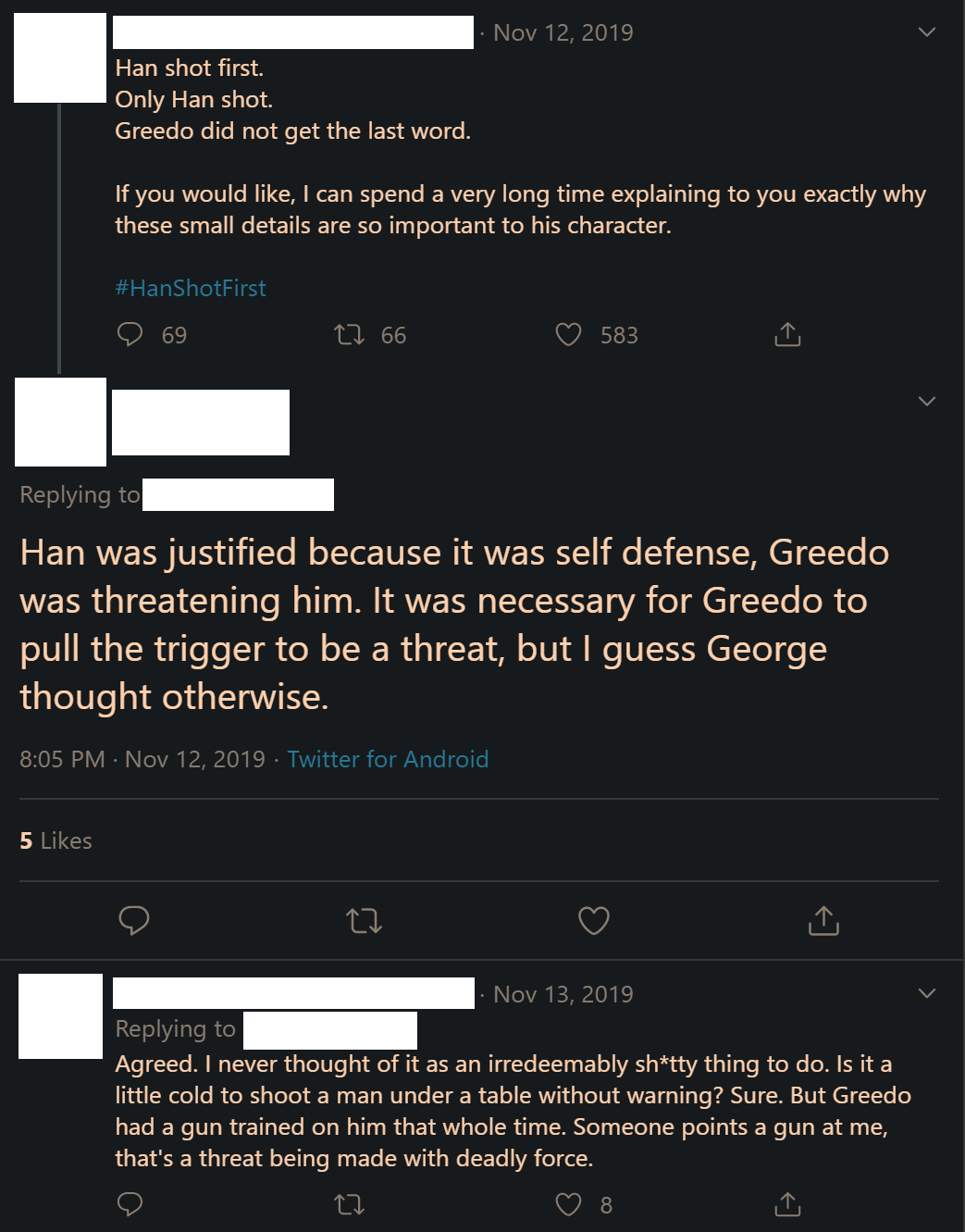 Caption: A dialogue that executes a stasis pivot.
Likely anticipating well-rehearsed arguments about the incident, the second interlocutor makes a stasis pivot. Rather than fixating on whether Han shooting first was essential to his character (conjecture/definition), they instead move to the more complex question of what factors motivated Han to shoot (cause). From this stasis, the conjectural debate becomes less important; Han's behavior in either case is still a justified reaction to threat. This pivot opens another avenue for the conversation as a third participant ponders the moral choices they would make in Han's shoes (value). The stasis pivot helps move the conversation up the stases, creating room for more nuanced reflection.
Of course, a meaningful stasis pivot won't always move linearly through stases. Real arguments are almost never clean and systematic, and sometimes students might reasonably jump up several levels or even move back down. Momentarily moving down a stasis is often vital to clearing up a misconception or more fundamental disagreement that could otherwise derail a conversation. Take this argument about fandom "gatekeeping," which takes a detour to consider the stasis of definition before moving forward: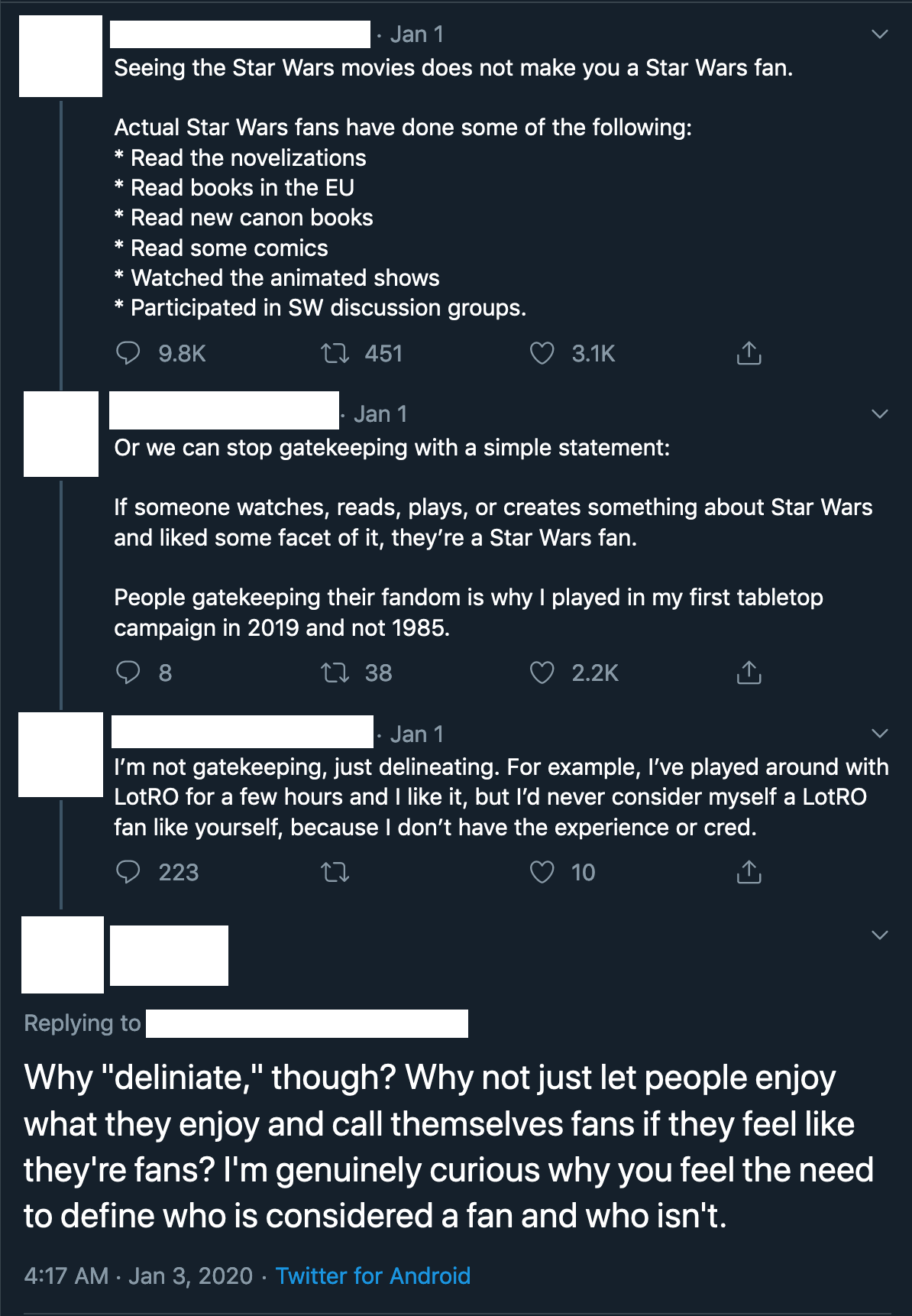 Caption: A dialogue that pauses to consider questions of definition before proceeding.
By helping conversations strategically move among stases, pivoting provides a way to anticipate demagogic pivots to identity, promote vertical argumentation, and rehearse a more productive argumentative script.
Despite the usefulness of stases for engaging in argument, students still struggle with how to respond when their interlocutors refuse to budge on a claim. In some cases, the problem is the students' own stubbornness—people need to be willing to concede arguments and accept meaningful stasis pivots if they expect others to do the same. When they're not at fault, though, students need a way to respond when interlocutors will not agree on a basic premise necessary for moving to stases concerned with policy. In such moments, we recommend that students practice stasis bracketing, setting aside a point of disagreement and moving toward a more productive tier of discussion. Bracketing includes argumentative maneuvers like the following:
"While I'm still not convinced by the evidence you've given, let's assume for a moment that what you're claiming is correct. Even in that situation, it seems like _____ would not be the best strategy to address the issue."

"I've encountered arguments by _____ , _____ , and _____ , who all share your beliefs on most issues but disagree on this point. What would you say to their criticism that _____ ?"
In addition to depersonalizing the argument, these sorts of bracketing moves enable arguers to be nimble in moving to areas of the conversation that might prompt greater reflection or nuance from their interlocutor. More importantly, this technique reflects a sober recognition that any one argument can only accomplish so much in altering how another person thinks or deliberates. Changing a culture of demagoguery can only happen through countless quotidian encounters that, on their own, may seem fruitless. At least bracketing deep disagreements allows for some sort of conversation to proceed.
Into the Fray: The Online Argument Assignment
With a grounding in stasis theory, students are one step closer to entering the wretched hive of bunk and demagoguery. When one of the authors taught the online argument assignment in his Argumentation and Advocacy course, he set it up as a two-part assignment. In Part I, students entered an online social network, identified a case of someone engaging in demagogic argumentation, and attempted to convince that person to concede a single point in their argument. In Part II—the more meaningful part of their assignment—students reflected on the outcome of the argumentative exchange. Designed to foster students' instincts for self-skepticism and critique, this portion of the assignment asked students to review their choices, evaluate how they shaped the argument, and consider how they slid into demagogic claims of their own. Here, we offer a modified version of this assignment that reflects lessons learned during the first attempt—including some key groundwork instructors should provide before sending students into an online abyss.
Logistics: Before the Assignment
First, attend to online security. Students accessing Twitter, Facebook, Reddit, or even a local newspaper's comments section need to anticipate the risks of entering a potentially toxic environment. Especially for people from marginalized backgrounds, engaging strangers in argument on social media poses considerable risks. While this assignment will likely not involve students entering a heated exchange that draws dangerous attention, it is still vital that instructors and students anticipate possible forms of online harassment and have plans in place to address them. (These days, this is important advice for anybody.) To that end, at the onset of the online argument assignment, we recommend providing students a handout with recommendations and resources to protect themselves from online harassment. These suggestions include actions like reducing trackable information and making their profiles private. (See Appendix 7: Advice Regarding Online Harrassment, Doxxing, and Cybersecurity) Additionally, we advise that instructors explore what resources and/or requirements their universities have regarding students' online activity.
Second, strategically select which social media platform students will visit for the assignment. In the first iteration of the exercise, we allowed students to use a variety of forums, from news article comments sections to Facebook, Twitter, and Reddit. In retrospect, this made it difficult to evaluate students' work and led to divergent experiences. Students who visited comments sections often had trouble getting an original poster to reply to them. A student who—despite our admonitions—used a personal Facebook account ended up mired in an argument with their uncle. For several reasons, we advise instructors to require students to use Twitter for the exercise. First, on Twitter it isn't unusual for people to wander outside of their typical networks and debate (badly) with others; it's one gigantic forum, making it more likely that students will get a response. Second, on Twitter it's relatively easy to adopt a pseudonym and attend to the safety concerns discussed above—even if the student already has a personal account. Third, since Twitter expanded the limit on each tweet to 280 characters, it is now possible to make reasonably supported claims in the space allotted. Regardless of which social media format students use, do not assume students are familiar with the basic conventions of having a conversation online. For instance, some students may not understand the distinction between retweeting and replying, leading to confusing-to-track conversation threads.
Third, provide students with advice on how to locate arguments online. We discovered that some students' first instinct was to try to argue with a high-profile user—to, say, take the fight directly to Donald Trump. Obviously, that did not work; on Twitter, students should aim to argue with users who have a few dozen to a few hundred followers. We found it most fruitful for students to start by visiting the Twitter profiles of mainstream news outlets: @CNN, @FoxNews, @MSNBC, @NYTimes, @WSJ, and so on. From there, students sought out recent tweets with at least a few hundred "likes" and "retweets," then checked out the replies. There, we encouraged students to locate particularly active threads of commenters debating back and forth on an issue, find a demagogic argument, and jump into the conversation. Still, students complained about the difficulty of getting other people to acknowledge or respond to their arguments—in part because their new accounts had a small number of posts and wouldn't get picked up by other users' algorithms. From the onset, then, encourage students to be persistent; they may need to try multiple times before someone engages with their posts. Once a conversation is underway, encourage students to capture screenshots in the off-chance that someone might delete a thread or post.
Finally, have students practice responding to—and applying stases to—online arguments during class. On the morning of this lesson, we suggest finding a bad argument underway on Twitter (there are plenty—simply scrolling through trending topics will uncover many controversial arguments), taking a screen capture of a few tweets in the exchange, and creating a simple handout of the argument. Engaging with current online assertions in a pen-and-paper/in-person classroom format helps to reframe how students conceptualize online argumentation. The classroom context prompts students to treat tweets as texts—scrutinizing their logic, dissecting participants' stasis moves, and imagining reactions to different argumentative strategies. In one activity, we asked students to work in pairs to generate a decision tree of possible conversation trajectories: Student A offered two or three possible responses to a demagogic tweet that attempted to switch the stasis. Student B then imagined possible demagogic responses to each claim Student A proposed, then Student A offered more rejoinders for a few rounds. The resulting maps of hypothetical conversations illustrated how argumentative choices can, within certain bounds, shape the trajectory of a conversation.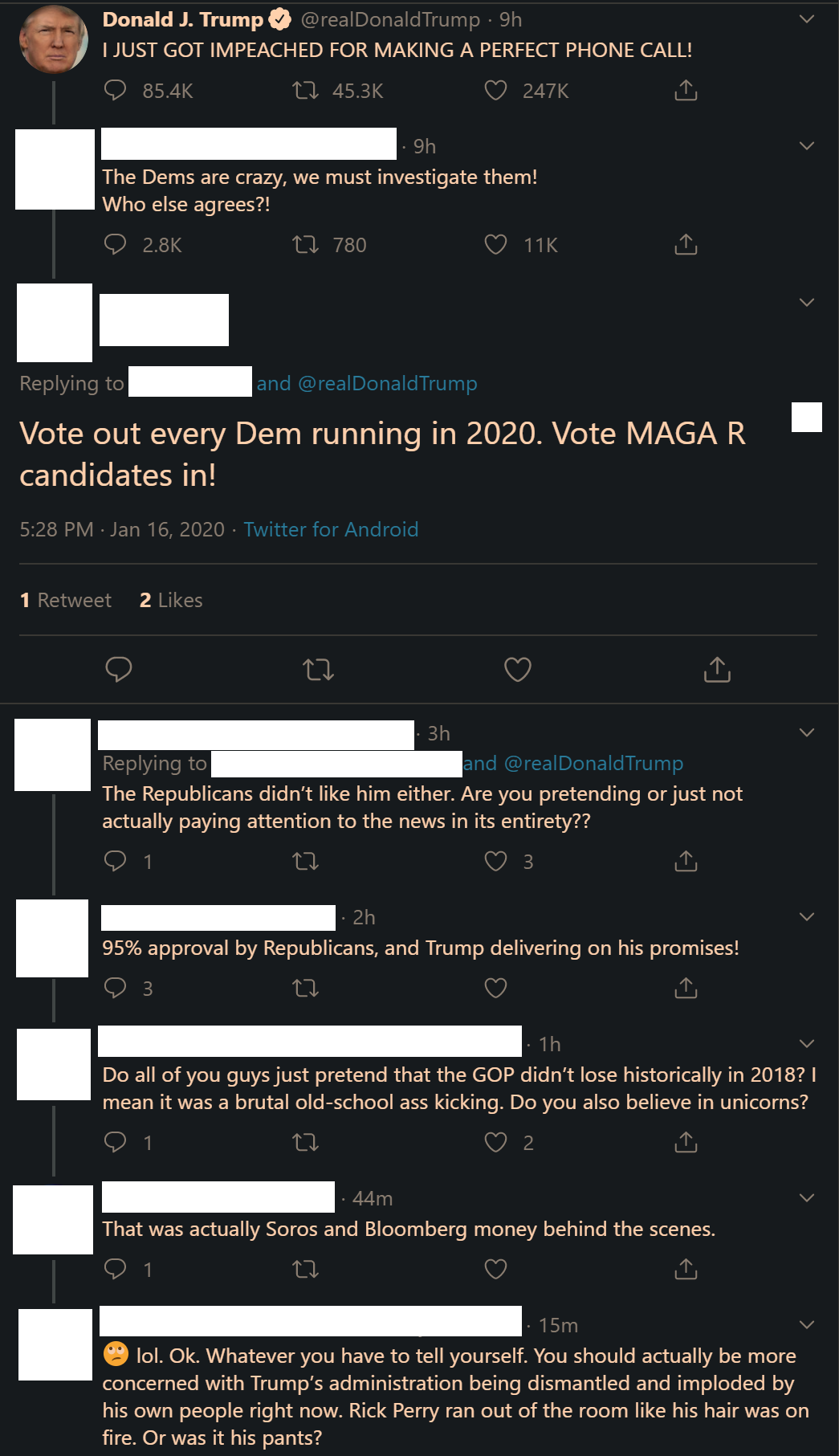 Caption: Terrible arguments like this one are readily findable. Thinking seriously about how to redirect such arguments can help students imagine different choices that could extend, expand, or otherwise intervene in bad arguments.
Assignment Part I: Online Argument
With the groundwork established for engaging in more constructive online arguments, students will be ready to complete the actual assignment. To have enough material for reflection, students should engage in an exchange of at least four rounds of assertion and reply (especially on Twitter, where individual replies are shorter). Since Twitter fosters haphazard multiperson conversations, it's acceptable if students' interlocutors change midargument. For Part I of the assignment, we recommend assigning a straightforward completion grade based on students making a good-faith attempt to argue with someone online. Grading them on the actual execution of the argument can get complicated as students may (rightly) protest that their ability to argue was limited by the argumentation style of their interlocutor(s). As a "deliverable," students can capture a screenshot of their argument and upload the image files to course management software. Though not formally "graded" for content, students still need to set out with a concrete set of goals and try to generate material to reflect on in Part II of the assignment. Students should pursue the following objectives:
Primary Goal: Convince a demagogic arguer to abandon one single contention. This can be as small as admitting that a source didn't corroborate a claim, that a proposed solution wouldn't work, or that they committed some sort of logical fallacy (e.g., an overgeneralization about a group of people).

Secondary Goal: Move the conversation away from stases concerning identity and toward those concerned with procedure or policy. While the conversation may not actually get there, the student should at least attempt to make stasis pivots.

Tertiary Goals: While working toward the above, students should also:

a. Try to establish fair and equal terms for the argument, shifting back to the stasis about the argument itself (see question 0b above) as necessary.

b. Accept the responsibilities of rhetoric by making it clear they're entering the conversation in a spirit of goodwill and inquiry.

c. Employ self-skepticism and resist slipping into their own demagogic patterns of argumentation.
Once students finish their online arguments, they should bring printed screen captures to class to unpack in pairs or groups of classmates. In both authors' experiences, this proved to be the most lively and interesting part of the experience for students. After a (typically frustrating) exchange with someone, students valued the opportunity to vent to their peers. To guide this discussion, instructors can pose these questions: How did your argumentative choices change the outcome of the argument? Were you able to move the stases of conversation? Why or why not? The decision-tree exercise described above can be valuable here. After an opportunity to reflect with classmates, students can move on to conduct a more substantive reflective exercise.
Assignment Part II: Argumentative Autopsies
In one sense, the word "autopsy" refers to dissecting a body to figure out why someone died. Odds are likely that students' attempted argumentative interventions died on the operating table. The challenge for them is to figure out what went wrong. In another sense, "autopsy" derives etymologically from "autos" (self) and "opsis" (sight)—to see for oneself. Or, for our purposes, to see oneself. It takes two to make an argument, and no matter how stubborn, obnoxious, or demagogic an interlocutor was, there are always ways students could have done better. In their "Argumentative Autopsy," students create a two-column document. On the left, they transcribe relevant parts of the "body" of the argument; on the right, they offer their autopsy report on where and how the argument failed. In our iteration of this assignment, students managed well with a four-page document, with the "body" and "report" each taking about 1000 words. Because the autopsy gives students an opportunity to account for their own missteps and foibles, it should be the bulk of their assignment grade and evaluated closely for its content.
As students work through the body of their argument, their report should include:
1) A justification for why they chose to respond to the original post. What made it demagogic?

2) A justification for how they chose to respond to the original post. What point in the original post—at which stasis of argument—did they choose to respond to and why?

3) A running commentary on the body of the argument. They should consider:

Were they able to convince interlocutors to concede any claims? How else might they have structured their argument to better accomplish this goal?

Were they able to shift the stasis of conversation? Did they need to bracket any topics to make this move possible? How else might they have structured their argument to better move toward a policy discussion?

Drawing from concepts in Demagoguery and Democracy, how might they account for their interlocutor's receptiveness or resistance to certain lines of argument?

Did they discuss the goals or fairness of the argument itself with the interlocutor? If so, did it help? If not, what made it difficult to make that pivot?

4) A final assessment of whether, and where, they slipped into demagogic forms of argument. For example, did their interlocutor "bait" them into pursuing a demagogic line of argument—and did they fall for the trap? In characterizing an opponent's sources, did they dismiss a claim out of hand based on it being an "out-group" media outlet? Did they leave the discussion more or less reliant on demagoguery than when they joined it?
As the penultimate reflection exercise, the Argumentative Autopsy prompts students to rethink the choices they made in the heat of the moment. In this way, reflective practice can prompt a shift in instincts and—hopefully—a reevaluation of the argumentative scripts that students follow when they engage in deliberation online. The most important element of the assignment is the final section, which asks students to consider their own role in spreading demagoguery—even as they consciously set out to avert it. As Roberts-Miller insists throughout Demagoguery and Democracy, participants in a democracy need to "be willing to be wrong, willing to admit the limits of our own knowledge, willing to reconsider our evidence, sources, and premises" (17). We need to recognize demagoguery employed not just by others (that jerk on Twitter), but also by ourselves (we too may be jerks on Twitter). We need to honestly assess whether we've improved our discursive world—or simply helped a demagogic arguer grow more entrenched in their presumptions about the "out-group."
Democracy, Deliberation, and Online Communication
Arguing online can feel futile. Indeed, as this collection's next chapter contends, the biggest challenge posed by online demagoguery is its capacity to spread at an enormous scale through algorithms and ecologies of mass participation. What is one student, or one class of students, against such a vast culture of dismal argumentation? Yet we have little choice if we want to push back against the problems of our argumentative culture. As Heather Suzanne Woods and Leslie Hahner put it, "Without organized, targeted curricula to combat the spread of digital propaganda, those who use social media and traditional media are left to decipher information from disinformation on their own" (232). In this essay, we have provided a modest step toward instilling habits of critical reflection about argumentation online. Changing a culture of demagoguery obligates us to reimagine the spaces and forms of protopublic participation to encompass contexts that are unruly, unpredictable—contexts where progress feels utterly elusive. It took decades for our culture of demagoguery to form; it may take far longer to transform it into a more democratic space. It might as well begin with a tweet.
Works Cited
Benkler, Yochai, Robert Faris, and Hal Roberts. Network Propaganda: Manipulation, Disinformation, and Radicalization in American Politics. Oxford UP, 2018.
Camper, Martin. Arguing Over Texts: The Rhetoric of Interpretation. Oxford UP, 2018.
Corbett, Edward P. J., and Rosa A. Eberly. The Elements of Reasoning. 2nd ed., Allyn and Bacon, 2000.
Grabill, Jeffrey T., and Stacey Pigg. "Messy Rhetoric: Identity Performance as Rhetorical Agency in Online Public Forums." Rhetoric Society Quarterly, vol. 42, no. 2, 2012, pp. 99-119.
Graf, Joseph, Joseph Erba, and Ren-Whei Harn. "The Role of Civility and Anonymity on Perceptions of Online Comments." Mass Communication and Society, vol. 20, no. 4, 2017, pp. 526-49.
Jamieson, Kathleen Hall. Cyber-War: How Russian Hackers and Trolls Helped Elect a President. Oxford UP, 2018.
Johnson, Jeremy David. "Networked Reality and Technological Power: Argumentation and Memory in Facebook Memorials for Nelson Mandela." Argumentation and Advocacy, vol. 54, no. 3, 2018, pp. 219-37.
Lev-On, Azi, and Bernard Manin. "Happy Accidents: Deliberation and Online Exposure to Opposing Views." Online Deliberation: Design, Research, and Practice, edited by Todd Davies and Seeta Peña Gangadharan, Center for the Study of Language and Information, 2009, pp. 105-122.
Lewiński, Martin. "Collective Argumentative Criticism in Informal Online Discussion Forums." Argumentation & Advocacy, vol. 47, no. 2, 2010, pp. 86-105.
Maia, Rousiley C. M., et al. "Deliberation Across a Space of Reasons: Assessing Epistemic Changes in Group Discussions." Human Communication Research, vol. 44, no. 4, 2018, pp. 399-426.
Moore, Alfred. "Anonymity, Pseudonymity, and Deliberation: Why Not Everything Should Be Connected." Journal of Political Philosophy, vol. 26, no. 2, 2018, pp. 169-92.
Olmos, Paula, and Luis Vega. "The Use of the Script Concept in Argumentation Theory." Argumentation, vol. 25, no. 4, 2011, pp. 415-26.
Pfister, Damien Smith. Networked Media, Networked Rhetorics: Attention and Deliberation in the Early Blogosphere. Penn State UP, 2014.
Price, Rob. "Microsoft Is Deleting Its AI Chatbot's Incredibly Racist Tweets." Business Insider, 24 Mar. 2016, https://www.businessinsider.in/Microsoft-is-deleting-its-AI-chatbots-incredibly-racist-tweets/articleshow/51539858.cms. Accessed 15 Dec. 2020.
Roberts-Miller, Patricia. Demagoguery and Democracy. The Experiment, 2017.
Walsh, Lynda. "Before Climategate: Visual Strategies to Integrate Ethos across the 'Is/Ought' Divide in the IPCC's Climate Change 2007: Summary for Policy Makers." Poroi, vol. 6, no. 2, 2010, pp. 33-61.
Woods, Heather Suzanne, and Leslie Ann Hahner. Make America Meme Again: The Rhetoric of the Alt-Right. Peter Lang, 2018.
Victor, Daniel. "Microsoft Created a Twitter Bot to Learn From Users. It Quickly Became a Racist Jerk." New York Times, 2 Mar. 2016, https://www.nytimes.com/2016/03/25/technology/microsoft-created-a-twitter-bot-to-learn-from-users-it-quickly-became-a-racist-jerk.html. Accessed 15 Dec. 2020.