Chapter 3: Metaphor and the Responsibilities of Rhetoric
by Carolyn D. Commer
If our goal as scholars of rhetoric is to prevent state-sponsored violence against an out-group … then we should not wait until an individual rides the wave of demagoguery to power. We should understand how that wave came to be.
– Patricia Roberts-Miller, "Demagoguery" 237
Stylistic analysis should contribute to the task of understanding how it is that specific surfaces are seen or not seen at all and often will require that one uncover what is in full view.
– Robert Hariman,
Rhetorical Style
179
Teaching Demagoguery as Rhetorical Style
In "Demagoguery, Charismatic Leadership, and Force of Habit," Patricia Roberts-Miller argues that a culture of demagoguery invokes ideals of charismatic leadership and stock sets of "demagogic topoi" that make it possible for individual demagogues to come to power (235). Her point is that a culture of demagoguery precedes individual demagogues, so the challenge is not to get rid of individual demagogues but to change the rhetorical conditions that make it possible for individual demagogues to "ride the wave" of demagoguery in the first place (237). As the contributors to this volume attest, this pedagogical challenge is difficult for educators who feel we are treading water in a sea of demagoguery.
What I have found is that teaching students about demagoguery—and trying to focus on it as a type of argument and decision-making process—inevitably means teaching forms of argument and also the subtleties of word choice and style. While Roberts-Miller's book Demagoguery and Democracy focuses on the types of arguments and fallacies that characterize a culture of demagoguery, she also points out that such a culture relies on elements of style, such as metaphor, that support the creation of "us versus them" arguments. For example, she explains how "them" groups are often described with metaphors of
vermin, disease, taint, queerness (that is, transgressive behavior), monstrosity (what is sometimes called hybridity—things that combine two supposedly discrete categories, such as women who are authorities, liberal Christians, Republicans opposed to the Iraq invasion), disorder (lacking of control), thinking, femininity, and demonic possession. (66)
While the first three types of metaphor seem more straightforward to identify, I have found the others quite difficult for my students to pinpoint in practice, something I discovered firsthand when teaching a unit that focused on public arguments about immigration policy. For example, a common conceptual metaphor in US public discourse about immigration is the metaphor immigration as water, often used to describe "flows" and "waves" of immigration. While such a metaphor seems benign, rhetorical critics have found that this metaphor is often used to argue that immigrants are a threat akin to dangerous water or unpredictable forces that need to be controlled (Cisneros; Hodges; Santa Ana). Because teaching rhetoric is about teaching students poetic world-making and the way rhetoric shapes our sense of the possible, I focus on metaphor in my criticism classroom with the hope that it can help students see conflict and disagreement about policy issues.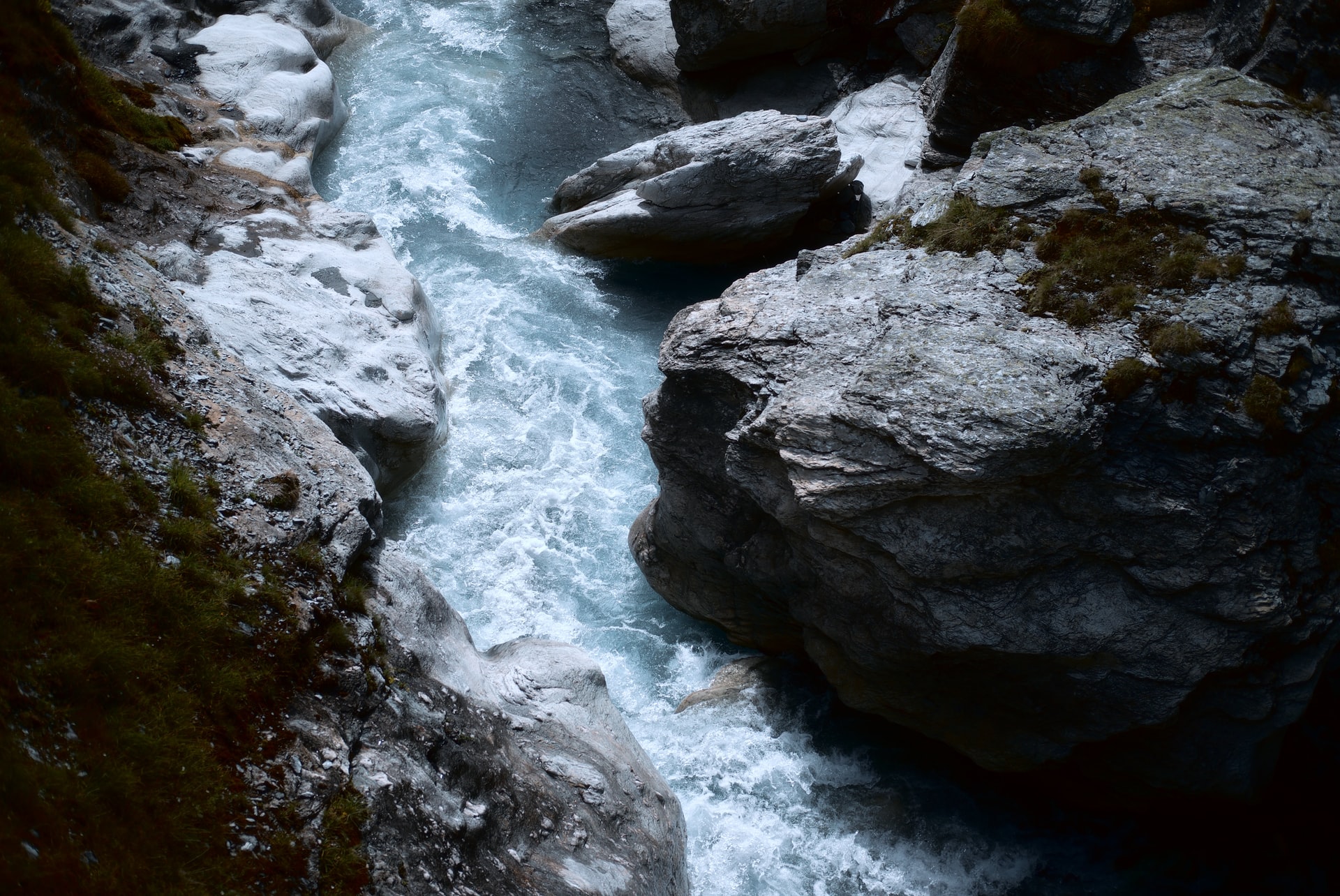 Caption: What does the metaphor immigration as water connote? Via 2Ni on Unsplash.
In what follows, I describe how I developed and implemented a unit on metaphor theory and criticism to help undergraduate students develop greater precision when evaluating the rhetorical framing of a policy issue like immigration. While some metaphors about immigration seem more overtly demagogic, such as immigrant as invader, other metaphors, like immigration as water, are less noticeable. The three-part unit I lay out here introduced students to theories of metaphor (drawn from rhetoric, literary theory, and linguistics) and assignments that invited them to practice describing and evaluating how certain metaphors function to encourage deliberation or demagoguery.
Teaching Metaphor as New Ways of Seeing
I first taught Demagoguery and Democracy as part of an undergraduate course called Acts of Interpretation, which is an upper-level course about theories of literary and rhetorical discourse. In the first half of the class, I focused on literary approaches to metaphor. Then, in the second half of the class, we focused on rhetorical approaches to metaphor—specifically, how a rhetorical approach may offer an entry point into considering the conditions that create a culture of demagoguery. Roberts-Miller's text was the main focus for the unit on rhetoric; however, it was supplemented with readings about metaphor theory and criticism, such as George Lakoff and Mark Johnson's Metaphors We Live By and Sonja Foss's "Metaphor Criticism," as well as examples of metaphor analysis about immigration policy, such as Otto Santa Ana's "'Like an Animal I was Treated': Anti-Immigration Metaphor in U.S. Public Discourse." (See Appendix 5: Suggested Readings)
My approach began by using Roberts-Miller's text to challenge two key assumptions many students may have coming into the classroom. The first assumption is that a culture of demagoguery arises because a group of nefarious populist leaders try to rouse and mislead people who they think are dupes; instead, as Roberts-Miller argues, demagoguery is not the result of individual demagogues. It is a way of engaging in public life with stylistic implications. Viewed from this perspective, my goal was to help students better understand that demagoguery was not a tactical problem that required ousting bad politicians nor an intellectual problem requiring unduping, but a rhetorical problem; as a rhetorical problem, it requires a change in the language habits and deliberative practices by which we live.
The second assumption is that truth—and with it, the best policy solutions—are easy to see and know. As Roberts-Miller points out, when it comes to policy issues in a democracy, there is no easy or clear solution and the truth is not easy to discern (hence a need for deliberation). Students grapple with this as they engage works of criticism that demonstrate how policy metaphors—on issues ranging from genetic research to welfare reform—profoundly shape how we deliberate about those issues in the first place. For instance, from my research in education policy (from which I often drew examples for our classroom discussions), I demonstrated how it often helps to identify which metaphors are functioning as "problem-setting" metaphors because those metaphors shape how we see possible solutions to a policy issue (Schön).
My introduction to metaphor theory and criticism was organized into three workshop days (each day included readings, short lectures, and guided group activities). Each focused on a different facet of metaphor theory:
Metaphors as arguments that shape how we experience the world.

Metaphors as frames that structure how we see policy problems and solutions.

Metaphors as patterns of language that are generative and changeable.
Day 1: Metaphors as Arguments
The goal of the first workshop day was to help students shift from describing what metaphors mean (something they have practiced in other English classes) to what metaphors do as arguments. Students read introductions to metaphor theory and criticism in preparation for class and learned key vocabulary like "tenor" and "vehicle" for describing how the structure of a metaphor implies particular ways of experiencing the world (i.e., X as Y). As an opening exercise, I had students compare a series of metaphors used to define the "college experience" and answer these questions: Which of these metaphors, if any, describe your experience in college? What do they invite you to see? And what do they elide or leave out? Students compared examples of metaphors such as college as investment, college as journey, college as training, and college as membership. The goal of this exercise was to introduce students to how the structures of metaphors make arguments that influence our ways of speaking, thinking, and acting.
In the second part of Day 1, we transitioned back to our discussion of Demagoguery and Democracy to consider the list of common metaphors found in demagogic discourse (66). Reflecting on the list, students seemed keen on devising a list of universally "good" or "bad" metaphors. That is, they wanted to pinpoint metaphors that always promote demagoguery and should therefore be avoided. Cautioning that it's more complicated than that, I guided the class to instead reflect on the criteria by which we might call a use of a metaphor "demagogic." For instance, we might judge a metaphor to be "demagogic" if it helps create a "them" group with the negative associations Roberts-Miller identifies. There are some metaphors that might fall into that pattern more than others. Yet many metaphors are much more ambiguous, vacillating between demagogic and less problematic uses. To illustrate this distinction, I introduced students to a range of examples that use similar metaphors about immigration in different ways across different time periods. In particular, we examined different uses of the immigrant as water metaphor.
To interrogate immigrant as water, I had students read Adam Hodges' work of criticism that argues that a variant of the metaphor immigration as flood could be reframed as immigration as dangerous waters. The result for our political discourse is that such a metaphor of immigrants as dangerous waters "is frequently collocated with the stereotypical trope of immigrants as criminals" (Hodges). Alongside these negative associations, however, I offered students a range of other examples involving water metaphors that forge different associations. For example, when President Lyndon Johnson signed the Immigration and Naturalization Act of 1965 into law, he stated, "From a hundred different places or more [immigrants] have poured forth into an empty land, joining and blending in one mighty and irresistible tide. The land flourished because it was fed from so many sources—because it was nourished by so many cultures and traditions and peoples" (emphasis added). Students were tasked with the following question: what values and associations do these metaphors help to create? Here, many noted, the use of the water metaphor associated immigrants with positive, life-giving values rather than associating them with the negative, destructive images that concerned Hodges (see also Chavez, Covering Immigration). In our follow-up class discussion and in-class writings, we thought through what about the metaphor made it function demagogically in some arguments and not others. In part, it depended on the source of the wave ("a hundred different places"), where it went ("an empty land"), and what it brought (nourishment and flourishment).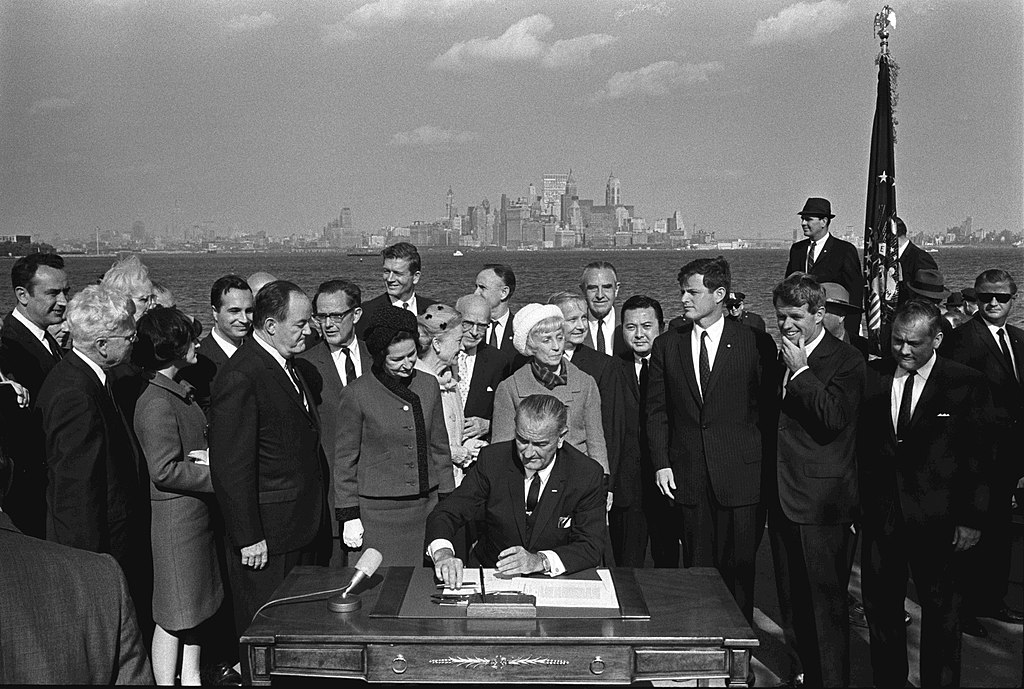 Caption: President Lyndon B. Johnson signs the Immigration and Naturalization Act of 1965 into law at Liberty Island in New York. Public domain, via Wikimedia Commons.
The goal of Day 1 was to show students how dominant conceptual metaphors are not necessarily used in the same ways in all situations. Analyzing metaphors from Johnson and other policy discourses helped underscore that metaphors need to be evaluated on their own terms and accordzing to their unique features. To judge whether a metaphor is "demagogic," we must look at the argument itself and the comparisons it invites in a particular rhetorical situation.
Day 2: Defining Policy Problems and Solutions through Metaphor
Our second workshop day focused on how metaphors not only guide our daily experience in the world but also play a key role in defining how we understand policy problems and their possible solutions (Schön). I focused on the structuring relation between metaphor and policy to show how what some may consider "surface features" of style, like metaphors, make arguments and shape ways of seeing an issue.
For example, Roberts-Miller uses two metaphors that shift from conceptualizing demagoguery in terms of individual demagogues to demagoguery as a shared discursive culture. First, rather than thinking about demagoguery as an infection, she argues demagoguery is more like algae in a pond. In small amounts, she says, it's harmless, but "if the conditions of the pond are such that the algae begins to crowd out other kinds of pond life and ecological processes," then we have a problem (79). The metaphor points out that we will need different policy approaches and ways of deliberating if we are to avoid an overbloom of demagogic algae. Second, Roberts-Miller deploys the metaphor of a ladder to help us see the way that "demagoguery rarely starts by calling for the literal extermination of the out-group" (78). Instead, she argues, our political culture can be thought of as a ladder with multiple rungs; a simple "us versus them" remark does not immediately lead to mass extermination and genocide, but it may be the first rung of the ladder that could (81). Roberts-Miller's ladder metaphor offered students an argument for why it is so difficult to see connections between seemingly innocuous "us versus them" remarks and more shocking instances of violence. What seemed useful was the way her ladder metaphor highlighted a spectrum (accounting for a range) and also offered students a way out: we can choose whether or not to climb higher on the ladder. Taken together, these examples in Roberts-Miller's text demonstrated how a metaphor's implications can chain out, providing ways of reimagining discourse and decision-making.
For the assignment portion of Day 2, we focused on identifying metaphors used in immigration policy and describing how they framed problems and solutions. Having read examples of rhetorical and linguistic criticism about immigration policy (See Appendix 3: Demagoguery Analysis Table Handout), students were introduced to how issues of immigration policy are often framed through interconnected metaphors of immigrant and nation. We returned to examining the rhetoric of statements like "immigrants are pouring into the country," which rely on such metaphors as nation as container and immigrant as water. In class, students practiced writing about how such metaphors create policy logics that "necessitate" certain solutions and how our assumptions about "good solutions" depend on how we define the problem in the first place. For example:
If a policy problem is framed by nation as container and immigrants are water pouring into it, then the solution is assumed to be: build a higher container wall.

If a policy problem is framed by nation as fortress and immigrants as invaders, then the solution is assumed to be: use force to remove them or to keep them from entering.
To get a sense of the dominant metaphors that have guided immigration policy, students searched and compared a set of presidential speeches on immigration that offer a range of metaphors. In small groups, students were tasked with locating three different metaphors used in public addresses about immigration and tracing how their associations set up implicit policy solutions. In the second part of their assignment for Day 2, students wrote short individual papers that used criteria for identifying demagoguery (see Roberts-Miller 34-35) to assess whether and how examples contributed to cultures of demagoguery or deliberation. Students identified a variety of different metaphors for the nation in presidential speeches, including nation as land, nation as home, and nation as fabric, as well as metaphors for immigrants other than immigrant as water, such as immigrant as stranger and immigrant as worker. In turn, they mapped how presidential speeches chained out the policy implications presidents drew from these various metaphors.
By examining a range of examples from different periods in US history, students were introduced to the idea that a stock set of conceptual metaphors (or topoi) informs our current political discourse about immigration policy. Being able to navigate and understand how such metaphors have been used is crucial for engaging in policy debates about immigration because the metaphors structure the types of policy solutions we imagine possible.
Day 3: Changing Metaphors to Change Patterns of Discourse
The workshop on Day 3 focused on how metaphors are conceptual resources that structure our public discourse, but also offer generative ways to rethink old problems in new ways. As part of a longer written assignment on rhetorical criticism, I asked students to search for examples of public discourse that offered alternative metaphors to those they had analyzed previously. Using Roberts-Miller's recommendations as a guide, the prompt asked students to find examples of people trying to shift from demagogic to more deliberative discourse about immigration. In situations where a culture of demagoguery has created a crisis, the prompt asked, how do people try to change the culture? Do they follow what Roberts-Miller advocates? What metaphors, if any, do they use to do so? To model the sort of work I expected from them, I offered students a few op-ed samples, which we discussed in class, that represented some of the difficulty and complexity in trying to locate examples that fit perfectly into the category of "deliberative" or "demagogic."
The first op-ed we examined was a Guardian article by artist Ai Weiwei calling on Western nations to change their approach to immigration policy. I selected this op-ed because the author draws from the familiar metaphor of immigration as flood but uses it to redefine the policy problem at the core of the debate. The author argues, "Instead of building walls, we should look at what is causing people to become refugees and work to solve those conditions to stem the flow at its source" (emphasis added). Weiwei extends the metaphor of immigration as flood and uses it to propose a different approach to solving the problem, stating, "In nature there are two approaches to dealing with flooding. One is to build a dam to stop the flow. The other is to find the right path to allow the flow to continue. [But b]uilding a dam does not address the source of the flow." Here Weiwei draws from a familiar metaphor to argue that we should rethink our policy solutions and framework. Dissociating two approaches to flooding, Weiwei uses the metaphor to demonstrate the limitation of a "build the wall" solution to immigration, asking readers to reconsider our assumptions about the initial problem. Rather than replace the flood metaphor, which other critics previously condemned (Hodges), he embraces it to redirect public conversation.
The second op-ed we discussed was Jeff Blattner's essay "Pittsburghers Treat Each Other as One Community. We Should All Learn from Them." Blattner's op-ed was published in the Washington Post and widely circulated just after a shooting at the Tree of Life synagogue in Pittsburgh. I selected this op-ed because, while its overarching message appears to be one of unity, it employs metaphors that may complicate that aim. In this way, it is an excellent example of Roberts-Miller's warning that "we can't determine whether rhetoric is demagoguery by deciding whether the rhetor is a 'good' or 'bad' person. To judge their rhetoric, we have to look at their rhetoric" (28). In Blattner's op-ed, he laments the problem with an "us versus them" public discourse, which encourages the type of anti-immigrant hatred that motivated the shooter in the Tree of Life case in the first place. Blattner draws from metaphors of the United States, and the city of Pittsburgh in particular, as a "melting pot" and "ethnic stew" in which people have forged affiliations with each other based on sports teams (the Pittsburgh Steelers, Pirates, and Penguins), shared places of worship, and community-based organizations.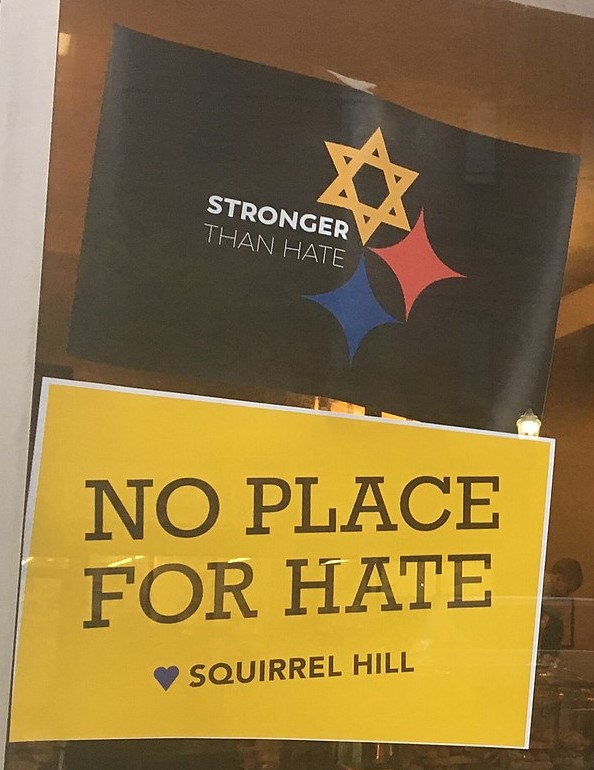 Caption: Posters on the window of a coffee shop on Murray Avenue at Squirrel Hill in response to the Tree of Life Synagogue shooting in Pittsburgh in 2018. Creative Commons 1.0 license, via Wikimedia Commons.
Though Blattner calls for "unity" (as his title suggests) and an end to demagoguery that leads to violence, the concluding paragraph of his op-ed troubles this aim by shifting blame for the current situation to a different "them." In his conclusion, Blattner argues that "cynical politicians and self-interested plutocrats have sought to foment hatred, division and resentment. The public sphere is being poisoned, and now people have been killed in the town I love. Those who stir hatred and exploit it must be condemned, and they must be defeated." Drawing from familiar metaphors of poison and dangerous invaders who must be defeated, Blattner's word choice at the end of his op-ed slips into a demagogic topos of "us versus them." An anti-demagogic text reliant on demagogic devices, the Blattner op-ed offered students an opportunity to hone their critical instincts.
Drawing upon lessons learned over the three-day arc of workshops, students provided nuanced critiques of the Blattner essay. During class discussions, they disagreed about how problematic his choice of "defeated" was; for some, it was a clear shift to demagoguery because the verb "defeated" invokes a war metaphor against an out-group. But other students, while they agreed that this rhetoric fit the criteria for demagoguery, saw it as merely one statement in the context of a broader argument that ultimately promoted a more deliberative stance. In class, we practiced an exercise I call the "Editor Scenario," where students act in the role of a rhetorical editor and explain the issue to the author then propose a range of alternative options. Their ideas ranged from simply deleting the part that said "they must be defeated" to revising it, in an active voice, to something like "we must restore health and goodwill to our public sphere."
In analyzing these op-eds as a propaedeutic to completing a major writing assignment, I encouraged students to consider what we might learn from the metaphors in these and other examples we encountered throughout the workshops and to determine the following: In what ways do these examples help to promote a demagogic culture? In what ways might they foster a more deliberative culture? And how can we tell the difference? Students reported that this was probably the most difficult part of the unit because it forced us to realize that we did not have great models for what a more deliberative culture could look like or how it would operate. Absent such models, students instead stressed the importance of being vigilant—of critiquing metaphors on their own terms, tracking their implications, and reflecting on how they operate as arguments.
Student Responses to Metaphor Criticism of Demagoguery
What these workshops on metaphor criticism and the accompanying writing assignments tried to underscore was that the activity of metaphor criticism could help turn our attention to the political consequences of metaphoric arguments. Below, I describe how students applied Roberts-Miller's criteria to judge whether the arguments in the op-eds promoted a demagogic or deliberative culture for discussing immigration policy.
First, students who chose to analyze Weiwei's op-ed questioned whether it was most productive to "reframe" a problematic metaphor such as immigration as flood. One student made the case that it is an act of "reclaiming" for an immigrant like Weiwei to use this metaphor to structure his argument. Others questioned whether we could truly change a culture of demagoguery without creating new metaphors. What I found productive about this question was how it encouraged some students to return to the set of criteria Roberts-Miller offers, which we used as a set of guiding principles for grappling with the ways rhetoric can be both a constraining and productive force (See Appendix 4: Demagoguery Analysis Table Handout). Such habits of rhetorical reflection became grounds from which we could consider that metaphors but create frames that can either invoke predictable patterns or be changed to promote alternatives.
Drawing upon these criteria, students recognized that, while Weiwei draws from a conceptual metaphor that has been used to promote anti-immigrant rhetoric in the past, he uses the metaphor to promote new starting points for a more deliberative approach by (1) shifting the issue away from "us versus them" and (2) stepping back to suggest we may not understand the policy problem well in the first place. In this way, some students argued, Weiwei avoids suggesting that there is one easy or obvious solution. However, other students interpreted his argument as "blaming Western countries" and faulted the argument for not proposing concrete policy solutions to the problem. As one student contended, the op-ed genre's constraints perhaps limited the author's ability to provide a more substantive policy plan.
Second, students appeared to struggle the most with the issue of "in-group" and "out-group" identity. While "us versus them" discourse seemed like the easiest aspect of demagoguery to identify, it was also the most difficult for students to judge. Some students were able to pinpoint the problem of blaming an out-group at the end of the Blattner op-ed—for example, where Blattner makes a clear case for welcoming immigrants yet shifts blame onto bad politicians and others who "poison" the city. Such an "us versus them" argument, some students concluded, seemed more innocuous in this case because he did not blame a particular political party; other students argued creating any "out-group" still promotes a culture of demagoguery. Another example appeared in US presidential speeches that revered immigrants as "us" while appealing to American exceptionalism. While these examples may not appear demagogic at first, some students recognized that such claims provide grounds for demagoguery by arguing that America is "greater" than other countries and is therefore exempt from standards of fairness.
One pitfall in this unit was that when students sought counterexamples to metaphors that promote demagoguery, they tended to gravitate toward metaphors of unity or a "romanticization of past immigration as family oriented, working class, and European" (Chavez 25). This romanticization was evident in several examples the students found, both in presidential speeches and other op-eds. In the future, I would introduce different readings about why this kind of romanticization is harmful to people who are not identified by these categories and also work to find, or to create with students, more examples that avoid such romanticization and binaries of "good versus bad" immigrants.
In terms of learning outcomes, one student commented in her final paper reflection that the practice of writing and researching the history of immigrant as water versus immigrant as pollutant metaphors led her to the conclusion that she needed to do more research about the history of immigration policy. Two other students reported in the final class reflection that the exercises on demagoguery and metaphor led them to search for how deliberation was defined in other fields, such as political science and philosophy, and wonder about the range of definitions they found.
As I reviewed students' comments about the course in their final reflection memos, which are my qualitative supplement to university-wide quantitative course evaluations, I synthesized their reported learning takeaways into four themes:
I learned that demagoguery exists.

I learned that metaphors make arguments.

I learned that I probably need to do more research about the history of policy issues.

I learned that I don't know enough about what constitutes good deliberation.
In these final memos, approximately one-third of students reported that the unit on metaphor and demagoguery left them wanting to learn more about what good deliberation would look like. While my discussion of this classroom exercise rests mostly on anecdotal evidence, student papers and reflective comments suggest that giving them a vocabulary and a series of exercises to practice interpreting the types of policy arguments they encounter sparked an interest in learning about demagoguery and seeking out what a more deliberative culture could be. In short, a "demagogically sensitive" pedagogy might be one in which students realize what they need to know more about and have some guidance for how to inquire about demagoguery.
Finally, I find Roberts-Miller's text helpful for offering a set of criteria for judging the metaphors that guide our public deliberation about policy; for my students, it appears that the most impactful aspect of the unit may have been learning that the concept of demagoguery was more complicated than just "identifying bad guys." I adapted Roberts-Miller's criteria for demagoguery as a guide for my students' rhetorical criticism of metaphor according to the five following questions:
To what extent does this metaphor help represent the complexity of the policy issue and avoid polarizing the issue it speaks to into a simple binary?

To what extent does this metaphor encourage people to argue policies as policies rather than argue from identity or motive?

To what extent does this metaphor help represent a policy issue in a way that is fair to all involved?

To what extent does this metaphor help represent the complexity, nuance, and uncertainty involved in policy and the need for deliberation to make policy change possible?

To what extent does this metaphor rely on sound reasoning and avoid fallacies, such as the strawman fallacy, projection, appeals to inconsistent premises, and arguments from personal conviction?
This list was by no means an easy set of criteria to apply across every case, and it's essential to underscore that demagoguery can take forms that subtly elude these criteria. Still, it could be a productive guide for judging and evaluating the ways particular metaphors are implemented in public practice. It would also be the basis for a productive set of codes for an empirical study that analyzes student papers in a course about metaphor and demagoguery.
While I set out to use theories of metaphor to help students understand the complexities of demagoguery explained in Roberts-Miller's text, I found that Roberts-Miller also helped clarify the aims and responsibilities of rhetoric better than other texts I've used in my Acts of Interpretation class. In the past, student papers tended to claim that certain metaphors were "good" or "bad" because they "work (or don't work) for a particular audience." (I did still get quite a few of those.) But a handful of papers interpreted the arguments such metaphors make and the effects those metaphors have on a policy issue (in this case, because they promote either demagoguery or deliberation). This experience teaching rhetorical criticism helped me to see how often I had previously allowed students a kind of "value-free" approach to rhetorical criticism rather than one informed by explicit criteria for deliberative arguments.
The Responsibilities of Rhetoric
When I started to plan these workshops on demagoguery, I set out to use metaphor criticism to help give students some means for interpreting how different conceptual metaphors can shape conditions that either encourage or prevent deliberative approaches to policy-making. As Roberts-Miller argues, "we need to persuade people to engage in more deliberation and less demagoguery. That isn't easy because demagoguery isn't just a way of arguing about politics; it's a way of thinking about decision-making" (121-22). The experience of teaching metaphor criticism with Roberts-Miller's book as a guide helped me see the task of teaching metaphor criticism less as an issue of helping students identify "demagogic metaphors" and more as a process of decision-making, of weighing options and evaluating the possible consequences of the arguments different metaphors offer.
One could argue that this contribution, like many in this collection, is just another example of an "in-group" articulation of how best to enact a demagogically sensitive rhetorical education. Historically, teachers of rhetoric have routinely fallen into the trap of thinking ourselves immune from engaging in our own demagoguery (Steudeman). Perhaps the authors of this volume are an "in-group" who have affirmed each other's idiosyncratic ideas about deliberation and rhetorical education. Perhaps in our single-mindedness, we've neglected to reflect on whether deliberation is a worthy value for rhetorical education or whether a focus on demagoguery is the best way to help students learn about deliberation. As I hope to have imparted to my students, it can be challenging to see demagoguery when you're engaged in it, which makes it all the more important that we try. On that score, I propose we might instead see this volume as an attempt to make vivid for others our multiple early attempts at approaching the problem of demagoguery—a problem that, though as old as democracy itself, has nonetheless been too rarely treated as a pedagogical focus in our field. These are nascent questions; we hope to stir others to further inquiry.
As a nascent project, there are obvious limits to what I can generalize from my students' experiences with these workshops. Teachers of rhetoric long wrestled with the limitations of narrative and anecdotal evidence when making claims about what's effective in the classroom. I offer my reflections here not to say definitively what "works," but to help others grapple with what it means to start over and question our preconceptions. As a teacher, it was notable to me that in attempting to teach Demagoguery and Democracy for the first time, I indeed felt like I was going back to the early days of composition theory and my graduate-school training in composition pedagogy all over again. I found myself returning to fundamental questions about how to define a "good" argument, what constitutes truth and worthwhile evidence, what it means to assemble or call an audience into being, what constitutes logic or logical fallacy, the challenges of seeking rivaling hypotheses, and how to create intellectually engaging assignments that resist easy answers.
So, while I cannot make grand claims that assigning one book and a few exercises on metaphor transformed students into expert rhetorical critics of demagoguery or more deliberative arguers, I can claim that trying to teach about demagoguery helped me to better understand my rhetorical responsibilities as a teacher. As Roberts-Miller argues in her opening definition, demagoguery is a "discourse that promises stability, certainty, and escape from the responsibilities of rhetoric" (33). We might say that a demagogically sensitive pedagogy is one that does not promise stability, certainty, and escape, but instead helps give students footholds, concepts, and the habits of practicing rhetoric, in all its uncertainty, instability, and deliberative possibility.
Acknowledgement:
I want to thank Patricia Roberts-Miller for writing a book that has transformed my rhetoric and writing classroom. I also want to thank Michael Steudeman for his keen editorial insight, Ryan Skinnell for his feedback on my first draft, and two anonymous reviewers whose incisive feedback helped me revise my chapter substantially. Finally, I wish to thank the students at Virginia Tech who inspired this inquiry, and who have encouraged me to keep writing and teaching about the difficulties of demagoguery.
Works Cited
Blattner, Jeff. "Pittsburghers Treat Each Other as One Community. We Should All Learn from Them." Washington Post, 28 Oct. 2018, https://www.washingtonpost.com/opinions/pittsburghers-treat-each-other-as-one-community-we-should-all-learn-from-them/2018/10/28/27c47360-dabc-11e8-b3f0-62607289efee_story.html. Accessed 9 Dec. 2020.
Chavez, Leo. Covering Immigration: Popular Images and the Politics of the Nation. U of California P, 2001.
Cisneros, David J. "Contaminated Communities: The Metaphor of 'Immigrant as Pollutant' in Media Representations of Immigration." Rhetoric and Public Affairs, vol. 11, no. 4, 2008, pp. 569-601.
Eberly, Rosa. "Writers, Audiences, and Communities to Publics: Writing Classrooms as Protopublic Spaces." Rhetoric Review, vol. 18, no. 1, 1999, pp. 165-78.
Foss, Sonja. Rhetorical Criticism: Exploration and Practice. 4th ed., Waveland P, 2008.
Hariman, Robert. Political Style: The Artistry of Power. U of Chicago P, 1995.
Hodges, Adam. "A Demagogue's Words Matter." Anthropology News, 2 Nov. 2018, https://www.anthropology-news.org/index.php/2018/11/02/a-demagogues-words-matter/. Accessed 9 Dec. 2020.
Johnson, Lyndon B. "Remarks at the Signing of the Immigration Bill, Liberty Island, New York, October 3, 1965." The American Presidency Project, UC Santa Barbara, https://www.presidency.ucsb.edu/documents/remarks-the-signing-the-immigration-bill-liberty-island-new-york. Accessed 9 Dec. 2020.
Lakoff, George, and Mark Johnson. Metaphors We Live By. U of Chicago P, 1980.
Roberts-Miller, Patricia. "Demagoguery, Charismatic Leadership, and Force of Habit." Rhetoric Society Quarterly, vol. 49, no. 3, 2019, pp. 233-247.
---. Demagoguery and Democracy. The Experiment, 2017.
Santa Ana, Otto. "'Like an Animal I was Treated': Anti-Immigration Metaphor in U.S. Public Discourse." Discourse & Society, vol. 10, 1999, pp. 191-224.
Schön, Donald. "Generative Metaphor: A Perspective on Problem-Setting in Social Policy." Metaphor and Thought, 2nd ed., edited by Andrew Ortony, Cambridge UP, 1993, pp. 137-163.
Steudeman, Michael. "Rethinking Rhetorical Education in Times of Demagoguery." Rhetoric Society Quarterly, vol. 49, no. 3, 2019, pp. 297-314.
Weiwei, Ai. "The Refugee Crisis Isn't about Refugees. It's about Us." The Guardian, 2 Feb. 2018, https://www.theguardian.com/commentisfree/2018/feb/02/refugee-crisis-human-flow-ai-weiwei-china. Accessed 9 Dec. 2020.