Track 6: After-Dinner Debrief
Note: This track includes clips from the recorded conversation that took place after the multisensory dining event. The audio is rough due to a lack of funding for high quality microphones, the large number of participants seated at a very long table, and the spacious room with high ceilings. Due to these less-than-ideal recording conditions, listeners will at times hear unbalanced volume levels, and the sounds of students typing notes on their laptops, coughing, and shuffling around. In other words, the ambient environment colors these recordings. Unfortunately, some clips of the discussion were too damaged to share, so in those cases I summarize statements that were made. I also include transcripts of each clip.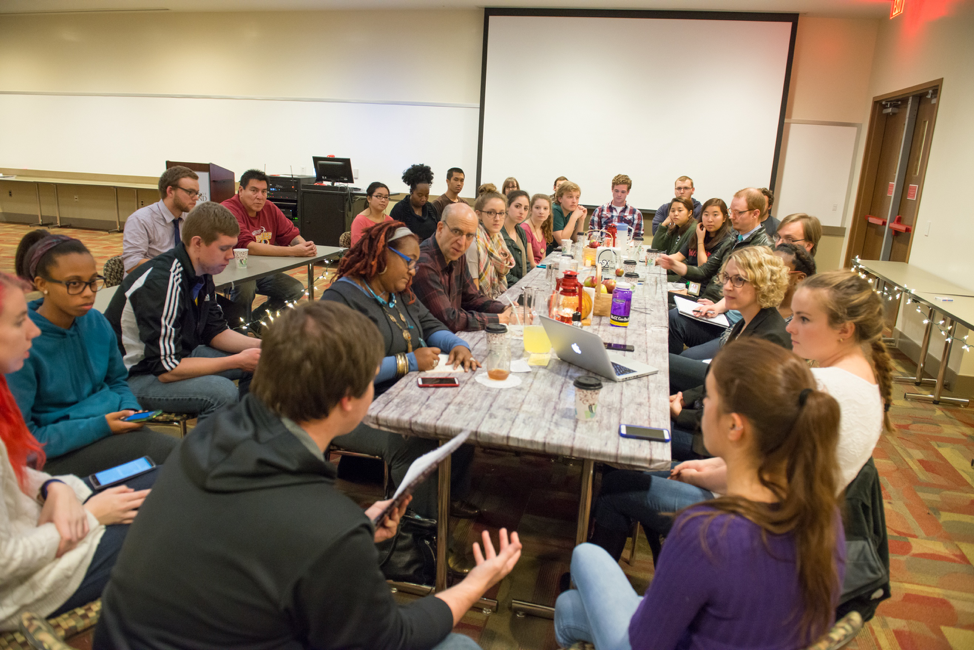 The debrief.
The multisensory dining event ended with an hour-long postmeal discussion. Our participants got to talk about what they experienced, and my students got to explain their design choices and composing process. Participants claimed that overall, the students' designs were successful in that by the end of the experience, they felt lulled into comfort. However, there was also a lot of discussion about subjectivity—specifically, how notions of "comfort" varied among participants (based on age, race, ethnicity, and other factors). Ultimately, we ended up having a productive discussion about both the effectiveness of truly multisensory composition and the limitations of sensory persuasion.
For example, in the appetizer soundtrack, students used a lot of sounds associated with homes (e.g., a doorbell, a running dishwasher, oven timers going off). The age of the participants drastically affected their feelings about these sounds. During our discussion, the college students claimed that the appliance noises made them nostalgic about eating meals with their parents. They associated the sounds with home-cooked meals and comfort, in contrast to the cafeteria-style meals they are subjected to at school. The faculty who participated, however, found the appliance noises irritating. These sounds were reminders of housework and chores—more things they had to add to their list after work. Listen to professor Neil Fraistat discuss his reaction to the kitchen noises:
Transcript: This may be the difference between people living in a dorm and people living in houses [group responds with "yeahs" and laughter]. I experienced those things as distractions. You know, I didn't want to pay attention to someone at a door. I wanted to pay attention to the food. Same thing with all the other noises. Instead of making me feel more at home, or like I'm in an intimate setting, it felt like distractions to my tasting the food.
Clearly, the life experiences diners brought into the room with them affected the ways that they responded to the soundtracks we provided. The postmeal debrief revealed how individual experience can drastically alter the intended effects of sensory rhetorics in both positive and negative ways.
Another interesting part of the discussion was about the food itself: mac and cheese, pulled pork, and apple pie with vanilla ice cream. Though my students— mostly college-aged, middle-class Americans—considered these to be ultimate comfort foods, one participant noted that these foods actually made her uncomfortable. Listen to professor Psyche Williams' response:
Transcript: It's interesting because the sound for me, felt um—I'm glad you brought up discomfort because there were parts of the meal that were discomforting to me. Our first encounter, right, and then, I don't eat pork. So, and then I ate this ice cream but I really don't eat ice cream. So, I'm like, huh. The music for me did a different kind of thing because probably it offered more soothing than the meal did—because there were so many areas of discomfort. And, the whole time we [referring to Neil] were actually having conversations—work conversations—and that reminded me of being in, because we do this a lot, we have faculty, a luncheon or what have you and you're talking to people. You're totally aware that there is noise behind you but you block it out. So for me the entire meal was somewhat disconcerting because so many different things were going on in my head, in our conversation, and the meal. It was great—I mean, I did notice the fireplace. That's the thing that really sort of leveled it out. The popping and the crackling and the fire.
Williams does not eat pork or ice cream (which my students did not know in advance because she joined the event later than other participants), so the food on her plate had the exact opposite effect that my students were hoping to achieve. In her response, Williams also mentions that during the meal, she was talking with her colleague Neil about work things, which may have interfered with her relaxed state. It is interesting that her experiences at previous faculty dining events trained her to ignore or block out excess "noise" to focus on the conversations she is having with people. Most people similarly learn to focus on meaningful language as opposed to ambient soundscapes. Once again, the experiences that people brought into the event undeniably played the most influential role in their reactions to sounds and other design elements.
Despite these uncomfortable aspects of the meal, however, Williams claims it was the sound—especially the popping and the crackling of the fire—that really helped to "level things out" and make her feel more at ease. This comment makes evident that in multisensory design, not every element needs to be especially powerful or effective. Rather, the entire mixture of elements (and how well they work together) seems to determine the design's effectiveness. But Williams' comment also reinforces the power of sound as an immersive medium. As Frances Dyson writes, "[S]ound is the immersive medium par excellence. Three-dimensional, interactive, and synesthetic, perceived in the here and now of an embodied space … of experiencing oneself as engulfed, enveloped, absorbed, enmeshed, in short, immersed in an environment" (4). Even though Williams was experiencing discomfort on multiple fronts, it was the sounds of the fire that kept her in the experience, so to speak.
Like Williams, other participants remarked that my students' food choices were not necessarily comforting. Indeed, several student participants from various cultural and ethnic backgrounds told me that our menu did not include their favorite "go to" comfort foods. These students mentioned this to me when we were chatting in the hallway after the recorded discussion was over (perhaps because they did not want to offend my students or the chef). Hearing these comments made me realize that I should have dedicated space in the syllabus for talking about cultural differences and notions of comfort in terms of the sound, food, and visual design. As Debra Hawhee notes, "one of the biggest challenges of rhetoric's sensorium" is how to write about sensation without "thinking in terms of communal sensation, without presuming sameness" (12). Similarly, designing for the senses without "presuming sameness" is extremely challenging. Listening to and for cultural difference needs to play a bigger role in future versions of the project, as well as in pedagogical and scholarly engagements with sensory rhetorics more broadly. As this experience highlights, there is a real need for sensory rhetorical work to be in explicit conversation with scholarship in cultural rhetorics—an area that is very much concerned with embodied practices and relations (with people, places, land, communities, etc.) in specific contexts.
The comments that my students may have learned the most from during the postmeal discussion were those in which participants admitted not noticing things that my students really wanted them to notice. For example, while some participants claimed that they did notice a bit more sweetness in particular foods at certain times during the meal (possibly due to the high-frequency sound strategy my students integrated after reading about food science), many claimed that they were not consciously aware of any changes. Aside from the sonic food science experiments being somewhat ineffective or non-attention-grabbing, my students were shocked to learn that participants did not notice the Jeopardy! portion of the appetizer soundtrack.
Transcript: Steph: Did anybody pick up on the Jeopardy!?

Participants: Whaaat? [surprised laughter from group]

Steph: What we didn't anticipate was, your chatter was much louder than we thought and the speakers weren't quite as [powerful], we couldn't, we had it up at max volume. But there was actually a low hum of a TV show in the background: Jeopardy!?

Participants: Ohhhhhhhh.

Steph: It was playing for like half the track.
While at first many of my students were dismayed that participants seemed to miss various features of their design (some participants even confessed that it took them a very long time to realize that there was a live guitar player in the room), the discussion about why this not noticing occurred turned out to be illuminating. As one of my students explained, in the dessert track the whole point was to not notice the sound. Our guest Eric Schulze and another student participant then chimed in with some thought-provoking comments:
Transcript: Steph's student: The, I don't know what study it was, Houge, I don't know how you say his name, but he was saying the sound was supposed to enhance the meal not distract from it, and that's why we really took everything out, except for the fire and the wind chimes, which—couldn't even hear them, when I was standing right there, so—

Eric Schulze: So I think that that means that you all succeeded exceptionally well. Uh, if you wanted to hammer us over the head with sounds you could've. That's probably a testament to the fact that we were actually enjoying the meal, talking, getting to know complete strangers. So, I think it actually means that it worked.

Student participant: To go along with that I really appreciated that, um, I wasn't, like you said, bombarded with sounds or distracted and I could really enjoy my meal. And, at one point I kind of, like, forgot I was supposed to be listening because of how comfortable I was with the sounds. And, the sounds were very comforting.
This exchange made it clear to my students that participants' not noticing the sounds is what made the experience so effective in the first place. As Brian Eno writes in the liner notes for Music for Airports, "Ambient Music must be able to accommodate many levels of listening attention without enforcing one in particular; it must be as ignorable as it is interesting."
One thing that all of the participants agreed on was that despite the little details that failed to "comfort" some of them, they felt relatively comforted by the end of the night. In other words, the sound was extremely well-integrated with all of the other design elements—so much so, in fact, that participants did not really pay attention to it. Even if certain sounds or other aspects of the design didn't have a comforting effect on certain individuals, the holistic experience students designed was still able to accomplish our main goal.
In this way, the ambient tracks my students created were more like atmospheres than music or sound that should be actively listened to; our ambient tracks immersed participants in a feeling or mood without drawing attention to themselves in a disruptive way (at least for the most part). Significantly, although the participants did not always notice the sound, they were still affected by it. Sound's ability to affect us and to create effects, even if we are not conscious of it, is a recurrent theme in Eno's work. Consider this excerpt from the liner notes for Discreet Music:
In January this year I had an accident. I was not seriously hurt, but I was confined to bed in a stiff and static position. My friend Judy Nylon visited me and brought me a record of 18th century harp music. After she had gone, and with some considerable difficulty, I put on the record. Having laid down, I realized that the amplifier was set at an extremely low level, and that one channel of the stereo had failed completely. Since I hadn't the energy to get up and improve matters, the record played on almost inaudibly. This presented what was for me a new way of hearing music—as part of the ambience of the environment just as the colour of the light and the sound of the rain were parts of that ambience.
While in this example Eno is not always conscious of the music playing, he is still affected by the atmosphere the music is creating—just as our moods are influenced by the weather or the type of lighting in a room. This sonic experience is what inspired Eno's ambient experimentation in Discreet Music: "I was trying to make a piece that could be listened to and yet could be ignored ... perhaps in the spirit of Satie [a French composer and pianist] who wanted to make music that could 'mingle with the sound of the knives and forks at dinner.'"
After talking with participants about their experiences, my students realized that the ambient tracks they created were still effective and affective, just not in an obvious way. The mingling and blending of the tracks with the sounds produced by participants eating a meal (sounds of talking, laughing, eating)—in conjunction with the foods, visual design, etc.—all contributed to the comforting atmosphere.
This exchange about participants not noticing also caused my students and the participants to raise questions about how the soundscapes they encounter in their daily lives may be making them less critical. One student even claimed that our comfortable sound design made her less analytical.
Transcript: Yeah I came into this thinking like, okay, I'm going to pay attention to every sound and every pitch and every feeling. I'm gonna tweet all of it. And then I just realized I kinda had my hands full and I was like, oh yeah I'm gonna talk and stuff. I think eventually, like, just over the course as the sun went down and the lights dimmed and everything—I think the point of the meal with the comfort, like, comforted me out of my analytical mindset [laughter from group]. Like I was just full and I felt like I was in it so I agree to what he [Schulze] said earlier. It worked.
Even in situations like this one, where participants knew we were trying to manipulate them with sound, they forgot that they were being manipulated at all. This led to an interesting moment of reflection about how the effectiveness of sound designs, which we encounter in all kinds of public spaces, is often due to the fact that they do not draw attention to themselves.
We also talked about how composing with sound involves more than sound alone. The multisensory meal experiment was not merely about paying attention to the meanings of particular sounds. Rather, this project required students to think about sound's role in the material, contextual, sensory experience we were creating, which involved paying attention to the relationship between sound and all of the other elements of our design, like language, tastes, textures, smells, visuals, lighting, the audio equipment we had access to, and the space we were assigned. All of these elements work together to create effects and affects. I think that ultimately, students and participants came away from this experiment with a more expansive understanding of sonic composing that includes much more than hearing and composing with sound in digital audio editors, but also with a deeper awareness of how sound could (sometimes sneakily) affect them as they move through the world.
We ended our discussion by talking about what students and participants learned from our sensory experiment. Many of my students mentioned that they learned a lot about the affordances and constraints involved in sonic composing. In addition to learning to use digital audio editors to manipulate sound in desired ways, they had to consider how their digital soundtracks would work in a specific physical space. This meant taking into account the material, spatial, and technical affordances of the room we were assigned (e.g., the placement of the speakers, the height of the ceilings). For instance, one of the biggest challenges we encountered was with the overhead speaker system; our digital soundtracks felt flat and one-dimensional when we tested them in the room, so my students came up with the idea of having a live guitar player who played along with the digital track during some parts of the meal. This created a more textured, immersive sonic experience than the digital sound alone was able to accomplish. In general, this project amplified how important it is to consider the material environment when composing sonic experiences.
Students also discussed the challenges and benefits of the collaborative nature of this event. They learned to work and compose in intensely collaborative ways over an extended period of time; they had to communicate with their team members, and teams had to talk with me and each other to make sure the design made sense as a whole. They also had to be in constant communication with our chef about food choices, ingredients, flavors, and more. In short, we all learned new ways of working and composing together to execute a complex project with a lot of moving parts.
Productive failure was another theme that emerged in our discussion. Students told participants about how often they had setbacks throughout the course of the semester, and that peer review was essential to their success. During peer feedback sessions, the students were very critical of their own and others' work. They knew if one team's sound design was weak it would reflect badly on the event as a whole. They quickly realized that the only way to figure out what was working and what wasn't was to experiment and fail; therefore, they repeatedly tested out the sonic compositions on each other, and each team ended up doing multiple and substantial revisions. In retrospect, I think that our embracing of productive failure was key to the whole project. For me, it was especially interesting to hear students discussing failure in a positive way. They were often visibly excited, for example, when their peers had a negative reaction to their sound designs because it helped them pinpoint what wasn't working so they could get closer to something that did work. While this view of failure is common in fields like science and engineering, this was the first time I heard humanities students framing failure as a necessary and genuinely beneficial part of their composing process.
Finally, and most significantly, both the students and participants reported that the project made them more aware of the ways that sound colors and affects so many of their daily experiences in restaurants, coffee shops, and other public spaces—something that they had not given much thought to previously. Here is Fraistat echoing this sentiment:
Transcript: One way that I think it [this experiment] is extraordinarily valuable is that these kind of persuasive tactics are being used on us everywhere we go, whether it's a restaurant or the supermarket or a mall. And, they are operating on us and often we respond in non-critical ways. So, just even understanding that there is a kind of rhetoric going on, composed of sound, and thinking about how that rhetoric works—critically—I think is a really important thing.
The experience of the multisensory dining event initiated a shift in the ways that students and participants paid attention. After the event was over, many people emailed me to say things like, "I can't stop noticing sound everywhere I go!" It became clear that the attunement they began to cultivate during our pedagogical experiment was informing the ways they interacted with different spaces and situations in their daily lives. This kind of attunement is vital to sensory rhetorical education—particularly when it comes to sound. As Joel Beckerman, author of The Sonic Boom: How Sound Transforms the Ways We Think, Feel, and Buy, points out, "Sound is present every moment of our lives, affecting our moods, our reactions, our thoughts, and our choices on a largely subconscious level" (xii). Sound's pervasiveness, coupled with the fact that it is being used frequently as a suasive force in multisensory design strategies, makes sensory rhetorical pedagogy increasingly relevant and necessary.