Food, Comfort, Sensation
When I was designing the multisensory dining project, I knew I wanted it to involve something that would be relevant to students' lives outside of the classroom. For this reason, food seemed like the perfect vehicle for a pedagogical experiment. Priscilla Parkhurst Ferguson explains, "Food surely can be construed as a 'total social phenomenon,' as Marcel Mauss defined it—that is, as a set of experiences and practices so pervasive that we could not imagine our worlds without them" (xv). We eat every day but rarely—if ever—think about the experience of eating in critical terms. To me, then, a food-based sensory rhetorics project seemed like an excellent way to defamiliarize the familiar. I was interested in how to make strange the pervasive, common experience of eating—to give students and participants a chance to think anew about sound and sensory experience through an ordinary activity like sharing a meal together.
Food also seemed like a beneficial medium given the project's focus on sound and multisensory experience. In "The Sounds of Food," Tara Brabazon recounts the kinds of sensory engagements that typically occur during an encounter with food: "Eyes tumble over plates, locating shapes and colors…. Tongues gather information about bitterness, saltiness or sweetness. The feel of cutlery or glass between our fingers signifies class. The smell of bread, coffee—or decaying fish—signifies freshness, danger or unpleasantness." But Brabazon points out that from a diner's perspective, sound is usually the sensory aspect of a meal that gets ignored—that seems unimportant compared to the other senses (except, of course, in the obscure food-based sonic experiments I cite in "Enlivening Sonic Composition"). That most diners don't attend to sound is what intrigued me about having students design a soundtrack for a specific meal. We become so used to giving most of our attention to particular aspects of eating like smell and taste. I saw the project as a way to sensitize students to the significance of sound and other senses in everyday experiences.
The project's theme—"comfort food"—was intended to further reinforce the familiarity of eating experiences. "Comfort food" refers to a range of products that make people feel good, and that feeling is linked to familiarity. Parkhurst Ferguson notes, "Comfort food is, above all, familiar food" (43). I liked the idea of asking students to design a multisensory experience with the goal of "comforting" participants because, as I'll discuss, comfort food—and the notion of comfort in general—is a seemingly simple concept that is quite complicated. The familiarity of eating experiences along with the "comfort food" theme, I thought, could be used in this project to push students beyond commonplace ideas and assumptions—to ask them to consider the power and limits of sensory rhetorics in relation to "comforting" eating experiences.
For many people, the phrase "comfort food" conjures up images of rich, calorie-dense treats: fried chicken, burgers, fries, pasta, pancakes, ice cream. That is, "comfort food" often refers to particular kinds of foods. Many American restaurants have helped to solidify comfort food fare through their menu offerings. Recent studies, however, have found that comfort food has very little to do with types of food. Instead, what seems to be more significant are the social bonds and memories connected to certain foods. Cari Romm explains, "[C]omfort food's power may lie primarily in the associations it calls to mind. People who have positive family relationships are more likely to reach for reminders of those relationships in times of sadness—and often, those reminders come in the form of something edible. A grilled cheese sandwich can be a greasy, gooey, satisfying endeavor in its own right, but even more so if it features in happy childhood memories." In addition to the sensory pleasures related to texture, temperature, flavor, etc., the experience of comfort food is emotional, psychological, and relational.
While the idea that food is connected to memories and relationships has only recently been scientifically studied, it is not a new idea. In 1908, for instance, Marcel Proust famously wrote about this subject in Swann's Way. As the narrator takes a bite of a madeleine dipped in tea, he is overcome by a rush of pleasure and comfort linked to childhood memories of Sunday mornings spent with his aunt. Proust's narrator declares, 
No sooner had the warm liquid mixed with the crumbs touched my palate than a shudder ran through me and I stopped, intent upon the extraordinary thing that was happening to me. An exquisite pleasure had invaded my senses, something isolated, detached, with no suggestion of its origin. And at once the vicissitudes of life had become indifferent to me, its disasters innocuous, its brevity illusory—this new sensation having had on me the effect which love has of filling me with a precious essence; or rather this essence was not in me it was me. (48-50)
The sensory experience of food clearly has the ability to transport us into blissful affective states that are often tied to the people who love and care for us. Food can even be used to transport us to times and places—both real and imaginary—we never experienced ourselves. This is something that chef Heston Blumenthal has experimented with on his television series, Heston's Feasts (as well as in his book Heston's Fantastical Feasts). Blumenthal frequently reimagines historical meals and food experiences described in literature—including Proust's madeleines (Blumenthal, "Madeleines"). Though these foods may not conjure up personal memories, they can evoke fond memories of reading our favorite books or connect us to our heritage in ways that comfort and please.
Yet, while food has the ability to trigger meaningful comforting states, the experiences of even our most beloved comfort foods can also change depending on the context in which we encounter them. For example, in Bobbie Gentry's song "Ode to Billie Joe," the familiar Southern comfort foods being passed around the table—biscuits, black eyed peas, apple pie—become unappealing to the narrator as the family gossips about the suicide of Billie Joe McAllister, a local boy with whom the narrator is mysteriously connected.
Her family's callous response to the tragic news causes the narrator to lose her appetite altogether: "And mama said to me, child, what's happened to your appetite? / I've been cookin' all morning, and you haven't touched a single bite." After an incident like this, one could imagine that those familiar foods may never elicit a comforting response in the narrator again.
Further, sound itself can be the source of discomfort in dining experiences, as is evident in a 2018 New York Times article entitled "Annoyed by Playlists, a Master Musician Made His Own." The article relates the story of prolific composer Ryuichi Sakamoto's attempt to transform the atmosphere of Kajitsu, a Manhattan restaurant, with a playlist. Sakamoto is a huge fan of the food at the restaurant, but he hated the "thoughtless" music they played there (Ratliff). In fact, he felt that the music was such a problem that he volunteered to "take over the job of choosing it, without pay, if only so he could feel more comfortable eating there" (Ratliff). Interestingly, the playlist Sakamoto came up with served as a corrective to the dark music the restaurant played previously. As the composer's wife stated, "The light is pretty bright here…. The color of the wall, the texture of the furniture, the setting of the room, wasn't good for enjoying music with darker tones, to end your night. I think it depends not just on the food or the hour of the day, but the atmosphere, the color, the decoration" (Ratliff). It was the entire multisensory environment that contributed to Sakamoto's and his wife's dining experience, and all of these sensory elements were considered in the playlist Sakamoto curated for the restaurant. As a composer himself, Sakamoto clearly had a more extreme reaction to the music in the restaurant than someone who is less sensitive to or invested in music would have had. Even so, most people have experienced a time when music in public spaces negatively affected their experiences.
As these examples demonstrate, comforting (and discomforting) eating experiences are highly specific and individualized. One's experience of comfort depends on one's background, past experiences, and memories, which vary widely from person to person. In addition to these personal associations, notions of comfort are also dependent on race, geography, culture, class, ethnicity, gender, disability, and other aspects of intersectional identity. As I mentioned in the "After-Dinner Debrief", my students did not anticipate these differences in the process of composing their designs (and I did not do a good job preparing them to account for such differences—something I intend to change in future iterations of the project).
A 2003 study, for example, concluded that the concept of comfort food differs greatly according to gender. The study found that "males preferred warm, hearty meal-related comfort foods (such as steak, casseroles and soup) while females preferred comfort foods that were more snack related (chocolate and ice cream)" (Wilson 144). Additionally, men and women felt differently about eating their desired comfort foods: "men tended to feel 'healthy' after eating their preferred comfort food of steak, whereas women felt 'guilty' after their ice cream, cookies, and chocolate" (144). It is easy to see how these feelings are linked to the mixed messages and expectations about gendered bodies that circulate in popular media. Consider Dove chocolate commercials, which always feature women. These TV ads promote the message that indulging in sweets is an empowering form of self-care ("You go girl! You deserve this!"). This message competes with ads and other forms of discourse that constantly remind women that their bodies should fit a certain (often unrealistic) standard of beauty and fitness.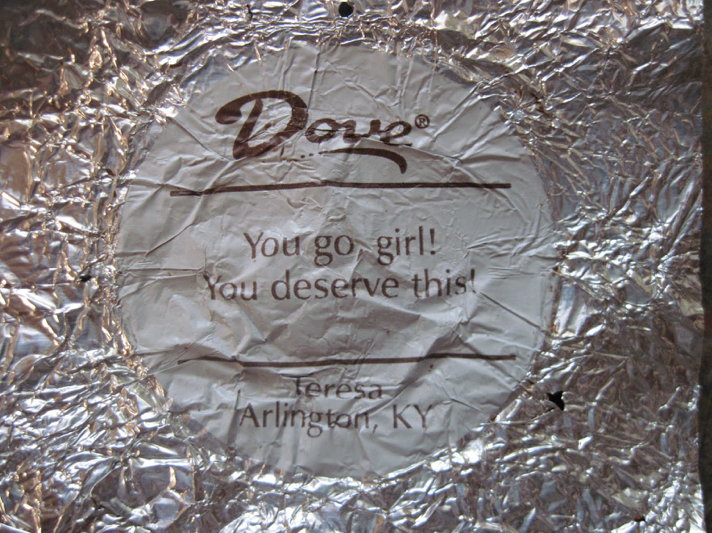 Dove chocolate wrapper. Photo by
Tim
.
Of course, we cannot predict what men and women consider to be comfort foods based solely on these broad and binary gender categories. Many factors related to our identities make it very difficult to design a food experience that will be "comforting" to each individual diner. In fact, the complexity of comfort food as outlined here can be applied to sensory experiences in general. While our senses can certainly be retrained over time, each person has a highly unique response to different sensory situations.
The uniqueness of our reactions to sensory encounters with food is especially apparent within the popular genre of Autonomous Sensory Meridian Response (ASMR) videos. While most people ignore sound in everyday eating experiences, the sounds of cooking and eating have become a means of comforting a growing ASMR audience. Claire Leschin-Hoar notes that these food-based videos are "created to trigger pleasing tingling sensations in the brains of some viewers by focusing on specific sounds like crinkling, chopping, sautéing and stirring. Intense eating sounds like slurping, swallowing, chewing or crunching do the trick for others."
Many ASMR videos feature vloggers capturing the sounds of both the packaging of the food and the sonic experience of eating the food. This Houston-based woman, for example, is known for her viral pickle-eating videos:
According to Stephen Smith, an associate professor of psychology at the University of Winnipeg, ASMR is "considered a perceptual sensory phenomenon—an experience some people have, similar to synesthesia, 'except the tingles are associated with a feeling of relaxation'" (Leschin-Hoar). The explosion of food-related ASMR videos amplifies both the multisensory experience of food as well as the importance of sound in eliciting an affective response during engagements with food. However, what I find most fascinating and disturbing about the ASMR video food phenomenon is that companies such as KFC, Pepsi, and Blue Apron have created their own ASMR videos to attract consumers to the sensory qualities of their foods (Leschin-Hoar). The companies believe that viewers who watch ASMR videos to get into a relaxed, almost meditative state will begin to associate the experiences of the advertised foods with this affective state as well.
While their appeal may not be universal, corporate ASMR videos illustrate the potential dangers of "comforting" sensory experiences with food. Sound is particularly effective at relaxing people; think of how often individuals turn to music to unwind or make themselves feel good. In designed, sonic-driven sensory experiences, the feeling of comfort that occurs can make people less aware of what is happening in a given situation. Whether it is an ASMR video with corporate messaging or a public shopping area that pipes soothing music into the stores, consumers are often comforted into a kind of happy submission—a state in which they are more likely to feel good, spend money, eat more, etc. When it comes to sonic rhetorics, comfortable affective states elicited by sound can make people less likely to challenge, question, or engage critically in a range of everyday situations—a notion that participants at our multisensory dining event picked up on "Track 6: After-Dinner Debrief". Put another way, sound-induced comfort can potentially result in a dulling or deadening of our senses and mental sharpness. At times, this state of deadened sensation might be desirable (e.g., when we want to tune out from the world), but other times it is not.
In pointing out the complexities, idiosyncrasies, and difficulties involved in sensory persuasion and notions of comfort, I do not mean to suggest that it is impossible to compose effective/affective multisensory experiences. Rather, sensory rhetorics seem to be most powerful when multiple, synced sensory elements are aimed at achieving the same goals (e.g., when sounds, flavors, décor, lighting, etc. are all designed to encourage a feeling of comfort). That said, part of the reason for inviting students to design the multisensory dining event was to make them aware of the limitations of and unpredictability involved in sensory rhetorics, which they experienced via participants' reactions. Even if my students had tried to account for the gendered or cultural differences among our participants, for instance, they could not have anticipated each person's unique response to the multisensory environment they designed. While it is still important to have context for how identities and experiences shape responses to sensory environments, there will always be elements of sensory design that are not in our control. In the classes following the event, we discussed the compositional and rhetorical challenges students faced during this project, grappled with some of their assumptions about sensation and comfort, and considered ethical questions about manipulating people's feelings and experiences. While this discussion left us with a lot of unanswered questions, it was clear to me that the multisensory dining event gave students an opportunity to think deeply and capaciously about what designing for the senses entails. In this way, our discussions about the project's difficulties and limitations led to some of the most significant learning opportunities of the semester.